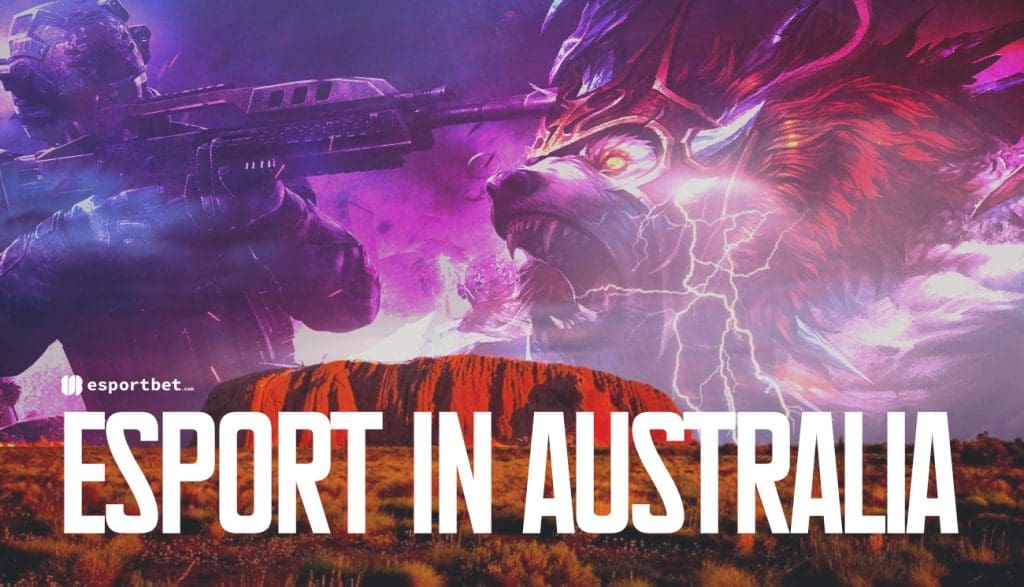 Esports betting in Australia is growing at a rapid rate, as professional video gaming blossoms into a billion dollar industry. Australians are spoilt for choice when it comes to esports betting with a fully regulated and legal betting sites and bookmakers willing to take your bets. Popular esports games that Aussies bet on include Dota 2, League of Legends, FIFA and many, many more. Australian esports betting sites also have downloadable apps for major smartphones and tablets.
The best esports betting sites for December, 2023 are:

Best Australian esports betting sites
---
Esports leagues, tournaments and events December, 2023
With Australian boasting an advanced online esports betting industry, it is possible to bet on many different tournaments and leagues from around the world. These esports events range from League of Legends tournaments to NBA2k leagues. They also range in prize-money, popularity and prestige. Key esports events coming up in 2023 include:
| Event | eSport | Date | End Date | Prizemoney | Venue | Online/Offline |
| --- | --- | --- | --- | --- | --- | --- |
| PGL Arlington Major | Dota 2 | August 4 | | $500,000 USD | Arlington, Texas | Offline |
| Blast Premier Spring Groups | CSGO | 1/28/2023 | 2/6/2023 | $177,498 | - | Online |
| The International | Dota 2 | 10/8/2022 | 10/30/2022 | $1,600,000 | Singapore Indoor Stadium | Offline |
| Six Invitational | Rainbow 6 | 2/7/2023 | 2/19/2023 | $3,000,000 | Place Bell Arena | Offline |
| IEM Cologne Major | CSGO | July 5 | | $500,000 | Lanxess-Arena, Cologne, Germany | Offline |
| RLCS Winter Split Major | Rocket League | 4/6/2023 | 4/9/2023 | $310,000 | San Diego Convention Center, USA | Offline |
| OWL Midseason Madness | Overwatch | July 18, 2022 | | $1 million | - | Online |
| IEM Spring | CSGO | 4/17/2023 | 4/23/2023 | USD $250,000 | Jeunesse Arena, Rio de Janeiro | Offline |
| CDL Major 4 Playoffs | Call of Duty | July 21, 2022 | | $500,000 | Esports Stadium, Arlington | Offline |
| BLAST Premier Spring Showdown | CSGO | 3/29/2023 | 4/2/2023 | $135,000 | - | Online |
| Blast Premier Fall Showdown | CSGO | 10/21/2022 | | $135,000 | - | Online |
| BLAST.tv Paris Major | CSGO | 5/8/2023 | 5/21/2023 | $1,250,000 | Accor Arena, Paris | Offline |
| LOL Worlds 2022 | League of Legends | 9/29/2022 | 11/5/2022 | $2.25m | Multiple | Offline |
| Blast Major Copenhagen | Rainbow 6 | 4/24/2023 | 5/7/2023 | $750,000 | Forum Copenhagen | Offline |
| BLAST Premier: Falls Groups 2022 | CSGO | 8/19/2022 | 8/29/2022 | $177,498 | Royal Arena, Copenhagen | Offline |
| DreamHack DreamLeague | Dota 2 | 4/9/2023 | 4/23/2023 | $1000,000 | - | Online |
| IEM Major Rio 2022 | CSGO | 10/31/2022 | 11/13/2022 | $1,000,000 | Juenesse Arena, Rio de Janeiro | Offline |
| IEM Summer | CSGO | 5/29/2023 | 6/4/2023 | $250,000 | Kay Bailey Convention Center, Texas, USA | Offline |
| Six Berlin Major | Rainbow 6 | 8/15/2022 | 8/21/2022 | $500,000 | Theater am Potsdamer Platz, Berlin | Offline |
| ESL One Major Berlin | Dota 2 | 4/26/2023 | 5/7/2023 | $500,000 | Velorom, Berlin, Germany | Offline |
| Valorant Champions Tour 2022 | Valorant | 2/11/2022 | 9/19/2022 | $5m+ | Multiple | Both |
| BLAST Premier Spring Final | CSGO | 6/7/2023 | 6/19/2023 | $425,000 | Entertainment & Sports Arena, Washington DC, USA | Offline |
| BLAST Premier: Fall Finals | CSGO | 8/23/2022 | 8/27/2022 | $425,000 | Copenhagen | Offline |
| VCT Masters Tokyo | Valorant | 6/11/2023 | 6/26/2023 | $1,000,000 | TIPSTAR DOME/Makuhari Messe, Chiba, Tokyo | Offline |
| Twitch Rivals: Zero Build World Invitational | Fortnite | 10/7/2022 | 10/9/2022 | $200,000 | San Diego Convention Centre | Offline |
| Bali Major | Dota 2 | 6/29/2023 | 7/9/2023 | $500,000 | Ayana Estate, Bali | offline |
| BLAST Premier World Final | CSGO | 12/14/2022 | 9/18/2022 | $1,000,000 | Abu Dhabi, UAE | Offline |
| PUBG Global Series Phase 2 | PUBG | 8/10/2023 | 8/20/2023 | $2,000,000 | Riyadh | Offline |
| PUBG Global Championships | PUBG | 11/1/2022 | 10/20/2022 | $2m + | Dubai Exhibition Centre | Offline |
| Riyadh Masters | Dota 2 | 7/17/2023 | 7/30/2023 | $15,000,000 | Riyadh | Offline |
| Six Jönköping Major | Rainbow 6 | 11/21/2022 | 10/27/2022 | $500,000 | Elmia Congress Center, Jönköping | Offline |
| Gamers8 Fortnite | Fortnite | 7/6/2023 | 7/9/2023 | $2,000,000 | Riyadh, Saudi Arabia | Offline |
| RLCS Fall Split Major | Rocket League | 12/8/2022 | 12/12/2022 | $310,000 | Rotterdam Ahoy | Offline |
| FIFAe Nations Cup | FIFA | 7/11/2023 | 7/14/2023 | $500,000 | Riyadh, Saudi Arabia | Offline |
| Honor or Kings International Championship | Honor of Kings | 11/22/2022 | 12/30/2022 | $10,000,000 | Shenzhen, China | Both |
| CS:GO Gamer8 | CSGO | 8/14/2023 | 8/20/2023 | $1,000,0000 | Riyadh, Saudi Arabia | Offline |
| VCT Kickoff Tournament | Valorant | 2/14/2023 | 3/5/2023 | TBC | Sao Paolo, Brazil | Offline |
| PUBG Mobile World Invitational | PUBG Mobile | 7/14/2023 | 7/16/2023 | $3,000,000 | Riyadh, Saudi Arabia | - |
| IEM Katowice CS:GO | CSGO | 1/31/2023 | 2/12/2023 | $1,000,000 | Spodek Arena, Katowice | Offline |
| Valorant Champions: Los Angeles | Valorant | 8/6/2023 | 7/26/2023 | TBA | Kia Forum, Los Angeles | Offline |
| IEM Fall 2023 | CSGO | 10/16/2023 | 8/22/2023 | $250,000 | Aware Super Theatre, Sydney | Offline |
| Roobet Cup | Counter-Strike | 10/25/2023 | 11/2/2023 | $150,000 | - | Online |
| CS2 Asia Championships | CSGO | 11/8/2023 | 11/12/2023 | $500,000 | Perfect World Esports Center, Yuanshen Stadium, Shanghai, China | Offline |
| ESL One Kuala Lumpur | Dota 2 | 12/11/2023 | 12/17/2023 | $1,000,000 | Kuala Lumpur International Exhibition & Trade Center | Offline |
---
Esports news
The esports industry is growing all the time, with new games, new esports teams, player movements and team news occurring on a daily basis. In this section of our Australian esports betting online guide we present the latest news headlines.
Australian esports news
ALL Australian esports news
International esports news
ALL esports news
---
Esports betting tips
Esports betting is a relatively new pursuit, but our expert tipsters have been at the coalface since day one. Check out our latest esports tips:
ALL esports tips
---
How to bet on esports online in Australia
Betting on esports online in Australia is straight-forward, with it possible to begin wagering within a few minutes, with legal and safe online bookmakers taking your bets. Betting on esports online can be done via both bookmaker's websites and via betting apps. In this section of our online betting esports guide we will break down the steps to get started wagering on professional video games.
Find an esports bookmaker: Australians are spoilt for choice when looking to bet on esports online, with many different bookmakers offering markets on pro video game tournaments and events. While Australian online esports betting sites don't have welcome bonuses anymore, they generally have some great promos that they offer you after you are a member. We recommend reading bookmaker reviews, examining player feedback and generally doing your research before betting with real money.
Sign up at your online betting site: Now you have chosen a website to begin your online betting journey, you need to complete the sign up process. At Australian esports bookmakers you need to fill in a digital form with things like your name, address, email address, date of birth and others to complete the process. Make sure you give your correct details, because online betting sites will make you verify your details before you can withdraw.
Funding your online betting accounts: Because the Australian online esports betting scene is heavily regulated, the deposit options that are available are generally services you will be familiar with. Australians use their Visas, Mastercards, Paypal, PayID and several others to fund their bookie accounts online.
Betting on esports online: Now that you have funded your online esports betting, you are ready to begin betting. Simply navigate to the esports section of your chosen bookmaker, and select the title you wish to wager on. This will display all of the available odds for that particular game or event. Simply make your selections (which will be transferred to your bet slip) and then finalise your wagers when you visit the bet slip section.
Cashing out at online esports bookies: If you are lucky enough to win when betting online on esports, you will need to cash out your winnings. This can be done via several different methods, including bank transfers, cash out to Visa, cheque and even via Paypal or Neteller in some cases.
---
Australian esports betting introduction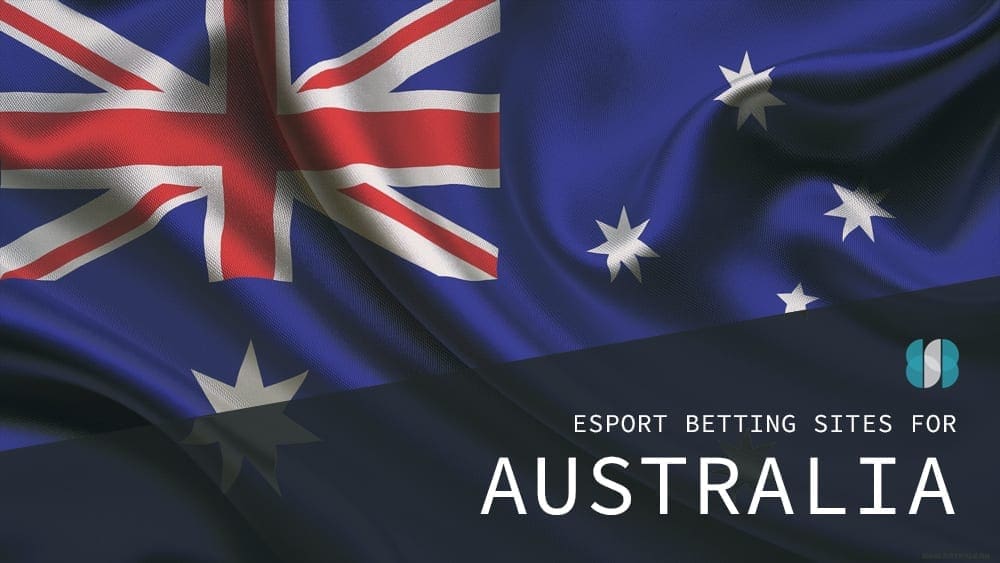 Australians are spoilt for choice when it comes to esports betting sites with upwards of 10-licensed and regulated bookmakers having markets for one of the fastest growing segments in the gambling scene down under. The EsportBet.com team currently recommends the following legal online bookmakers for Australians.
Home-grown esports talent is Australia is rapidly expanding into 2023, as is the rabid amount of fans rallying for bigger and better Australasia events and tournaments. With huge strides in the local Call of Duty, Counter-Strike: Global Offensive, Halo 5, League of Legends, Overwatch and Rocket League pro gaming circuits, it's not long before Aussie teams begin to get more attention on the world stage.
If you live in Australia and want to bet on both local and international esports tournaments, our special guide aims to point you in the right direction. Australians can choose from a large number of licensed and regulated esports betting sites with full betting markets for the most popular esports matches of Call of Duty, Counter-Strike: Global Offensive, Dota 2, League of Legends, Halo, Overwatch, Rocket League, StarCraft II and more.
Aussies can also deposit and withdraw money for their wagers safely thanks to a range of secure banking methods supported at online sportsbooks – and you can also bet in AUD without the need for currency conversion fees. Keep this page bookmarked as we keep you updated on the latest changes in Australian esports betting.
---
Esports betting sites accepting players from Australia
EsportBet.com recommends the following Australian sports betting sites to bet on esports with the best odds and sign-up bonuses. They carry the best range of esports betting markets and cover the majority of the biggest international and local esports tournaments, offering up-to-date head-to-head wagers, outright winners, futures, and exotics specific to the type of game (First Blood for CS:GO, as an example).
Aussies are also spoiled with a ton of generous welcome offers and regular promotions which boost your account with additional bonus credits to place on bets, sometimes as simple as depositing a certain amount of money in a specified time-frame.
The top AU esports betting sites are:
Bet365 (read our Bet365 esports review)
PlayUp (read our PlayUp esports review)
Palmerbet: Is Australian-owned which is a rarity in this market. Does not have as many esports markets as other bookies with a greater focus on horse racing and domestic sports.
Betfair: Is a betting exchange that does have an Australian-branch. This means you can accept bets as well as make them. Read our detailed Betfair review for more information about how this bookie functions.
PickleBet: An esports specialist, PickleBet has a huge selection of daily markets on all your favourite pro games. PickleBet also excels in esports promotions, with more variety than other bookies on this list. PickleBet has also recently branched out into sports and racing betting. Definitely a esports betting site to watch. PickleBet review.
Unibet.com.au: Managed by the Kindred Group, Unibet is a well-know global brand with roots in Europe, which means they are well covered in the esports gambling world. Unibet differs itself from other esports betting sites in Austrlaia, with their outstanding array of live esports streams, which include games like Call of Duty, CS: GO and League of Legends. Unibet esports review.
Rivalry: One of the newest betting sites in Australia, Rivalry is an international bookie with an outstanding array of esports betting odds. Boasting both iOS and Android betting apps, Rivalry is a bookie that we have no hesitation recommending to Aussies. Rivalry review.
Dabble: One of the new breed of Australian esports betting sites, Dabble.com.au has a cool vibe that is really based around the social aspect of their service. Available only on esports betting app, including Android and ioS downloads. Dabble.com.au has got head to head odds on most major esports event and in our experiences, their odds are very competitive. Read our Dabble review for more.
All of the above bookies are licensed and regulated by the Northern Territory government or other licensing bodies, which guarantees fair and timely payouts and that everything is legal and reputable for Australian punters, or globally trusted international regulators such as the United Kingdom Gambling Commission. Sign up for an account via any of our links for more information and the latest exclusive sign-up bonuses to kick-start your esports betting career with bonus cash.
---
Top mobile betting sites for esports
Australian bookmakers cater extensively to mobile phones and tablets, with this now the primary way that people bet on esports. All of Australia's biggest esports betting sites have downloadable apps for smartphone and tablet, including major names like bet365 and Sportsbet, which both provide an outstanding service for esports betting.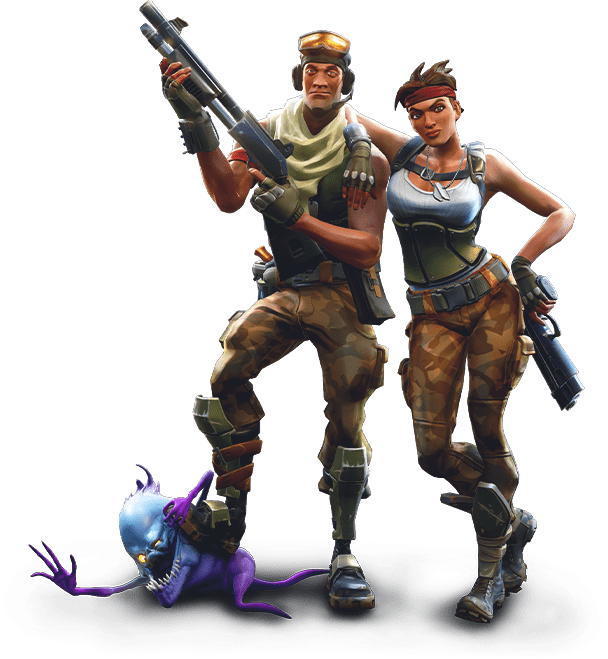 The two main options for placing esports bets via mobile, is either to download an app, which can be done after you create a new account, or visit their mobile sites. In all seriousness, while your might have a few added featured with the apps, the mobile site is good enough if you are just looking to quickly place a bet.
Some of the benefits of downloading AU esports betting apps, includes the ability to access the bookie with one click. The fact you can also live stream some esports events, via some betting companies is also a huge plus. Overall you should download an app if you are a regular bettor.
---
Is it legal to bet on esports in Australia?
Yes, if you live in Australia and are over 18 you can bet on your favourite esports matches, players, teams and more at most esports betting sites.
With many of the best European bookmakers fully licensed in Australian states like the Northern Territory and tons of home-grown Aussie companies going head-to-head with such international powerhouses, esports punters can wager safely and without worrying about whether anything isn't legitimate and legal – which is fortunate compared to other countries with much more ambiguous sports betting laws.
They can also look forward to a ton of sign-up bonuses due to the heavy competition, though the sign-up bonuses themselves and the way they are advertised to punters have to follow individual state laws, so you may find yourself ineligible for certain promotions advertised in other states.
In Australia, you have to be over the age of 18 to bet or gamble online, and you must provide bookmakers with reasonable proof of identity if you wish to bet with real money and withdraw your winnings.
You can see whether you are eligible for a sign up bonus in our bookmakers table above.
---
Online bookmaker AUD deposit options
The online bookmakers we recommend to Australian esports bettors have a great range of banking methods to deposit betting money and withdraw potential winnings safely and securely.
Credit and debit card
Using MasterCard, Maestro and Visa-branded credit cards and debit cards is supported at all major online Australian bookmakers, and is often the fastest way to get your money into your account for deposits and back to your personal bank for withdrawals (instantaneous). Unfortunately, American Express is not accepted at most bookies. You can learn about the best Australian esports betting sites accepting Visa here.
Direct bank transfer
Many online bookmakers allow AU players to wire money directly via their online banking interface, and all banks in the country, including ANZ, Commonwealth, NAB and Westpac support direct bank transfers at Australian licensed betting sites. This option takes anywhere between 24 hours to 10 business days to process transactions, so be mindful of processing times prior to using it for deposits or withdrawals. A very popular way to move money via bank transfer at Australian esports betting sites is via PayID.
e-Wallets
E-wallet digital payment options (also called Web wallets) like Neteller and Skrill are supported at most online bookmakers for esports betting, though they often come with additional fees which are unfavourable. Web wallets are best for esports bettors who want additional privacy and don't want to connect their betting activities with their personal bank accounts or cards.
Online payment services
PayPal betting is offered at the majority of our recommended esports betting sites and owing to its reputation is extremely safe and fast when it comes to processing deposits and withdrawals. POLi is an Australian-run online payment service and recommended deposit option alternative to PayPal supported at most major online bookmakers. BPAY betting sites are another unique feature of Australian esports wagering.
Pre-paid cards and digital services: Entropay and Paysafecard virtual pre-paid cards can be used at Australian bookmakers for esports betting deposits.
Depositing money into your chosen online bookmaker to bet on esports is an easy and fast. While every real money betting site has a different interface, depositing and withdrawing remains the same process: Sign up for a new account via our links, verify your personal details, login to your account and visit the 'banking' or 'cashier' section of the site and choose from the list of banking options offered to transfer your first deposit and get started. You can withdraw money in the same cashier section once you have won from your wagers. As is standard with all types of online betting, you have to provide documentation with your preferred bookmaker (DOB, personal ID, address and contact details) prior to being able to withdraw any money.
---
How popular are esports and video games in Australia?
According to consumer insights from NewZoo, there are over 900,000 esports enthusiasts recorded living in Australia in 2018. Grouped up with the rest of Oceania, Australian esports fans were responsible for a palty 0.3% of the $32 million in total ticket revenue earned from major esports events in 2016 (around $96,000) and 3% of pro gaming events held globally (out of 424) that year with prize-pools above $5,000. Australia and the rest of Oceania also accounted for 0.4% of the total recorded $93.3 million in major event prize money handed out to esports winners in 2016 (around $373,200).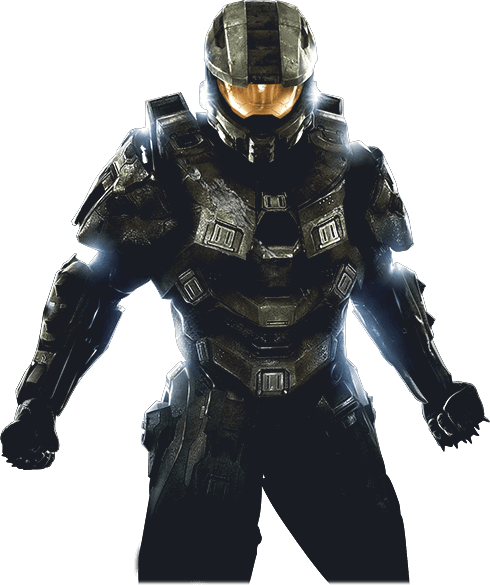 The editorial team at eSportBet.com fully expect these figures to skyrocket in 2018 thanks to Australia's increased involvement with international esports leagues like the upcoming Overwatch League and the introduction of the first ever Intel Extreme Masters event held in Sydney in 2017.
Esports popularity in Australia is due to the country being one of the fastest growing video game markets in the world. There are over 10.6 million gamers in Australia who will spend $1.2 billion in 2017, making it the 14th largest video games market around the globe according to NewZoo. There is also over 16.7 million smartphone users gaming on their mobile devices. PC gaming dominates the Australian gaming landscape, and about 64% of computer and laptop gamers in Australia aged between 21-35 and predominately male.
Australia has not been immune to the odd controversy surrounding esports betting, with six punters arrested following claims of match-fixing in Counter-Strike: Global Offensive. Bookies like Sportsbet.com.au helped the investigation in March 2019, whcih centred around unusual betting patterns.
---
What esports games can i bet on down under?
If there are professional leagues that have a big enough history there will be betting on them, with these including leaders like League of Legends, Dota 2 and increasingly FIFA. While you will find a greater range of esports betting at some offshore bookmakers, with less red-tape stopping them offering odds, Aussie-licensed sites are offering more and more markets, with some of the common ones being:
Read our guide to the best esports games or read an overview of the professional esports leagues around the world