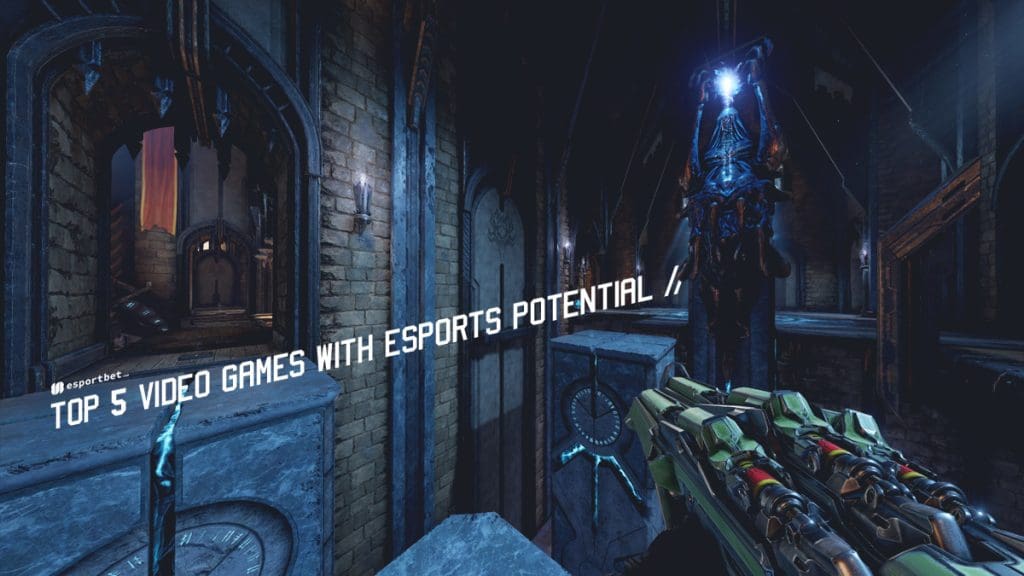 Compared to traditional sports, esports popularity tends to fluctuate greatly outside of half-a-dozen games backed by gaming giants, such as Blizzard's League of Legends or Valve's Counter-Strike: Global Offensive. If a game doesn't have the lasting playerbase, professional gamers shouting its name, or Twitch live stream viewership, it's most likely going to lose its spotlight to the next hot game release right around the corner.
The editorial team at esportbet are always on the look-out for new and exciting competitive video games on the horizon, and always keen to share our predictions with our readers on the next big potential esport phenomenon. This article will take a look at some of the most promising upcoming and newly released multiplayer video games gracing Windows PC, Mac OS X, PlayStation 5, Xbox Series X, and Nintendo Switch and why they may blow up as esports in 2018 and beyond.

Best esports betting sites
A brief overview of esports in 2023
We've been saying it for a long time, but 2023 is the year esports truly enters the mainstream.
Several major gaming publishers have inked key partnerships with traditional sporting franchises and investors to launch the next wave of leagues and tournaments.
Blizzard Entertainment has achieved resounding successful with the inaugural season of the Overwatch League, and have announced plans of expansion and investment for the existing Hearthstone, Heroes of the Storm and World of WarCraft competitive gaming circuits.
Meanwhile, Major League Soccer and the NBA have linked up with EA Sports and 2K Games to create the eMLS and NBA 2K League, using the annual FIFA and NBA 2K franchises to draw in a new generation of fans of both sports.
While CS:GO, Dota 2 and League of Legends will remain the most popular and largest of esports industries, it's safe to say there is still plenty of room for more leagues and more tournaments given the amount of amazing competitive multiplayer titles out there with passionate gaming communities calling for their own chance to shine on the world stage.
Which games do we think have the most potential to make it big in 2018? We count down our top picks below.
---
5. Lawbreakers
LawBreakers is an arena-style first-person multiplayer shooter from Boss Key Productions, a new outfit lead by famed game designer Cliff Bleszinski (Gears of War). Originally meant to be a free-to-play title, it has since shifted into a full pay-to-play release for its August 2018 launch and has proven extremely promising from impressions gathered in the numerous alpha and open beta testing sessions handed out to players worldwide in the past year. With two teams of five, the 'Law' or 'Breakers', players must adopt a class role and work towards an objective as a team, with the four current modes resembling Capture the Flag, Domination and goal-scoring modes of other comparable competitive titles like Overwatch.
Movement and firefights in LawBreakers are extremely fast-paced and vertical thanks to the game's freeform gravity-bending environments in certain parts of its six playable maps, and its emphasis on balanced team compositions through its class system as well as esport-friendly team-based game modes is a dead giveaway Boss Key Productions want this to blow up at the next big esport – and we can't exactly be mad about that, given how fantastic it has played so far before its full release. All we want to see is more colourful personalities injected into the current character roster and we could have something new and great to switch to in between Overwatch withdrawals.
---
4. Marvel vs. Capcom: Infinite
It's been six very long years, but Capcom is finally gracing us with more crossover fighting game goodness with Marvel vs. Capcom: Infinite. After losing the use of the Marvel license in 2012 (arguably the year Marvel blew up in the film world with the release of The Avengers), Disney eventually worked out a deal and the end result is coming in September 2017. MvC has always been extremely beloved and unique thanks to its two-on-two tag-team fighting game combat systems and unique comic-book and video game crossover craziness – I mean, seeing Marvel's Iron Man, Wolverine and Spider-Man take on Capcom's Mega Man, Frank West and Ryu has and always will be so damn cool.
While the loss of the X-Men license and some perceived mechanical "dumbing down" has caused some rifts in the very passionate fanbase, according to Capcom's Peter Rosas and Mike Evans, it is inevitable Marvel vs. Capcom: Infinite will be an esport title in 2018 – it just won't make it for 2017's Capcom Pro Tour due to its late September release. It will just have the very strong competition with the likes of Injustice 2 and Street Fighter V to contend with at future EVO tours, but there's no doubt it was carve out its own path as its predecessors did with the global fighting game community.
---
3. Quake Champions
Anyone miss the days when arena-based shooters like Doom, Quake and Unreal Tournament ruled the roost? Thanks to games like LawBreakers and revivals like Quake Champions, bittersweet nostalgia isn't needed as much anymore, though we'll never forget the trailblazer days of Jonathan 'Fatal1ty' Wendel or Dennis 'Thresh' Fong paving the path for the esports boom two decades later. Quake Champions is an first-person arena-style shooter with an extremely fast-paced movement and weapon set with tons of playable characters with unique skills and gory frag action – the 90's are back and better than ever, baby.
Even with its free-to-play model scratching a few heads on its potential, it has the backing of the massive id community built around its classic predecessors and good timing, releasing on Microsoft Windows PC a year after id successfully brought back another of their classic games, Doom. Whether Quake Champions can attract new fans away from the influx of MOBAs and modern-day team-shooters like Counter-Strike: Global Offensive and Overwatch remains to be seen, but we give it a pretty good chance on its production values alone.
---
2. Unreal Tournament 4
Unreal Tournament 4, or Unreal Tournament 2018 as many people are divided on, is currently in alpha but it's an easy guess to say Epic Games' next entry in the hugely popular franchise, which has been dormant for nearly a decade, will make a huge come-back which includes an esports push.
---
1. Breakaway
Amazon Game Studios' first foray into competitive multiplayer video games is a glorious, MOBA-looking third-person brawler with sports game rules called Breakaway, and it has all the elements of previous giants to make it in the esports space – colourful mythological heroes, diverse classes and roles (tank, fighter, shooter, etc), fast and frantic 4v4 combat. Teams must fight to grab a relic in the center of the battlefield and bring it to the enemy base to win. Breakaway is a 4v4 brawler infused with sports game rules. Each team of four heroes is trying to move a ball — known as the relic — into a goal located at the center of the opponent's base. Like every other successfully team-based video game and MOBA out there, teamwork and a balanced composition is neccessary for success – and for a shot at esports popularity.
Where Breakaway changes things up from other recent competitive video games is the inclusion of build-able structures, which players can set around their bases, with both offensive and defensive capabilities and a ton of depth and potential meta-game to conquer. We're a big fan of the art-style and it will certainly please the PC master race esports gamers (it's currently slated for a Windows PC release only), so make sure to keep an eye out for Breakaway.