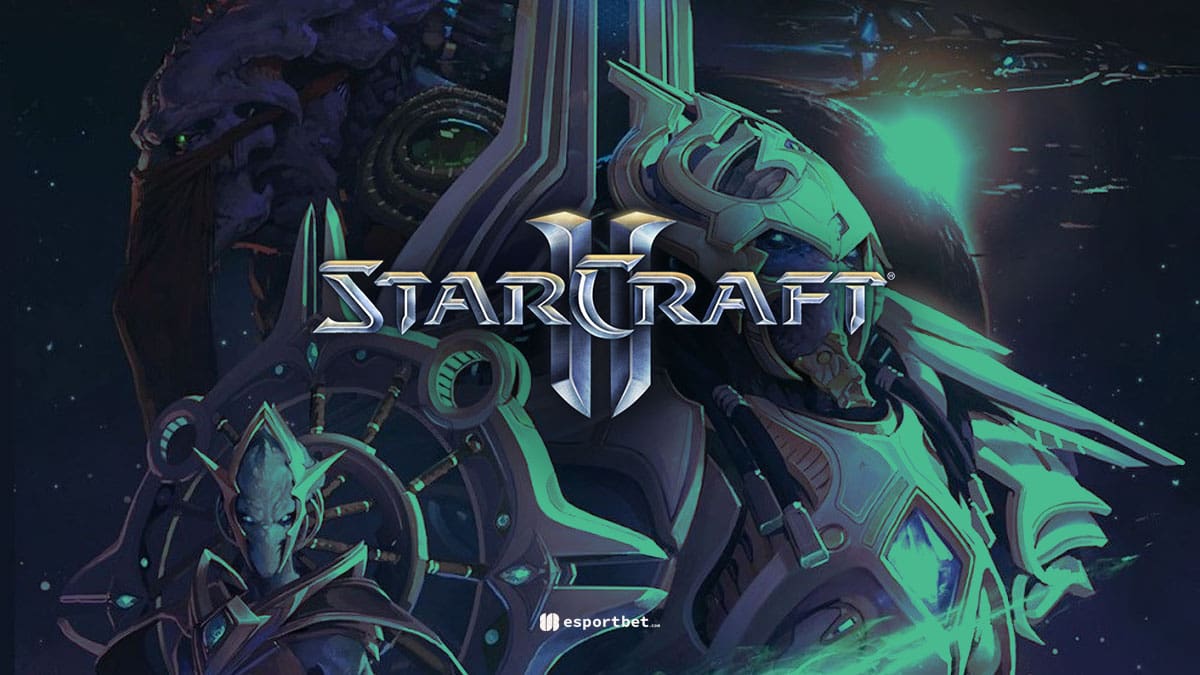 StarCraft II is one of the world's most popular real-time strategy video games in the world and the center focus of some of the largest contemporary esports tournaments held in North America and South Korea. Released in 2010 on the tail coats of StarCraft: Brood War's reputation as the definitive origin of esports as we know it today, SCII continues to enjoy a massive following and major investment, despite significant competition from MOBAs like League of Legends and Dota 2 which have since captured the top spot in comp gaming.
If you are a fan of StarCraft II and want to learn more about how the game is played professionally, its format and strategies, slang and terminology and the top players and teams, this up-to-date SCII esports guide is intended for you. We also provide guides on how to place a bet on StarCraft II esports events and other top-rated titles, along with the types of betting markets available on each match, and the world's best reviewed StarCraft II esports betting sites.

Best StarCraft II esports betting sites
---
The basics of StarCraft II gameplay
Starcraft II is a fast-paced real-time strategy game that demands coordination and multi-tasking skills from its highest-skilled players. Unlike many other esports like huge teams and many players, competitive StarCraft II is a one-versus-one affair, and played over three or five different maps, with the first player to win either two or three maps taking home the title and the prize.
At the start of every SC II match, both players pick one of three species to play as (Protoss, Terran or Zerg): All factions come with their own unique aesthetic, abilities, units, advantages and disadvantages and set out to gather resources, build their base, train their units and assault the enemy. The game is played via an isometric perspective over a large battlefield, with many different approaches to taking out the opposition.
In a typical StarCraft II match, each player starts with a base and 12 workers, and the primary objective is to destroy the enemy opponent's base via careful management of resources, building the proper units, training them in the right specialisations and using them in the right combat scenarios to counter potential threats.
Choosing your faction carefully and playing to their strengths is essential to succeed. The Terrans have high mobility and great defense, but low damage output, the Protoss units deliver massive damage with high production costs, while the Zerg produce lots of units for low costs but with weaker damage output. Every single faction's units have special abilities (the Protoss Zealot can dash forward and reach enemies quickly, for example) which demands the player knows them in and out in order to properly micromanage and successfully defeat the competition, and because everything is played in real-time, speed of movement and issuing out orders is key to high-level play.
---
How popular is StarCraft II as an esport?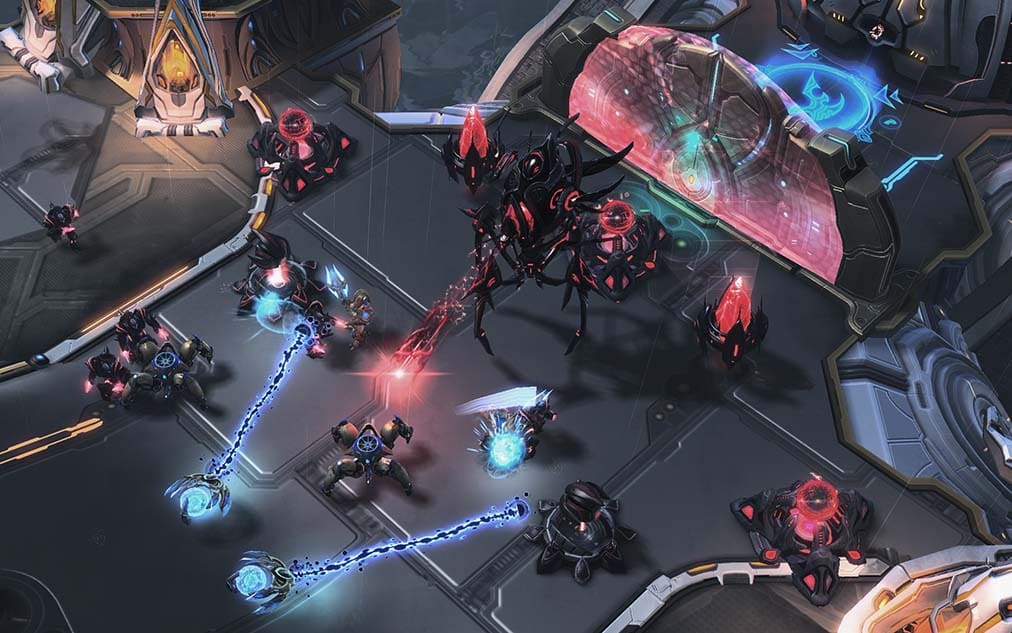 When StarCraft II originally launched in 2010, it had the enormous advantage of already have an established competitive gaming playerbase and fan-base in its predecessor StarCraft: Brood Wars. Millions of people tuned in via live-streaming sites and television to watch professionally paid players take on each other in South Korea, where the game and franchise is the most popular, and eventually North America and the world when Blizzard (the game's developer) established the StarCraft II World Championship Series (WCS). While the transition period took longer than expected and Brood Wars arguably still remains as popular if not more so today (esports leagues for the 1998 title have recently begun to spring up again after a few years of absence), StarCraft II and its expansions – SC II: Heart of the Swarm and SC II: Legacy of the Void – continued to be played at high level across the world.
The primary reasons for SC II's declining visibility in the mainstream esports space in recent years is the introduction and subsequent domination of the Massive Online Battle Arena (MOBA) genre and the fights over broadcasting rights with South Korean esports associations.
MOBAs debuted with now behemoth esports properties League of Legends and Dota 2. These games are similarly fast-paced and tactical, but involve more players, more teams and have significantly higher investment from sponsors and esports organizers than SC2. They have also resonated with younger fans, whereas StarCraft II remains most popular with older players familiar with the original 1998 game and its burgeoning LAN scene, who may not be as invested in the modern day esports scene.
The South Korean broadcasting rights dramas date back to 2012 and its effects are still felt today. Basically, the Korean e-Sports Players Association (KeSPA) which had broadcast and pushed StarCraft-related esports events for the better part of a decade were unwilling to cooperate with Blizzard Entertainment (the creator of the game) in sharing the profits from airing competitive StarCraft-related competitive games, which led to KeSPA's being unable to legally broadcast any of Blizzard's intellectual property without paying royalties. Blizzard would eventually form a partnership with rival South Korean television stations and esports organizers GomTV, MBC Television, Ongamenet and Starleague, though KeSPA's loss led to a drop in viewership and professional play in the region.
Blizzard have pushed the StarCraft II World Championship Series (WCS) as the main esports tournament their game, which regularly features prize-pools over US $150,000 – which is significantly lower than the million dollar prize pools seen in other comparable world-stage esports events such as The International for Dota 2. While not as ridiculously lucrative for pro players, the competitive scene is still amazingly fun to watch, and the best esports betting sites are still offering markets on all major SC II events in 2023.
---
Starcraft II Premier Tournaments for 2023
| Date | Tournament | Organisers | Prize Money $USD | Location |
| --- | --- | --- | --- | --- |
| January 3 – 8 | WTL 2023 Winter 2v2 Tour (Major) | OSC | $9,000 | China (Online) |
| February 8 – 12 | IEM Katowice 2023 | Intel Extreme Masters | $500,000 | Katowice, Poland |
| March 11 -12 | #PassionCraft Knockout (Major) | MisterL | $5,000 | Online |
| April 18 – July 30 | World Team League 2023 Summer | WTL | $83,737 | Shanghai, China |
| May 2 – 21 | ESL SC2 Masters 2023 Summer: Europe | ESL | $63,200 | Europe (Online) |
| June 16 – 18 | ESL SC2 Masters 2023 Summer | ESL | $75,000 | Seoul, South Korea |
| October 3 – 26 | 2023 Global StarCraft II League Season 3: Code S | GSL | $26,261 | Seoul, South Korea |
| December 16 – 17 | ESL SC2 Masters 2023 Winter | ESL | $75,000 | Atlanta, USA |
---
Best sites to bet on StarCraft II
StarCraft II is available to bet on at several of the world's best sports betting sites, which have their own dedicated esports wagering sections. SC2 and StarCraft: Brood War are still extremely popular in the North American and South Korean competitive gaming circuits, so expect to be able to place a bet on your favourite pro players year-round with great odds at the top-reviewed esports betting sites. Many of the sites we recommend to bet on accept players from all over the world, so check out our reviews to confirm which sportsbooks legally cater to esports fans from your country.
Due to the fast-paced nature of StarCraft II's real-time strategy gameplay. we recommend brushing up on your knowledge of the game's various strategies and rules prior to placing a real money bet for peace-of-mind and the best possible chance at picking the right winner. Thankfully for you, we have StarCraft II esports betting guides available for you here, at your convenience.
Before you decide to bet on StarCraft II, however, we highly recommend reading our beginner's guide to betting on esports. We recognise many esports fans aren't regular sports bettors, so you may be unfamiliar with basic betting procedure and terminology, which is what our guide carefully covers so you are well informed and prepared before putting your hard-earned cash down.
---
What bet types are available in StarCraft II esports
The vast majority of esports betting sites we have reviewed and tested offers betting markets on major StarCraft II tournaments such as the StarCraft II World Championship Series (WCS), StarCraft II Corsair Cup, StarCraft Star League and the SC2 World Championship Global Finals. Most bet types are easily understandable for newcomers to online sports betting, and don't require intimate knowledge of every possible outcome in the average high-level StarCraft II match-up.
Below, we go over the types of bets you can place on SC2 esports, based on the available markets offered by our highest reviewed esports betting sites.
Match Winner: You are betting on the result of the match – which team successfully destroys the other team's base and wins. Depending on the faction chosen, the base is called a Command Center (Terrans) a Nexus (Protoss) or a Hatchery (Zerg). All sportsbooks label this type of bet differently, but it is most widely known as a 'Match Winner' – other labels include 'Money Line', 'Straight' or 'Head to Head'. The odds offered on Match Winner bets are reflective of the perceived skill level of each player in question, and are usually based on their most recent win/loss records, performance and other potential personal dramas.
Map Winner: You are placing a bet on which player will win each individual map played in the SC2 match.
Correct Map Score: You are placing a bet on the final scoreline of the SC2 match-up. For example, you can wager whether your favoured player will win 3-0 in a landslide victory, or win 3-2 after a hard-earned battle with the opponent, with odds reflective of how the sportsbook perceives who the match will go in favour of.
Outright Winner: You are placing a bet on the overall winner of a specific StarCraft II tournament – not the winner of an individual match, but the winner of the entire tournament in question.
Also read: