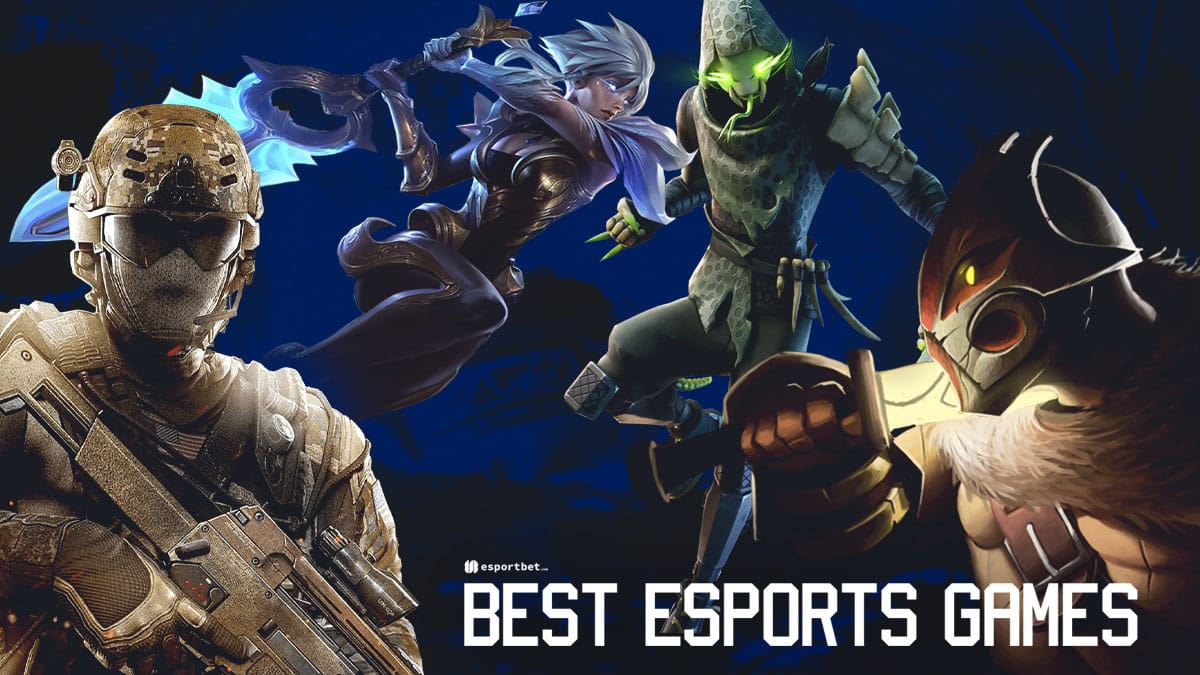 Potential esports games are being released all the time. Not all become top esports games, with many failing to catch on with the masses. The best esports games in 2023 include games like Dota 2 and Fortnite, but the launch of the XBOX Series X and PS5 is set to shake things up. These next generation console games might not immediately have esports industries sprout up, but you can rest assured by the end of 2023 things will be much clearer. With the bulk of esports games played on PC currently, this page will evolve as more competitive video games are released.
---
Top 10 esports games in 2023
While there are 100s of video games that could be termed a competitive esports game, there are some that stand head and shoulders above the others, in terms of popularity; including player numbers, streamers and viewers. The top esports games literally have millions of players online at any one time, while there are various competitions, tournaments and leagues set up surrounding the most popular games. The top 10 esports games for 2023 are:
---
Upcoming esports games in 2023
The esports world is continually expanding with new games being released. While not all make it as successful esports games, there are some that are highly anticipated:
Halo Infinite: The sixth title in the Halo franchise is set to shake things up. Halo Infinite promises an open world, on contrast to other Halos, and has already indicated a willingness to expand into esports. Halo Infinite is due to be released in the first quarter of 2021.
---
Introducing esports games
New competitive video games are being released all the time, including upgrades to existing esports games, which can breath new life into older titles. Esports is growing fast and the more money involved in it the more video game developers can put back into developing new esports games. There barely goes a week when some potential esports game is released and pumped up by its developers. Having said this not all potential esports games turn out to be Fortnite or Apex Legends, with many big budget releases failing to make an impact in professional video gaming. This page will highlight the most popular esports games, new esports games and upcoming competitive video gaming releases.
---
What is an esports game?
Esports is an all-encompassing term used to describe online multiplayer video games played competitively for spectators and the many tournaments and events they spawn. Over 50 video games across consoles and PC spread are considered to be esports, with professionally organized leagues and tournaments offering millions of dollars in prize money for the very best players around the world to win. The massive success of the industry in the past seven years has led to more games across more genres being developed with a potential esport sub-culture in mind.
Despite esports' continued advancement into the mainstream consciousness, it can be quite overwhelming for anyone new to competitive gaming or video games in general to try and dive into even just one of these highly passionate communities. Sometimes, it's even difficult to find out which games have an esports scene and which are simply touted by its fans as a potential breakout hit, let alone understand how esports and betting on such large-scale events works.
This page aims to guide readers on the best esports games in 2019, understanding how they work and why they're popular, and the upcoming esports games that will make it big this year.
---
Esports games genres
There are some common video game genres or categories that make up the majority of esports in 2023, although every now and then a new game will shake things up that might not necessarily fit into a traditional category.
Multiplayer online battle arena:
Also known as real time strategy video games, MOBA is a subgenre of strategy video games. Played between two teams, MOBA games are usually head to head, and involve destroying the other team's base and killing any players. Fortnite and PUBG are prime examples of MOBA games.
First person shooter:
First person shooter esports games are very popular, and usually involve fighting on a map, either in free-for-all or team vs team mode. Last man standing and capture the flag are two of the popular formats of esports games in First Person Shooter titles. Call of Duty is arguably the best first person shooter of all time, while games like Unreal Tournament and early versions of Counter-Strike did a lot to pioneer this genre.
Card game battles:
Card game esport games are very popular and are usually referred to as digital collectible card games. For a long time digital versions of collectable cards were not desired, but now many distributors are only releasing them as a video game, like 2023's no.1 digital card battle game Hearthstone.
Battle royale:
Battle royale esports games have got elements of many games, including survival, exploration, scavenging and even first person shooter. Beginning on a massive map, a battle royale esports game usually has a safe zone, forcing players to eventually come together in a small zone. The winner of a battle royale esports game is usually the last team or man standing. PUBG is a prime example of a battle royale esports title.
Real-time strategy esports games:
Real-time strategy esports games are games that are running continuously, with players not taking it in turns. An example of an RTS esport game is World of WarCraft.
Turn-based strategy esports:
This is simple a video game where players take it in turns, with games like the Civilization series the perfect example of how these types of games work.
Sports:
The sports genre of esports games should not be underestimated and it is only now beginning to flourish. Most of the major European soccer leagues have now launched digital esports leagues, running off the FIFA series, while 2K is insanely popular with basketball fans. Expect sports to be one of the big movers in terms of prize money offered in the coming years, as mainstream sporting organisations do everything they can to get-in on the esports boom.
---

Best esports betting sites
---
Most popular esports games in 2023
The most popular esports games in 2023 boil down to a select few genres, despite the increasingly diverse amount of titles releasing with the intention of building out a future competitive scene. Competitive and organized video game tournaments can exist for any title, but there is a distinct list of games that made the esport industry the behemoth it is today (valued at $1.5 billion in the latest SuperData report, in case you were wondering).
We break-down the most popular esports titles globally in our list below – click on the provided links for more detailed information into the game's competitive format, event schedules, gameplay, top teams and the best esports betting sites to place a real money wager on the latest official tournaments for each title.
One of the surprise packets of eSports world, Rocket League is a game that you have to see to believe. It pits two teams of cars against each other on a giant football pitch. It's rough and tumble, head to head nature makes it a great spectator sport and betting event, with sites like bet365 offering extensive markets on the various leagues that are dotted around the world. Unlike many eSports games it does not make players travel, with most competitions played online. It also has a basketball mode but this is yet to catch on as an esports venture.

Heading into 2023, Rocket League has become a major phenomenon with huge prize money fought out in the professional esports world. Rocket League has got a thriving esports scene, with the Rocket League Championship Series, which culminates in the World Championships, after the RLCS Spring Major, Winter Major, Summer Major events, which pit the best of the best against each other.

Released as an annual sporting franchise, NBA 2K18 was the first title in the series to be played as an esport, thanks to the NBA 2K League – a joint venture between the National Basketball Association and 2K Games Interactive to create a professional esports league for competitive virtual basketball. Starting with 17 NBA franchises, the 2K League has since expanded to 23 teams – including one from China. Watch this space.

A friend of this scribe that coaches a junior football club was shocked when his team was all telling him they wanted to be professional FIFA esports players. The sports scene can no longer be ignored as esports, with many of the best soccer clubs in the world now having an esports leg. There is a new version of FIFA released each year and it doesn't often disappoint. Features teams from right round the globe plus international teams of superstars. Stand by for more information about the professional esports football scene.
---
Best new and upcoming esports games in 2023
Despite the continued worldwide domination of the esport triumvirate (CS:GO, Dota 2 and LoL), 2023 will see the debut of several popular competitive multiplayer video games, especially sports titles like FIFA and NBA 2K that have branched out into the world of esports, along with the continued advancement in popularity for other long-running and supported titles.
One of the fastest growing releases of all time after its early February 2019 drop. Respawn Entertainment released this title, with it set 30 years after TitanFall 2, its other well-known title. Its gameplay is a similar concept to PUBG although the addition of Legends with unique attributes has made it a huge hit. There are not yet any professional esports leagues surrounding Apex Legends but given the hype generated early it seems a given that at the very least a tournament will spring up.

Released in 2015, Halo 5 is the latest entry in the popular sci-fi first-person shooter franchise, which is the lead game for Microsoft's Xbox console platform. Halo has had a long and treasured history in esports, beginning in the early days of LAN console gaming and reaching its zenith when Xbox Live and broadband Internet made it possible for previously offline tournaments to enter the world stage. The esports scene for Halo is notably for receiving significant support from organizers such as Major League Gaming, prior to becoming household names in the competitive video gaming industry. MLG are currently partners with developer 343 Industries in bringing the Halo World Championship Series events to fans and aspiring professional Halo gamers all over the world.
---
Esports games that have come and gone
Heroes of the Storm

Heroes of the Storm looked to be the next big thing in 2016, when it was announced almost $7 million in prizes would be handed out the following year. Despite this, in 2018, Blizzard announced Heroes of the Storm would be scaling back its commitments to this cross-franchise MOBA esports game. Perhaps the biggest sign Heroes of the Storm was on its last legs as an esport came with the announcement the Heroes Global Championship was cancelled, effectively signalling the end of the professional scene.

H1Z1

This Daybreak Game Company game, released for Microsoft Windows in 2015, was poised to be the next big thing in esports. But it all came crashing down in 2018, when H1Z1's official league was shut down without warning halfway during its inaugural season. Despite trying to cash in on the battle royale boom, the game simply could not compete with the likes of Fortnite and PlayerUnknown's Battlegrounds.
---
Other notable esports games to watch in 2023
There are dozens more amazing video games with competitive esports scenes attached to them, some still growing, some forever niche, and others on the steady path to the big leagues. These are the esport titles to watch for in 2023 and beyond.
Battlefield
Injustice 2
Madden NFL
Marvel vs Capcom
Quake Champions
Rainbow Six Siege
Smite
Street Fighter V
Tekken 7
Vainglory
WarCraft III
War Thunder
---
Most popular esports video game genres
As esports history follows, fighting games and first person shooters are the two dominant genres to come out of the 1980s and 1990s and remain at the top today, though Multiplayer Online Battle Arena (MOBA) games, which have taken the world by storm since 2010, arguably is the most significant esport genre today. The booming popularity of South Korean Internet cafes and extensive modding communities helped shape real-time strategy (RTS) games into highly competitive, multiplayer-focused head-to-head arenas which led to the now dominant MOBA category.
---
How are esports growing so fast?
An increasing amount of these top-tier esports are entirely organized and managed under the administration of their original developers and publishers of the video games in question – Activision Blizzard, Riot Games and Steam all are heavily involved with the advertising, funding, promotion and organization of tournaments for Overwatch, League of Legends and Dota 2, respectively – rather than third-party esport organizations such as the Electronic Gaming League and Major League Gaming as in the past. This has lead to increased support for the competitive and professional communities, directly provided from the creators.
You can find the definitive guide to all video game publishers supporting esports here.
---
A brief history of esports
Competitive video gaming precedes the Internet era and has been around since the 1970s and 1980s, when organized and televised gaming tournaments hosted by games developers, usually as a marketing tactic, were commonplace in countries like Japan and the United States. Despite video games at the time being offline and lacking the massive multiplayer functions that we take for granted in our favourite titles today, the medium found a way to rise to popularity.
The earliest recorded esport event, which were labelled under more amusingly creative names such as "Intergalactic spacewar olympics", took place in 1972 at Stanford University, California. The university invited Spacewars players to compete for a one-year subscription to Rolling Stone magazine. It wasn't until 8 years later when video game publisher Atari held the Space Invaders Championship in 1980 – when more than 10,000 people showed up from all across North America – that competitive video gaming was considered a mainstream hobby.
The rest of the 1980s saw the establishment of several organizations such as Twin Galaxies and the U.S National Video Game Team which helped promote video games worldwide, along with the competitive scenes that inevitably accompanied them, created and driven by passionate fan-bases. When the Internet era properly arrived in the 1990s and more video games began taking advantage of the connectivity and multiplayer possibilities it provided, larger esports tournaments formed and greater awareness followed. Games such as Counter-Strike, StarCraft and Warcraft had their humble beginnings in the LAN era and became powerhouses in the modern esports industry today thanks to the growing subcultures they fostered in the early days of connected gaming.
You can find a more detailed look into the history of esports here.
---
Where can I bet on the best esports games?

Best esports betting sites
The editorial team not only loves watching esports, but betting on them – and we have several guided across our site which aim to help our readers learn how to bet on their favourite esport title and the types of odds and betting options available per game. A good starting point for beginners or those new to esports in general is our how to bet on esports guide, which we highly recommend reading before placing a real money wager on any esports title.
If you're an experienced bettor looking for the top-rated esports betting sites, we also have you covered. Our readers from United States should check out BetOnline for the best new player welcome bonuses and betting markets on your favourite esports tournaments.