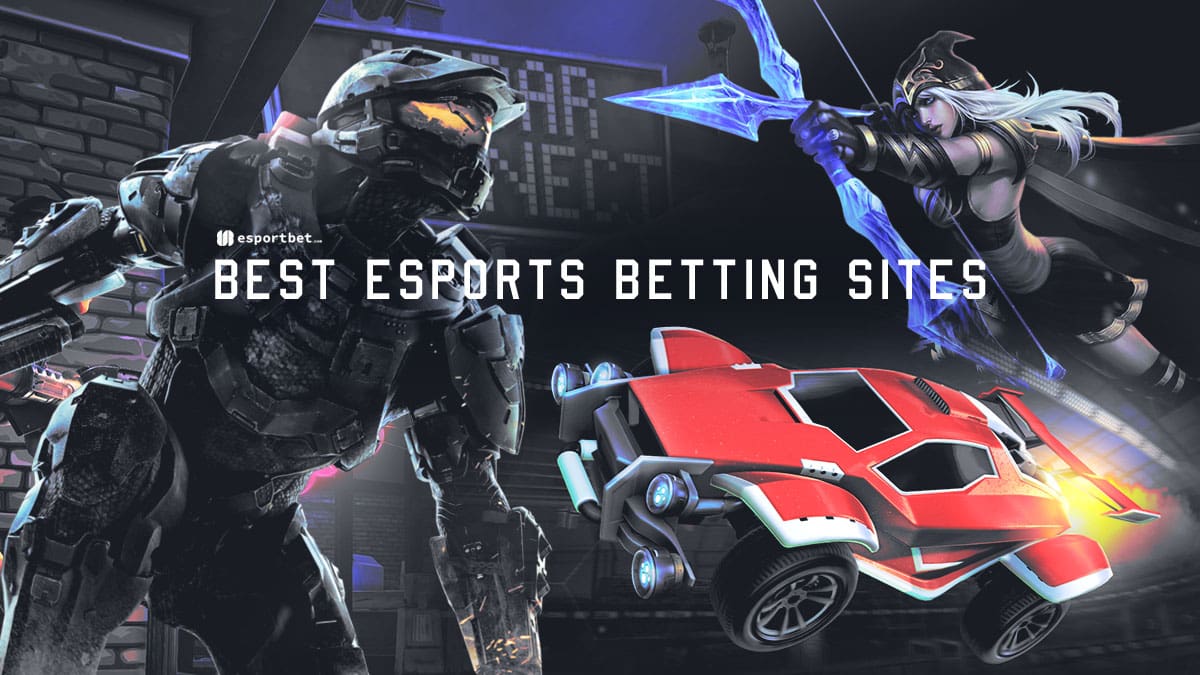 The top esports betting sites will vary depending on your location and laws, although it's very unlikely you won't be able to bet on esports online. Our best online esports betting sites for 2023 only include regulated and legal bookmakers and must have extensive odds available for competitive video gaming. The best esports betting sites include many of the biggest names in sports betting, but there have also been niche specific esports betting sites spring up. You can find out more about our top betting sites for esports in our extensive reviews, while you will also find information about bonus offers, esports promotions, payments and much more.
Best esports betting sites for December, 2023 are:

Top esports betting sites
---
Esports Betting Sites overview
Whether you are an avid gamer new to the world of online betting sites or an experienced punter looking to wager on your favourite competitive video game tournaments, there are plenty of regulated and safe esports betting sites available on the World Wide Web catering to your country.
With the boom in popularity of esports across major media outlets in 2023, more major online sportsbooks than ever are putting in the hard work to offer better odds, bonuses, promotions and options surrounding the blossoming industry.
Our guide is constantly updated to list the best online sportsbooks with dedicated esports betting markets covering the most popular esports games and their tournaments, such as CS:GO, Call of Duty, League of Legends and Dota 2 as well as up-and-coming esports titles like Halo, Overwatch, Rocket League and more.
Most importantly, you can find the latest exclusive sports betting sites sign up bonuses for each sportsbook by clicking on any of our reviews or links listed on this page – so keep us bookmarked. We are constantly adding new betting sites and betting apps to the websites we promote to our readers.
This page is fully geo-targeted, meaning all tables will only display esports betting sites that you are able to sign up at.You can learn more about each of the esports betting sites that we promote on this website by reading the individual bookie reviews linked to.
---
How do I place a bet at esports betting sites?
Wagering on esports at online betting sites is very similar to betting on any other racing or sporting event, but we have noticed a distinct lack of straight-forward explanations or guides for esports fans new to the real money betting scene.
If you are a newbie looking for a neat breakdown, check out our detailed guide on how to bet on esports, which helps players understand the esports odds, markets and options offered by the world's best betting sites – return to this page once you've brushed up, as this guide is solely focused on finding you the best esports betting sites based on betting markets, customer service, licensing and regulation, bookie payment methods and overall value.
Find an esports betting site that has markets you want to bet on:
The first step is to find an esports betting site that suits you. You want one that has the odds you want to bet on, preferably caters to your currency and has a high level of regulation.
Complete the sign up process at esports betting sites
Signing up at esports betting site sis straight-forward and involves filling in a digital form with things like your name, address and telephone number.
Opt in to any esports betting sign up bonuses
Often you need to opt-in to any esports betting sites promotions or bonus offers before you make a deposit, always check out the promotions tab at your chosen bookie to find any that tickle your fancy!
Make a real money esports bookie payment
Esports betting sites have got many different payment options available, including credit and debit cards, web wallets and even cryptos in certain jurisdictions. You can learn more below.
Placing esports bets:
Generally esports betting sites allow you to place bets by making your selection and then visiting the bet slip, where you enter in your denomination, can create multis and edit your bet type.
Check out our in-depth reviews of our highest-rated esports betting sites by clicking (or tapping, if on mobile) any of the provided links in the following list below.
---
Top esports betting sites for December, 2023
There are numerous esports betting sites available in 2023 with many countries having regulated gambling industries. The top esports betting sites for your location, will depend on the laws in your country. For instance, Australia has got a regulated sports betting industry and does not allow their residents to wager with offshore bettings sites. Same goes for countries like the United Kingdom and some states in the USA.
Often best esports betting sites online will have multiple licenses, in different countries with an example of this being Unibet, which has an Australian bookie license and Malta and UK Gambling Commission licenses. This means they operate in close to 200 different countries.
Online esports betting sites will generally have markets on all of the major esports, with these including games such as Fortnite, League of Legends, Dota 2, Call of Duty, Rocket League and PUBG. Depending on how popular an event is generally will determine the depth of odds available at esports betting sites.
Betting online on esports is available across several different platforms — with these being computer, mobile and even telephone betting in some cases. Most betting sites in regulated markets will have downloadable apps available to their customers. These esports betting apps are available to download after you have created a new account at a bookie.
The best esports betting sites for your circumstances should have deposit options available that suit you. Not all esport betting payments will be available in all jurisdictions, but generally standards like Paypal and Visa are. Depending on your location, web wallets like Neteller and Skrill are common, while cryptocurrency continues to be a popular way to fund betting accounts.
Top betting sites for esports in December, 2023:
1XBet
Has an impressive amount of esports markets, both major and local and supports multiple languages, making it ideal for esports fans around the world looking to place an easy bet. 1xbet is a Russian-facing business that, on top of its esports betting site, also has a retail operation. Read the 1xBet esports review.
---
Boasts a decent range of esports markets for USA fans and is Bitcoin-friendly. Has a comprehensive sportsbook and casino section for those who enjoy betting on other sports in addition to competitive gaming. Read the BetOnline esports review.
---
Best suited for North American esports fans and those who prefer to bet using Bitcoin cryptocurrency. Offers a decent range of esports betting markets on the most popular titles and major events, but lacks betting options for smaller tournaments. Read the Bovada esports review.
---
A unique esports betting site that deals entirely in Bitcoin wagers and fast registration that favours those who like anonymity and privacy. Read the Nitrogen esports review.
---

Sportsbetting.ag
Is one of the few respected sports betting sites that accepts punters from North America. Can be hit and miss with the quality of the markets available, but one to keep in your back pocket if you are from a place with restrictions surrounding online betting. Read the Sportsbetting.ag review.
---
Best suited for Brazilian and South American esports fans and those who prefer to bet with Bitcoin. Offers a standard range of esports betting markets, mostly on Dota 2 and Overwatch, with lacking support for most other titles. Read the Bumbet esports review.
---
One of the most renowned esports betting sites on the Web, with a ton of helpful esports betting guides and FAQs in addition to the most comprehensive list of betting markets for competitive gaming, covering all major and minor tournaments across popular and niche esports titles. Read the Pinnacle esports review.
---
One of the most top-rated sports betting sites in the world with over 40 years of solid reputation in the business. Offers one of the best range of esports betting markets on the Web, with an intuitive and easy to use interface making placing bets easy and uncomplicated. Read the Betsson esports review.
---
Recommended!
---
Top mobile esports betting sites
Mobile esports betting sites are the no.1 way punters wager on professional video games in 2023. The two main ways people access esports betting via mobile is via instant-play betting sites and via mobile betting apps.
Mobile betting sites are essentially a small-screen version of your standard desktop betting site. They are generally located at the same URL as the desktop website. Although we have seen esports betting sites, where the mobile version is based at m., rather than https:// or www. This essentially means the mobile esports betting site is different to the desktop version.
Recommended!
The best mobile esports betting sites for you will largely be determined by where you are, with most countries having some forms of legal gambling. For instance, United Kingdom betting sites are among the best in the world and if you are in Britain you must, legally, wager with one of these bookmakers, rather than an offshore option.
Other countries offerings, like New Zealand betting sites are different and you can wager with literally any esports betting sites that you want. The government there aren in many other places, simply has not stopped their residents from wagering with betting sites based overseas.
Many esports betting sites, depending on your location, will have esports betting apps available. These are essentially small software downloads that give you instant access to esports betting odds, stats, casino games and other sports betting markets. Basically the sky is the limit as to what bookies sites offer customers via their apps.
Esports betting sites on mobile generally have got all of the expected deposit options, although in a few cases, we have seen some payment types not offered on mobile. This generally will be a third party payment like crypto or bank transfers, that are being facilitated by a institution.
---
Esports betting sites by country
It is impossible to give a succinct description of esports betting sites when their are so many different countries, with so many different sets of gambling laws. In this section we'll break down how esports betting sites work in some of our key readership areas:
---
What video games are available at esports betting sites?
The top esports betting sites have got many different video games available to bet on, with these including both the major titles and niche releases. You will find that betting sites have got more markets on the esports that have got more fans and punters. This means you will find esports betting sites with literally thousands of markets on events like The International, and maybe just a few on a regional pro league in Asia. Some of the most popular esports games to wager on at esports betting sites include:
---
Which esports competitions & Leagues can I bet on?
The world's best online sportsbooks always offer up-to-date head-to-head bets (wagers placed on which player or team wins) on the most popular international esports competitions running all year all around the globe. Outright winner bets, futures and exotic bets are also readily available betting options on most esports tournaments, but generally open up closer to the event.
Our recommended real money betting sites almost always have betting markets open on the latest live-streamed matches (read our linked guide to find the best esports live-streaming sites) hosted by the following esports leagues and tournaments:
Call of Duty Championship – Call of Duty
Electronic Sports League (ESL) – Counter-Strike: Global Offensive, LoL, Rocket League
E-Sports Entertainment Association League (ESEA) – Counter-Strike: Global Offensive
EVO – Street Fighter V, Tekken 7
GFinity – Counter-Strike: Global Offensive, Rocket League, Street Fighter V
Intel Extreme Masters – Counter-Strike: Global Offensive, LoL, StarCraft II
League of Legends Championship Series (LCS) – LoL
League of Legends Masters Series (LMS) – LoL
LoL Secondary Pro League – LoL
Neo Star League – Warcraft
The International – Dota 2
Smite World Championships – Smite
Starcraft II: World Championships Series – StarCraft II
World Cyber Arena – Dota 2, Counter-Strike: Global Offensive
Thankfully, many online sportsbooks have begun to expand outside of the usual suspects and often now take bets on many other major esports tournaments that are smaller scale compared to these big names, such as Microsoft's Halo World Championship (Halo 5), Blizzard Entertainment's Overwatch World Cup and Overwatch League (Overwatch), LAN-based tournaments such as BigFile (Overwatch) or DreamHack (multiple games) and even smaller events hosted by up-and-coming organisers and Twitch channels such as Pro Rivarly League (Rocket League).
---
Live betting on esports
One of the most popular ways to wager on sports in 2018 is once the event is underway. This is known as live betting and just means that the contest you are wagering on has already started.
It can be a great way for those who understand video games to make money, given if they spot a momentum swing, or another tell, they can place a bet accordingly.
It can also add more enjoyment to watching streams online, as if your win head to head bet is losing, it may allow you to hedge your bets by betting on each set in a best of 3 or 5 contest.
---
New eSports betting sites
Pixel.bet:
A newcomer to esports which was bought out by respected gambling company LeoVegas in September of 2018. Focusses solely on esports and has a Curacao license, meaning it accepts bettors from most countries. Expecting the website to be revamped in the not too distant future, with Leo boasting a sensational in-house sports betting platform. Read our Pixel.bet review
Luckbox:
Is mooted to be launching in 2018 at some point. Is expected to have a strong emphasis on cryptocurrencies which will appeal to the tech savvy nature of eSports fans. Read review.

Top esports betting sites
---
Esports betting sites payment types
The various online betting sites dotted around the world have got many different deposit options available to their customers. You can generally guess what bookie deposit options will be available at esports betting sites by their license. For instance, if a sports betting site is licensed in the UK, they will have payment types that are suitable for those customers.
Generally payments to betting sites with esports odds are instant, however in some cases, with deposit options like bank transfers they can take up to 48 hours. Some other popular payments at esports betting sites include things like web wallets, payment processors and telephone banking.
Payment options at esports betting sites include:
---
Is betting on esports legal in my country?
Despite some major developments by legislators in Nevada, USA in the form of the Nevada Senate Bill 240 which legalised esports betting in the state in July, and the Malta Gaming Authority in Malta and the United Kingdom Gambling Commission in Great Britain pushing for safer esports betting regulation, gambling laws specifically governing esports betting are currently in their infancy.
Betting Sites like Bookmaker.eu (read bookmaker.eu review) have very few restrictions on who can sign up, inclduing allowing players in the US and other countries that have clamped down on esports betting sites.
Esports as a whole is usually lumped together under the umbrella of sports betting. As such, there are presently no laws worldwide which specifically prohibit or clarify esports betting is illegal, but every bettor must be aware of their country's (and in America's case, each state's) local online gambling laws to keep safe.
Visit our individual country guides, which are linked in each section above, for more information about how esports betting fits into your country's online gambling laws, and to confirm your country's minimum legal age for gambling.
---
Customer service at esports betting sites
Generally customer service at esports betting sites can be reached via several different means, including live chat and telephone, although the options can vary depending on your location. Generally customer service at esports betting sites in regulated markets, like Australian bookmakers for instance, will be instant and very efficient. However customer service at smaller betting sites can be just be via email and can take more time to reply.
Common customer service types at esports betting sites include:
Live chat: Can be accessed directly from the bookie, often before you are a member. You will receive instant replies.
Email: Send in an email and have your esports betting site query answered.
Telephone: Customer service can be reached directly via telephone, this is a good way to get an instant answer