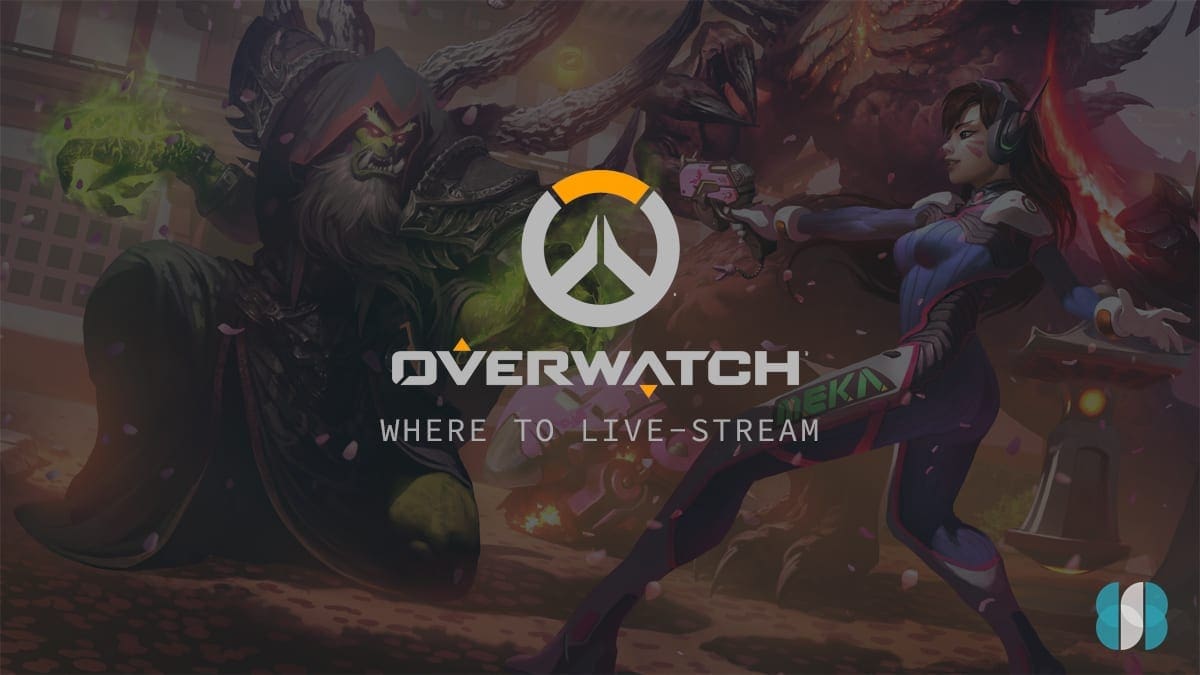 Overwatch is one of the most popular and played competitive multiplayer shooters ever, averaging around 14 million monthly users on console and PC last year and classified the most anticipated esports title ever in the United States. With its own professional esport league taking the entire scene by storm in 2018, it's only natural fans will be scrambling to find the top places to watch live-streams of official Overwatch League tournaments and replays (Video on Demand) from the comfort of home – this guide will detail the best options, which are all free and easily accessible for fans.

Top Overwatch esports betting sites
---
How does live-streaming esports work?
Live streaming is when a site transmits live video and audio coverage of event over the Internet in real-time to the viewer, and is often simply called streaming. While not exclusive to esports or video games, online streaming media largely took off due to the high interest from the gaming community in watching other people play games competitively in real-time, which eventually led to companies broadcasting these events on the world stage.
Esports is not usually broadcast or covered on traditional television networks, so hundreds of thousands of fans tune in to live streams broadcast by the official tournament organizers and uploaded to either affiliated channels (such as the game developer's official website) or third-party esports live streaming sites like Twitch.tv. The best part? It's all free.
In the case of Overwatch, all Overwatch League matches and other related esports events will be live streamed over the Internet directly from Blizzard Arena in Burbank, California.
---
The official Overwatch League website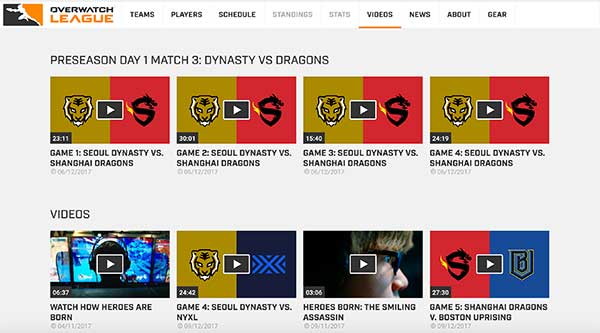 It's a no-brainer, but so many people forget the best source of high-quality live streams for the Overwatch League is available directly at the League's official website. The Blizzard-run site offers HD-quality streams of pre-season and regular season matches and we experienced virtually zero issues with the stream every time we tuned in.
The Overwatch League official website also offers detailed player, team and stat pages, which list current rosters, division, roles and mains for quick and easy reference while you watch. The dedicated Video on Demand (VOD) section on the site also allows users to watch replays and highlight reels of every match should they miss the action or want to re-live a particular play, in addition to exclusive interviews with the players and developer diaries.
---
Major League Gaming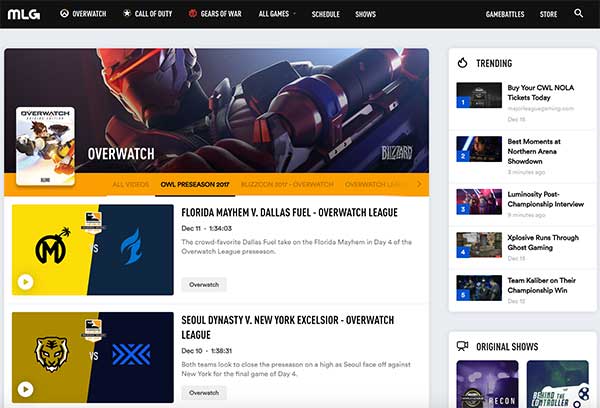 Major League Gaming is a fixture in the esports industry and you will be hard-pressed to find anyone who doesn't at least know them by word-of-mouth reputation. If you are a new esports fans or a hardcore gamer somehow living under a rock this whole time, MLG is a primary organizer of eSports events held around the world, particularly in North America. Its official site broadcasts major and minor esports events for several different games, including Call of Duty, CS:GO, Dota 2, League of Legends and, of course, Overwatch.
Interestingly, Activision Blizzard, the parent company of the developers of Overwatch, acquired MLG in January 2016. The current leader of the esports division in Activision is the MLG co-founder Mike Sepso, who has stated the buyout is intended to eventually lead to the formation of a 100% esports-focused television network. Until then, the official MLG website is another go-to digital venue for Overwatch League live streaming.
---
Blizzard Twitch.tv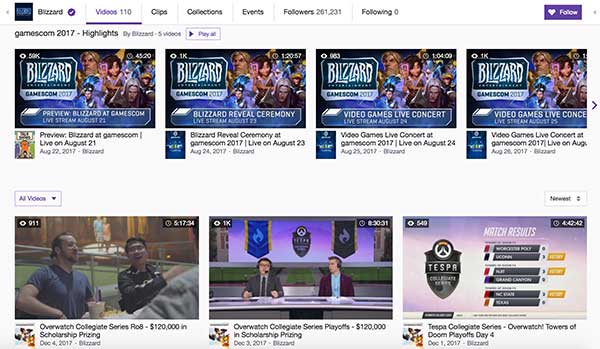 Twitch is the best and most popular live-streaming site for video gaming content on the Internet, so it's no surprise Blizzard uploads the best Overwatch-related video content on the platform. In fact, Twitch secured exclusive third-party live streaming video rights to all 2018 Blizzard esports tournaments, which includes the Overwatch League, Hearthstone Championship Tour, StarCraft II World Championship Series, World of Warcraft Arena Championship (WCS Circuit) and more major events run by Blizzard. You'll only find live streams here, outside of MLG and the official OWL site.
Blizzard's official Twitch.tv channel not only hosts live streams of the latest Overwatch League matches, but in the past have also streamed the Overwatch Collegiate Series Playoffs and the Overwatch World Cup, the latter of which was the precursor tournament to the OWL. All of their content is available to re-watch at any-time, making it an easy follow.
---
Where can I bet on Overwatch esports events while live-streaming?
Esports fans who enjoy a bet or two on their favourite OWL players and teams should check out the many highly-reviewed esports betting sites we have covered and tested, many of which cater to users from around the world.
If you're completely new to esports betting but want to have a go, we advise you to read our how to bet on esports guide for beginners before you sign up anywhere. You can also learn how to bet on Overwatch esports in our special guide.