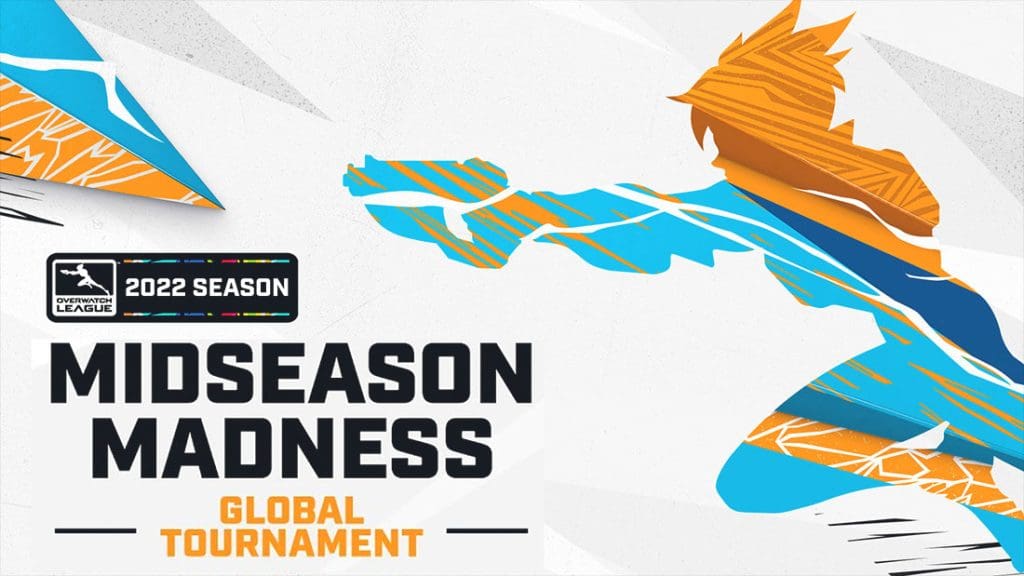 Overwatch League Midseason Madness betting is now available with all the top esports betting sites having odds live. What OWL Midseason Madness odds you can access will be determined by the sports betting laws in your country. Our OWL Midseason Madness betting guide will run you through everything you need to know about this tournament, running from July 18, 2022, including latest odds, teams, how to bet, how to watch and tournament structure.
Recommended!
---
OWL Midseason Madness 2022
The Overwatch Midseason Madness, arguably the largest online event in the world, plays a vital role in the Overwatch esports ecosystem. The tournament is organized by Blizzard Entertainment and has a prize pool of $1,000,000.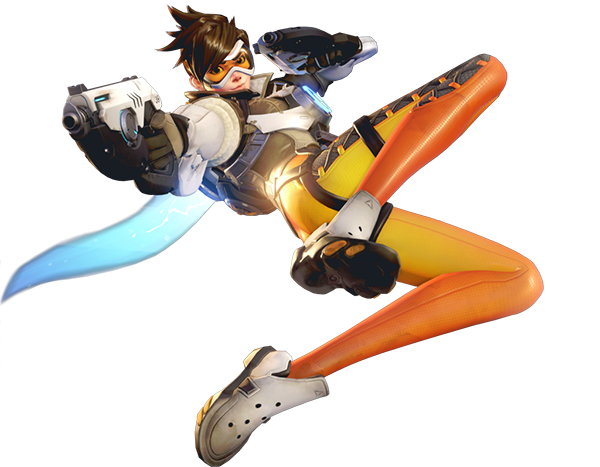 The OWL Midseason Madness tournament is scheduled to commence on July 18 and finish on July 23, 2022, with 12 teams battling to become the champions with prize money of $500,000. The Overwatch League Mid-Season Madness tournament will be held online with all teams participating remotely.
The 2022 Overwatch League season is the fifth season of the Overwatch League (OWL), a professional esports league. Contrasted to the first four seasons, which were played on the video game Overwatch, this season is played on an early build of Overwatch 2. The regular season began on May 5, 2022, and will end on October 22.
There are various betting markets for the Overwatch League Midseason Madness offered by several esports betting sites. This guide will highlight the betting odds, tournament structure, participating teams, and how to watch the tournament and not miss a game.
The best OWL Midseason Madness betting sites are:

Top Midseason Madness betting sites
---
Midseason Madness odds 2022
There are tons of Overwatch Midseason Madness odds available at the best bookies, but we will focus on the outright winner betting odds for the 2022 tournament.
Although the Shanghai Dragons are the reigning champions to win the Mid-Season Madness tournament, they are on the fourth line of betting to win the 2022 edition.
The Los Angeles Gladiators are the favorite to win the 2022 Midseason Madness event at $4.00 odds, with the San Francisco Shock and the Seoul Dynasty closely behind with $4.50 and $5.00 odds respectively.
Toronto Defiant, with $41 odds to win the OWL Midseason Madness, bring up the tail-end of Overwatch League betting.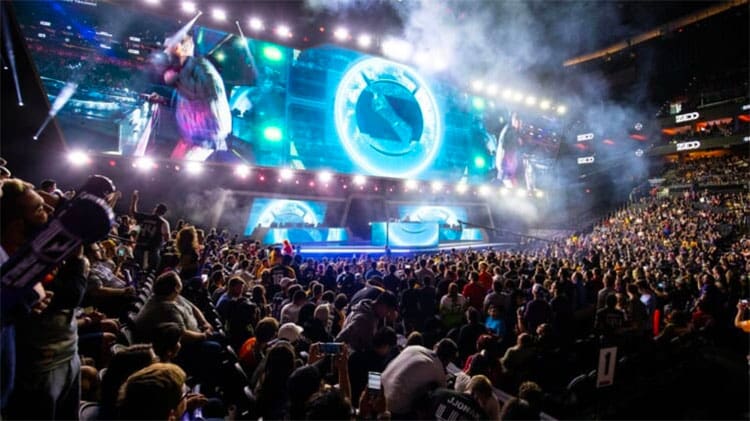 2022 Overwatch Midseason Madness Outright Winner betting odds:
Los Angeles Gladiators +300
San Francisco Shock +350
Seoul Dynasty +400
Shanghai Dragons +500
Dallas Fuel +650
Hangzhou Spark +900
Atlanta Reign +1200
Houston Outlaws +1600
London Spitfire +2000
Philadelphia Fusion +2500
Florida Mayhem +3300
Toronto Defiant +4000
---
Overwatch Midseason Madness tournament structure
The Overwatch Midseason Madness will take on a double-elimination format.
It contains a four-map pool, including Control (IIios, Lijiang Tower, Oasis) Push (New Queen Street, Colosseo) Hybrid (Eichenwalde, Midtown, King's Row), and Escort (Circuit Royal, Dorado, Watchpoint: Gibraltar, Route 66).
The order of the map will rotate every week for the entirety of the OWL Midseason Madness event.
---
Midseason Madness tournament format
The OWL Midseason Madness comprises of eight (8) teams from the West and four (4) teams from the East. The top four seeded teams from both regions will automatically advance to the second round based on their overall League Points accrued.
The remaining eight teams at the Midseason Madness will nettle it out in the first round, with the highest seed (5) taking on the lowest seed (12). In the second round of the winner's bracket, the opponent selection feature will apply as the top 3 seeded teams will be allowed to select their opponents from the qualified teams from the first round.
Map Selection

The higher seed team will have the honor of selecting the first map of each match. The loser of the first map will be required to select the next map based on the next game mode. The winner of the previous map will decide whether to attack or defend first (if applicable).

If both teams attain a draw, the loser of the previous map will get the chance to choose the next map. The winner, however, will get to select to attack or defend first (if applicable).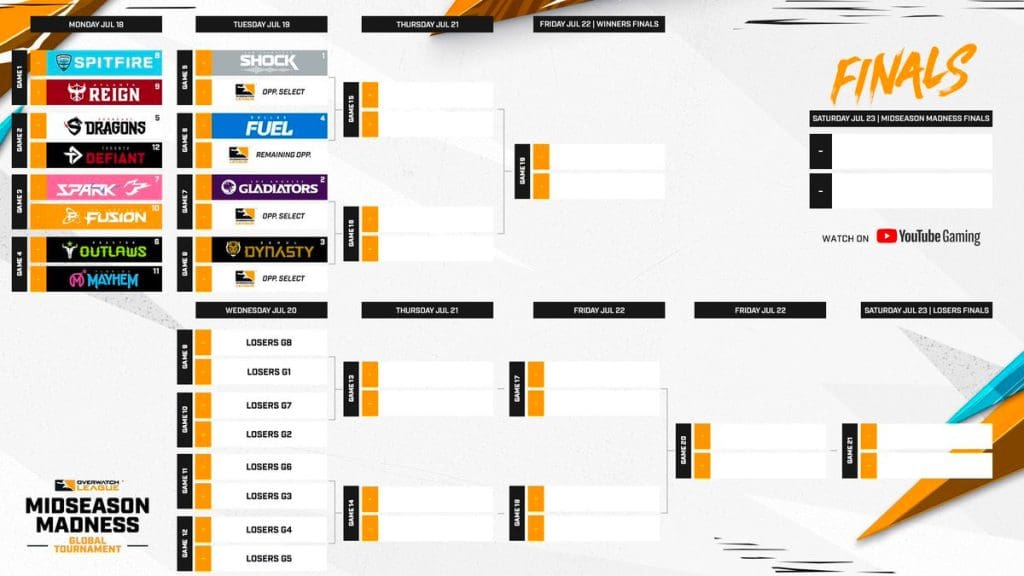 ---
Overwatch Midseason Madness teams
There are 12 participating teams in the Overwatch Midseason Madness tournament. Of the participating teams, seven (7) of the franchises are from the United States, two (2) from China, and one (1) from Canada, the United Kingdom and Korea, respectively.
San Francisco Shock (United States)
DPS – Kim "Proper" Dong-hyun
DPS – Jung "Kilo" Jin-woo
DPS – Samuel "s9mm" Santos
Tank – Michael "mikeyy" Konicki
Tank – Colin "Coluge" Arai
Support – Park "Viol2t" Min-ki
Support – Oh "FiNN" Se-jin
Los Angeles Gladiators (United States)
DPS – Lee "ANS" Seon-chang
DPS – Kevin "kevster" Persson
DPS – Patiphan "Patiphan" Chaiwong
Tank – Corey "Reiner" Scoda
Tank – Indy "SPACE" Halpern
Support – Daniel "FunnyAstro" Hathaway
Support – Kim "Shu" Jin-Seo
Support – Kim "skewed" Min-seok
Dallas Fuel (United States)
DPS – Kim "Doha" Dong-Ha
DPS – Kim "Sp9rk1e" Yeong-han
DPS – Kim "Edison" Tae-hoon
DPS – Kang "guriyo" Min-seo
Tank – Lee "Fearless" Eui-Seok
Tank – Choi "Hanbin" Han-been
Support – Han "ChiYo" Hyeon-seok
Support – Kwon "Fielder" Joon
Houston Outlaws (United States)
DPS – Dante "Danteh" Cruz
DPS – Oh "Pelican" Se Hyun
DPS – Choi "MER1T" Tae Min
Tank – Shin "PIGGY" Min Jun
Support – Kim " Ir1s" Seung Hyun
Support – Moon "Lastro" Jung Won
London Spitfire (United Kingdom)
DPS – William "SparkR" Andersson
DPS – Johannes "Shax" Nielsen
DPS – Jamie "Backbone" O'Neill
Tank – Hadi "Hadi" Bleinagel
Tank – Gael "Poko" Gouzerch
Support – Oliver "Admiral" Vahar
Support – Landon "Landon" McGee
Atlanta Reign (United States)
DPS – Kai "Kai" Collins
DPS – Charlie "nero" Zwarg
DPS – DONGGEUN "Venom" Lee
DPS – Nicholas "Speedily" Zou
Tank – United States Gator
Tank – Xander "Hawk" Domecq
Support – Christian "Ojee" Han
Support – Benjamin "UltraViolet" David
Florida Mayhem (United States)
DPS – Isaiah "Hydron" Rodriguez
DPS – Seunghoon "Checkmate"Baek
DPS – Gihyo "Xzi" Jung
Tank – Jeong-wan " SOMEONE" Ham
Support – Tae- Sung "Anamo" Jung
Support – Majed "SirMajed" Alrashied
Support – Rupal "Rupal" Zaman
Toronto Defiant (Canada)
DPS – Huisu "Heesu" Jeong
DPS – Jung-Wo "Finale" Lim
DPS – Hyeonwook "ALTHOUGH" Jung
Tank – Young-Hun " MuZe" Kim
Tank – Hong-Jun "HOTBA" Choi
Support – Yumin "CH0R0NG" Sung
Support – Juseok "Twilight" Lee
Seoul Dynasty (Korea)
DPS – Dong-eon "FITS" Kim
DPS – Junyoung "Profit" Park
DPS – Jeong "Stalk3r" Hak-Young
Tank – Myeong "smurf" Hwan
Support – Youngwan "Creative" Kim
Support – Junwoo "Vindaim" Park
Hangzhou Spark (China)
DPS – Zheng "shy" Yangjie
DPS – Minho "Architect" Park
DPS – Zhuo "Pineapple" Li
DPS – Jun "AlphaYi" Kim
Tank – Qiulin "guxue" Xu
Tank – Chengjie "LiGe" Jia
Tank – Sewon "BERNAR" Shin
Support – Gengtuo "Superich" Wu
Support – Hyeong-woo "irony" Kim
Shanghai Dragons (China)
DPS – Byungsun "Fleta" Kim
DPS – Lee "LIP" Jae-won
DPS – Lee "WhoRU" Seung-jun
Tank – Koo "Fate" Pan-seung
Tank – Kang "Void" Jun-woo
Support – Lee "LeeJaeGon" Jae-gon
Support – Kim "Izayaki" Min-chul
Support – Heeshang "BeBe" Yoon
Philadelphia Fusion (United States)
DPS – Jaehyeok "Carpe" Lee
DPS – Yoon "MN3" Jae Hee
DPS – Hyunwoo "ZEST" Kim
Tank – Junho "Fury" Kim
Tank – Gyutae "Belosrea" Hwang
Support – Kwon "FiXa" Yeong Hun
Support – Minseok "AimGod" Kwon
---
OWL Midseason Madness prizemoney 2022
The OWL Midseason Madness event carries prizemoney of over $1 million USD for the 2022 edition of the tournament.
The Midseason Madness prizemoney is broken down like this:
| PLACEMENT | PRIZE (USD) |
| --- | --- |
| First Place | $500,000 |
| Second Place | $250,000 |
| Third Place | $125,000 |
| Fourth Place | $75,000 |
| Fifth Place | $25,000 |
| Sixth Place | $25,000 |
---
Overwatch Midseason Madness history
The Overwatch Midseason Madness is the second of four Midseason Overwatch tournaments of the post-regular season.
The OWL Midseason Madness tournament comes after the Kickoff Clash, but unlike the Clash which is a regional tournament, the Midseason Madness is an interregional event. This is the inaugural edition of the tournament and as such, there exists no reigning champion or catalog of previous winners of the OWL Midseason Madness.
The Midseason Madness Qualifiers commenced on June 16, in the West region, and on June 24 in the East region. Qualifying teams will advance to the interregional tournament, with top Western teams traveling to Hawaii for the interregional tournament and the top Eastern teams remaining in their home facilities.
By July 23, the OWL Midseason Madness will see a franchise become the first winners of the Overwatch Midseason Madness.
---
How to watch Overwatch League Midseason Madness online
The Overwatch Midseason Madness can be watched live on the official YouTube channel of the organizers at 7pm pm ET from July 18 – 23.
Repeat broadcasts of the previous day's games can also be watched on the channel in the morning of the next day by 10:30am ET from July 19 – 24.
Recommended!
---
OWL Midseason Madness betting 2022
You can bet on the OWL Midseason Madness at many of the top esports betting sites online in 2022, although your location will determine which of these bookies you can join. For instance, the best UK betting sites are significantly different to esports betting sites in the USA.
All OWL Midseason Madness betting sites that we promote on this page are geo-targeted, meaning you will only see sportsbooks that you can bet with. The best Overwatch betting sites will allow you to wager on both mobile and via your computer, while some even have telephone betting.