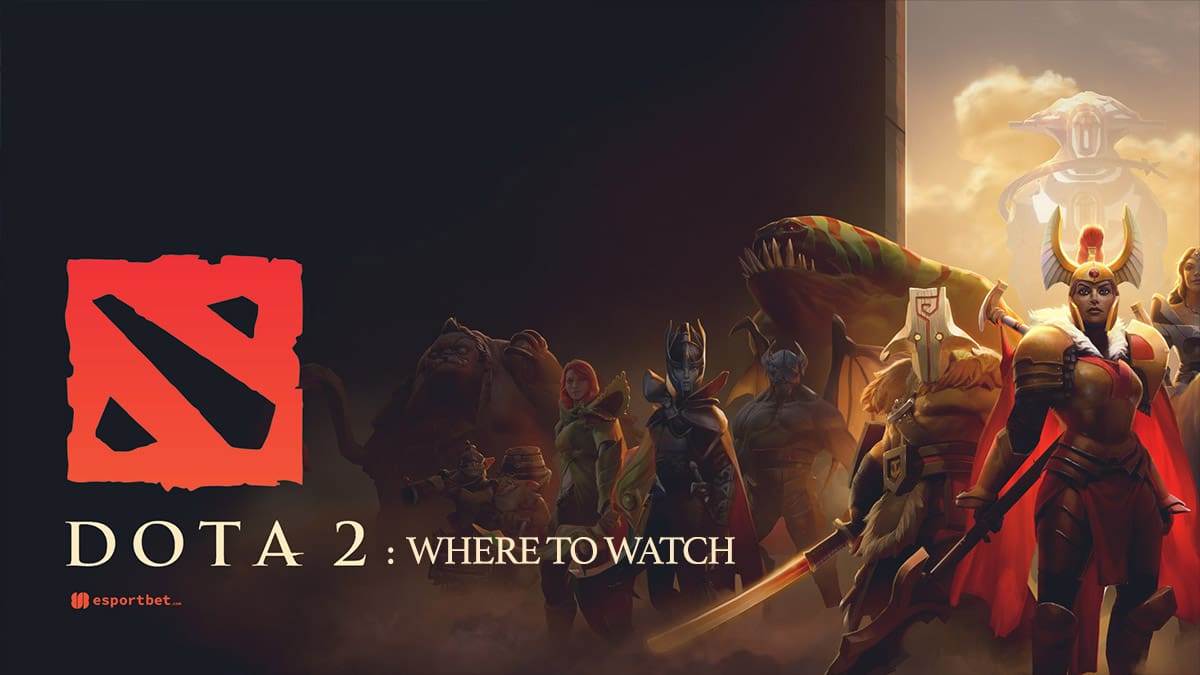 Dota 2 live streams are readily available in 2023, with this multiplayer online battle arena one of the most popular esports on the planet. Streaming Dota 2 live can be done via several channels, including Twitch.tv and Youtube. Via these sources you will be able to watch Dota 2 tournaments and leagues live, depending on the schedule and what is on at any given time. Dota 2 live vision is particularly popular when the International is on each year with millions of people tuning in. Several of our top Dota 2 betting sites also have live streams of matches, including ArcaneBet and GG.Bet.

Watch Dota 2 Live
---
How to watch Dota 2 esports – live-streaming
The most popular way to watch Dota 2, or any esport for that matter, is via live-streaming. Live-streaming is when an online website uploads a real-time video feed of an event and shares it for viewers to tune-in and watch live.
It's also a free service, and popular among the esports and video gaming communities as live-streams make it easy for anyone to watch their favourite pro gaming or amateur content as they release, across desktop and mobile devices.
Dota 2 is one of the most popular esports in the world, so it is widely supported at the most popular live streaming sites which focus on providing esports content. Our top-picks include Major League Gaming, Twitch and YouTube Gaming.
It is also common for the developers and publishers of the esport in question to support their game by hosting live-streams of competitions and tournaments through their own official channels.
Why esports are tied to live-streaming comes down to the early days of the sport, when traditional television channels and other mediums did not support or broadcast esports events – at least, until the industry started booming and every traditional network around the world started scrambling for a slice of the very lucrative pie.
Despite esports being more visible than ever in the mainstream consciousness and our TV screens, live-streaming sites remain the best way to watch your preferred events or game content – including Dota 2 esports. We'll take you through the top live-streaming sites and other sources to watch Dota 2 tournaments and competitions online.
---
Valve official channel – Twitch.tv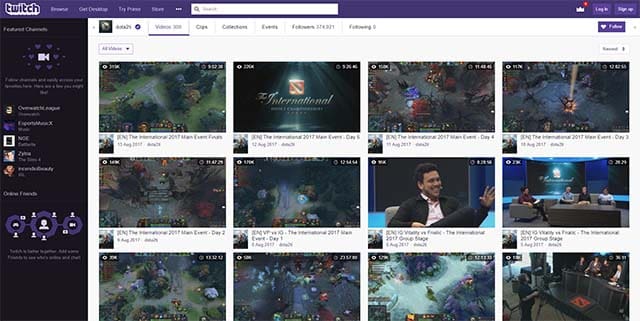 Valve has an official channel on Twitch.tv, dota2ti, which focuses on streaming The International every year and compiling past Dota 2 esports events for quick and easy fan access.
The International is the biggest esports tournament in the world for both Dota 2 and across all other popular competitive games, famous for its high production values and the increasingly large prize-pools Valve puts up for the event every year – The International 2017 awarded a record-breaking US$24,787,916 to the top competitors, about 119% more than 2016.
It's no surprise, then, that Valve puts most of their Twitch and live-streaming channel's efforts into broadcasting this annual event, and over 300,000 people have subscribed to the channel.
Along with footage of the main tournament play, there are over 300 behind-the-scenes videos, interviews, previews and plenty of other juicy content on this channel that will appeal most to hardcore Dota 2 fans.
Electronic Sports League official channel – Twitch.tv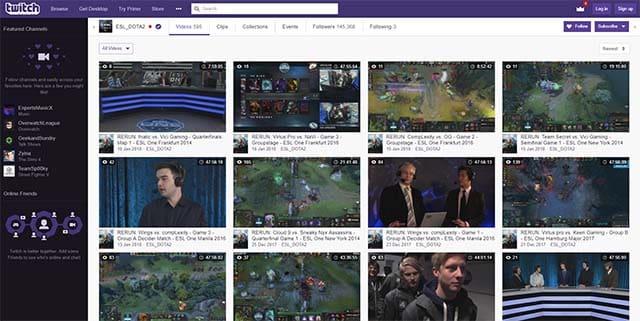 The Electronic Sports League, one of the world's premier esports organizations, handles many of the Dota 2 tournaments in Europe and abroad and their official Twitch.tv channel, ESL_DOTA2, broadcasts all major ESL Dota esports events for your convenience.
The channel has over 140,000 subscribers and thousands of hours of Dota 2 content outside of the tournament live-streams and re-run videos, including behind-the-scenes footage, interviews, previews and more that will make any fan of the Dota 2 competitive scene very happy. Dota 2 Live streams are available when there is action happening.
Dota 2 official channel – Watch Dota via YouTube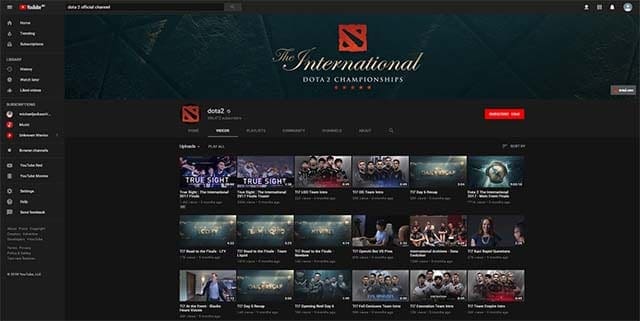 Valve uploads all tournament broadcasts of The International and other Dota 2 live esports events throughout the year to their YouTube channel.
The channel, dota2, has over 580,000 subscribers tuning in to watch official live-streams and past videos of major Dota 2 tournaments and qualifiers.
It also acts as a general hub for all announcements related to Dota 2, including new content, updates and patches, game trailers, team intros and interviews, match previews, recaps and a wealth of other content all directly related to Dota 2.
This option is the best for casual fans of Dota 2, given how easy and accessible it is to watch anything on YouTube – but you will miss out on some of the community interactions and events that are offered on other platforms like Twitch.
---
How many people watch Dota 2 esports?
Dota 2 is one of the four main esports making the most headlines, generating the biggest prize-pools and retaining the highest viewership counts around the world. Alongside CS:GO, League of Legends and Overwatch, Dota 2 is an absolute monster when it comes to prize money offered, total hours watched, monthly active users (MAUs) and unique viewers for its live-streams.
According to SuperData's 2017 end-of-year esports report, Dota 2 offered up a total of US$37.1 million in prize money, gathered 12.6 MAUs and over 465 hours of its esports events were watched on Twitch from the period of April to October.
The only other esport which beat it in both MAUs and live-streaming viewership was League of Legends, generally considered to be its biggest competitor. However, Dota 2 consistently beats LoL in other areas, particularly the prize-money for its major events. For The International, Valve put up over US$25 million in prize money, one of the largest pro gaming prize-pools to date.
---
Where can I bet on Dota 2 esports tournaments?
We have reviewed dozens of top-rated esports betting sites that offer betting markets on Dota 2 tournaments, such as ESL One and The International, which service fans from around the world.
Dota 2 fans reading our guides from United States are advised to sign up at BetOnline, our #1 ranked betting site for your region.
If you are new to Dota 2 or want to learn more about the competitive scene surrounding the game, you can read our Dota 2 esports guide to answer your many questions, as well as many other guides across the site as listed below.
In summary, Dota 2 live streams are readily available to fans via a number of reliable sources. This means betting on and watching Dota 2 can be done from both mobile and desktop computers.