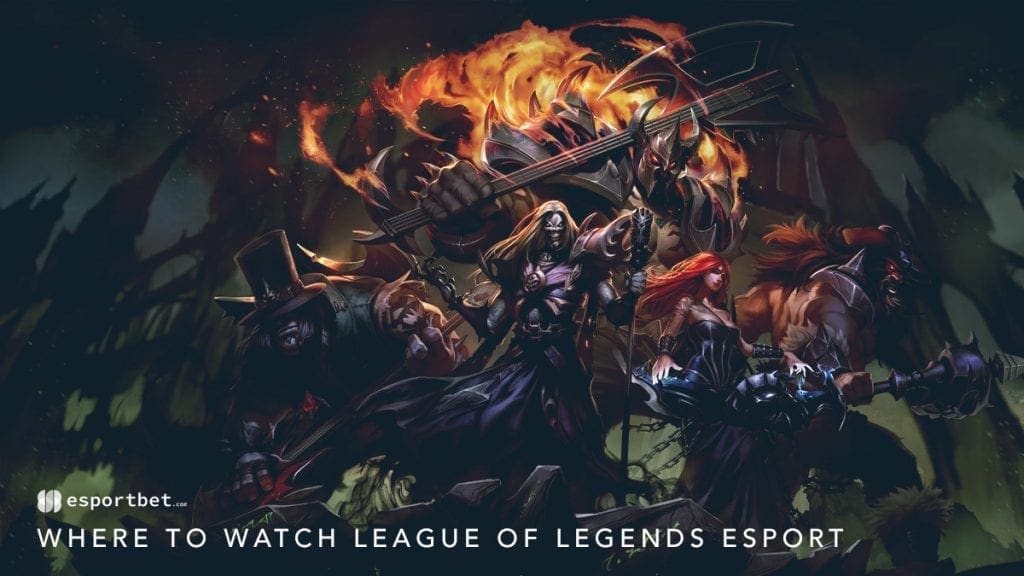 League of Legends is one of the most popular competitive Multiplayer Online Battle Arena (MOBA) video games in the world, both in the sheer size of its concurrent player-base and its significantly large viewership on Twitch. Sometimes it can be hard to keep track of where to watch the official esports action online, so this guide will take both newcomers and hardcore fans through the best live-streaming sites and other video sharing services to watch LoL tournaments.

Where to bet on League of Legends esports
---
League of Legends esports live-streaming
For those unfamiliar with the term, live streaming or live-stream is when a video-sharing site transmits real-time, live coverage of an event to your computer or mobile screen.
There are live streaming sites like MLG and Twitch specialising in video game and esports content, which focus on hosting streams of competitive tournaments and solo streamers sharing their gameplay online. These are the most popular places for esports fans to tune into their favourite tournament from the comfort of home.
Esports and video games have popularised the live-streaming medium in the past few years, largely due to the fact that traditional television networks initially did not broadcast esports tournaments. Even though many TV channels now provide coverage of large-scale esports events, live-streaming is still the preferred method of watching for many gamers.
In the case of League of Legends, there are numerous live-streaming sites and sharing options for fans to tune into the latest tournament broadcasts for free, which we list below.
Riot Games – LoLEsports.com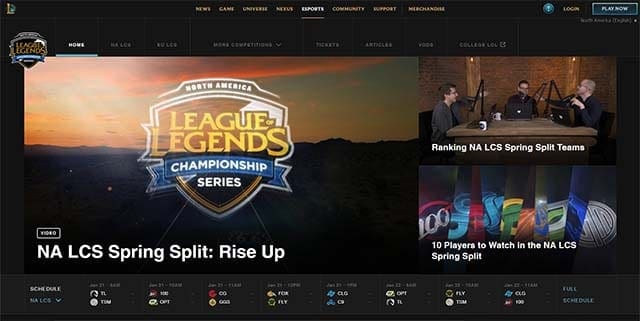 Riot Games, the creators of League of Legends, provide live-streams of every single regional and major League of Legends tournament directly on their official website, all-year round.
Whether it's the European and North American League of Legends Championship Series, the numerous other regional tournaments – League of Legends Champions Korea (LCK), Tencent League of Legends Pro League (LPL), League of Legends Oceania Pro League (OPL) – or the World Championships at the end of the year, you can tune-in at the official LoL esports site for up-to-date, high-definition (HD) live-streams of every single event.
Riot Games' official website also has the most detailed records of team standings, as well as full schedules of every match across every league, for easy reference. There is a special Video on Demand (VOD) section which lets you catch up on esports streams you may have not been able to watch live, which is very handy, along with exclusive interviews with the players.
---
Riot Games – Twitch.tv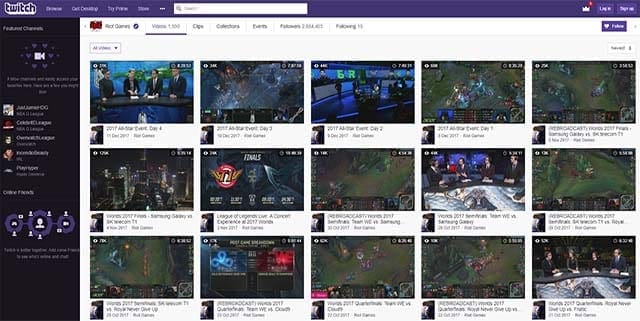 Twitch.tv is the premier live-streaming site around the world, essentially the go-to place to watch anything esports or video game-related, live or later whenever you get the chance to binge-watch and catch up on what you missed.
It's no surprise, then, that Riot Games has an active presence on the platform, with their official Twitch channel hosting thousands of clips of past LoL esports action, along with regularly updated live-streams of the latest-running professional events.
The Riot Games Twitch channel has over 2 million subscribers, so you can watch each live-stream and join in on the discussion with a legion of other LoL fans while the event is unfolding. They also run special events through this channel which often translate to limited time in-game goodies or other competitions, so if you're serious about watching League of Legends esports and getting involved with the community events, their Twitch account should be on your list.
---
Riot Games – YouTube Gaming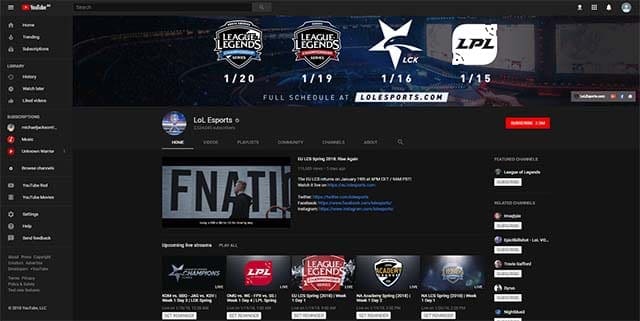 Riot Games provides their League of Legends tournament broadcasts to YouTube's gaming and esports section, YouTube Gaming.
They have an official LoLEsports YouTube channel which hosts both live-streams and VODs (Video on Demand) of every major League of Legends esports event organized under their banner.
Being YouTube, this option is perhaps the most accessible and easiest for casual fans to tune-in and watch their favourite League of Legends competitive tournaments. The channel has over 2,534,035 subscribers and updates its content regularly with other LoL-related video content, so we recommend checking it out.
---
How many people watch League of Legends esport live-streams?
According to SuperData's 2017 end-of-year report on the esports industry, League of Legends's recorded over 286 million unique viewers on Twitch and other live-streaming services, the most of any esport out there, and over 1,665 million hours of League of Legends esports was watched.
Both the viewership count and hours logged are crazy, considering the game has around 84 million monthly active users – this means there us a significant audience of gamers or casual fans who don't play LoL but tune in to watch it played professionally.
---
Where can I bet on League of Legends esports tournaments?
There are numerous highly-rated esports betting sites we have reviewed which offer betting markets on League of Legends events, such as the NA LCS, EU LCS and LPK.
League of Legends fans from United States are recommended to bet on LoL at BetOnline thanks to a wealth of esports betting options, reputable licensing and security, safe deposit and withdrawal methods and its many bonuses and promotions you can take advantage of.
If you are mostly new to the game or don't understand high-level play, please read our general League of Legends esports guide here, or any of the other guides listed below.
See also: