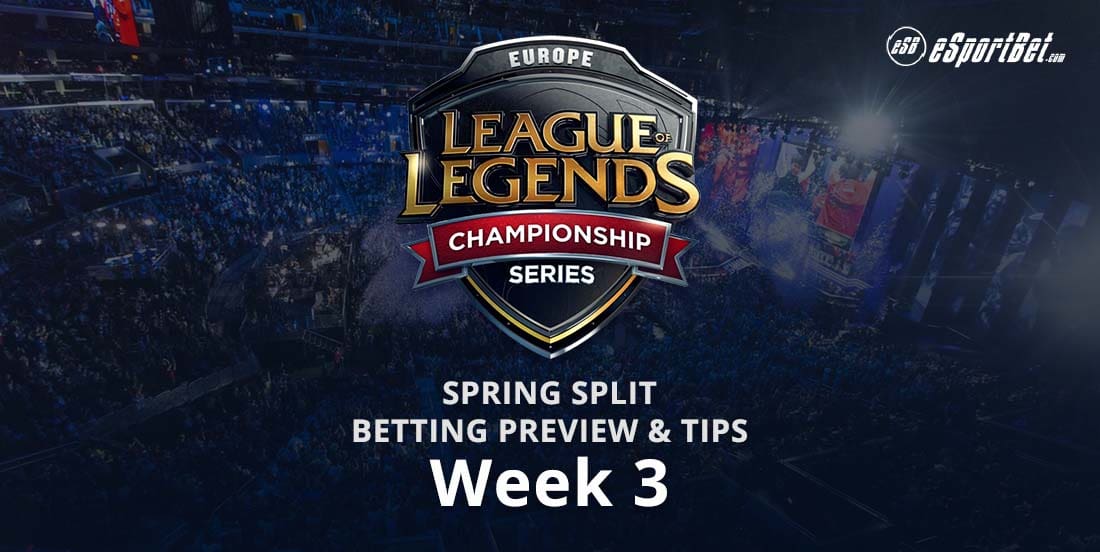 by in
Even after getting a little too cocky with series veteran Misfits last weekend, all eyes remain on the revitalised Team Vitality as they defend their top rankings in Week 3 of the European League of Legends Championship Series (EU LCS).
Another glorious four-leg multi payout was just out of our reach last week after Splyce disappointingly rolled over to ROCCAT, though Fnatic, Misfits and Schalke continued to pull the rug from under the EU LCS's favourites as we predicted.
Here are our top picks for Week 3 of the EU LCS Spring Split.
EU LCS Spring Split, Week 3 Accumulator of the Week with Betway Esports
H2K Gaming to beat Unicorns of Love – 1.80
Giants Gaming to beat ROCCAT – 1.85
Team Vitality to beat Schalke 04 – 1.70
Misfits to beat Fnatic – 1.90
Betway.com fourfold accumulator pays 10.75

Unicorns of Love vs. H2K Gaming
Game 1, Friday, February 2, 5pm GMT / 6pm CET
Unicorns of Love remain the only winless team in the EU LCS heading into Week 3 and we're not surprised one bit.
They're prone to sudden collapse after any opponent gets a teamfight snowball rolling and without a strong shotcaller, their indecisiveness has led to predictable, albeit entertaining massacres.
H2K Gaming fared little better last week in match-wins, but they scored plenty of First Bloods and early skirmish victories that showed some significant improvement in their lane-control.
Both teams will be looking to bounce back from straight losses, but we reckon H2K are due for a proper comeback game this Friday.
H2K Gaming to beat Unicorns of Love – 1.80 at Betway.com
Giants Gaming vs. ROCCAT
Game 2, Friday, February 2, 6pm GMT / 7pm CET
Both the Giants and ROCCAT head into their clash on Friday in form, though we think the former are better equipped to deliver the upset.
The Giants have opted for the long-game over aggro plays to find great success this series, patiently gold farming and handing off a few battles here or there before overwhelming their overconfident foes around the half-hour mark.
Mid laner Felix 'Betsy' Edling is the Giants player to beat after his excellent performance as Veigar last week, smartly using his stack of AP to decimate G2 and secure his team's logic-defying comeback victory. AD carry Pierre 'Steeelback' Medjaldi and his late-game Kog'Maw is another emergent threat ROCCAT will need to shut down early.
ROCCAT doubled down on its aggressive objective baiting last week which worked against both of its weaker, more impatient opponents. However, the Giants are a much more disciplined threat, and so long as they keep promising ROCCAT mid-laner Jin 'Blanc' Seong-min from dominanting as Azir, they can set the pace once more.
Giants Gaming to beat ROCCAT – 1.85 at Betway.com
Schalke 04 vs. Team Vitality
Game 3, Friday, February 2, 7pm GMT / 8pm CET
Mid-lane marvel Erlend 'Nukeduck' Holm continues to be instrumental in Schalke 04's handful of surprise victories this EU LCS series.
With pinpoint precision as Malzahar, Nukeduck and company have shut out numerous enemy carries and turned around many early skirmishes with calm and coordinated counter-plays.
As much as we've rooted for Schalke since the preseason, however, Team Vitality have shown superior macro play in almost every single match to-date – and we're expect another decisive victory here.
Whether it's mid-laner Daniele 'Jiizuke' di Mauro assassinating foes left, right and center as Ryze or support Jakub 'Jactroll' Skurzyńsk making the most of the late-game, they show no signs of ceding their top position.
Team Vitality to beat Schalke 04 – 1.70 at Betway.com
Fnatic vs. Misfits
Game 5, Friday, February 2, 9pm GMT / 10pm CET
Fnatic are on the verge of a bottom placing and desperately need the win this Friday.
However, their performance last week shows they have yet to improve upon their terrible lane management habits, allowing several opponents to backdoor their Nexus with inefficient recall.
Fnatic's midlaner Rasmus 'Caps' Winther is the weak point the Misfits are more than capable of exploiting, particularly if Steven 'Hans sama' Liv can continue his teamfight domination while jungler Nubar 'Maxlore' Sarafian sows discord with more sneaky objective captures.
Misfits to beat Fnactic – 1.90 at Betway.com
Best bookmakers for LoL esports betting

Esports betting sites in your region