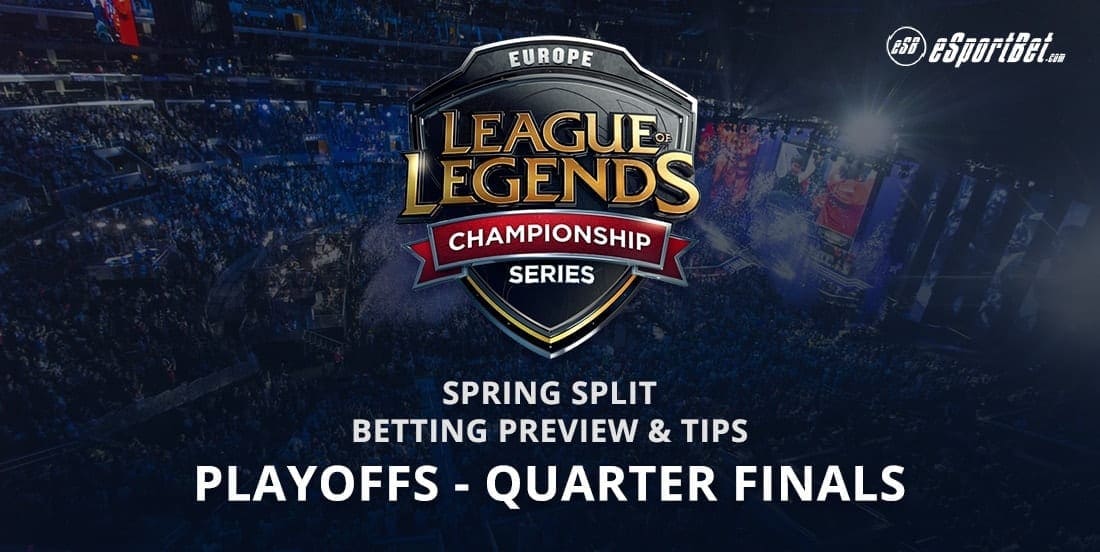 by in
The most competitive EU LCS regular split of all time has come to an incredibly exciting end. Some unexpected faces sit comfortably in the playoffs, and some predicted title contenders will have to watch the battle for the European crown on their PC screens. And while all the teams participating in this split have shown impressive play and potential, Fnatic, G2, Splyce, Vitality, H2K and Roccat managed to climb above the others. As a result, they now have a shot at becoming the League of Legends champions of Europe and representing their region at the Mid-season Invitational.
On our radar are this weekend's quarterfinal matches, which will decide who plays Fnatic and G2 in the semifinals, here are our free betting predictions.
SPLYCE (#3) vs. TEAM ROCCAT (#6)
Splyce and Roccat open the knockout stage on Saturday with a match that will determine who goes on to fight G2 Esports. While Splyce are clearly aiming towards the trophy, Roccat will surely put up a fight in their first playoff run since 2015.
Splyce survived their terrible start to the split and soared up the ladder to claim a third place finish. Previously a major weakness, top laner Odoamne found his old form and is currently a force to be reckoned with, while Nisqy improved substantially over the course of the split and fixed most of his laning problems. Their main strength, however, remains the terrific bot lane of Kobbe and KaSing, who both excel in mid-game teamfights and provide stability in lane.
Roccat have retained their simple snowballing strategy throughout the split, and are likely to use it against Splyce. Blanc and occasionally Profit carry the team with Memento providing them with frequent roams, and off of that, Roccat will try to put their mid laner ahead and end the game before 30 minutes, as they did against Misfits, Vitality, and even G2.
Their problem might lie in the bot lane, since KaSing's defensive ranged picks work perfectly against Norskeren's preferred heavy-engage supports.
Splyce could fall to Roccat's win-lane-win-game playstyle in the top and mid lanes, but they are also one of the best mid-game teams in the league. Splyce know how to play from behind and that was one of their main strengths this year: having to make comebacks through top-tier teamfighting and clever macro is where Splyce thrive.
Roccat might take a game at most, but I don't think they have the coordination and individual quality to cope with the Snakes once the game goes late.
Best bet: Splyce to win 3-1, paying +220 at BetOnline
TEAM VITALITY (#4) vs. H2K GAMING (#5)
Two teams that, prior to the start of the split, were thought of as bottom tier, on Sunday have the opportunity to fight for a trial of fire against Fnatic in the semifinals. In this hard-to-predict match, both H2K and Vitality have the potential to make it further.
Vitality started the split as the team to beat, dominating the league with a 7-1 run, but fell off the charts after their mid-centric and early game focused playstyle was figured out by the rest of the teams. Vitality's usual strategy was to put jungler Gilius on tank and gank duty, and camp mid to crush the opposing laner and get Jiizuke rolling like a train.
The Italian has showed a massive potential to carry games on multiple champions, and he will most likely be Vitality's win condition once again. The bot lane of Minitroupax and Jactroll is not to be scoffed at, though, especially considering Mini's favourites Caitlyn and Jinx are in high demand. On the other hand, Jactroll's inconsistency and fairly weak champion pool could be targeted by H2K. Cabochard can be week when left alone in top lane, but H2K's SmittyJ probably won't be much of a hassle for him even without jungle support.
The polar opposite to Vitality, a team that started 1-7 and went on a rampaging run towards the end of the split, H2K plays a very late-game and teamfighting focused playstyle. Their signature fights rely on Sheriff's brilliant hypercarry play, and Shook's intelligent pathing and synergy with Selfie gets them through the early game without a huge deficit. The key to H2K's victory will likely lie in the hands of the veteran jungler: if Shook can stop Gilius's early roams and bully him out of lane, Vitality's snowball will be shut down and they will be left without a useful jungler for the entire mid-game, which is the time to get Sheriff fed. The main downside of their roster, however, is the weak laning in all the lanes, and especially SmittyJ's tendency to simply get run over.
This match has a large chance to go to a five-game bloodbath, and both teams could end up victorious. I think Vitality has a slight edge due to their good early game and star carry in the mid lane, but H2K can definitely fire back if the games go to late game. Drafts will be very important here, especially handling the Caitlyn pick, a staple for both AD Carries.
Best bet: Back Team Vitality to win at -250 at BetOnline
Best betting sites for EU LCS

Best esports betting sites for your country