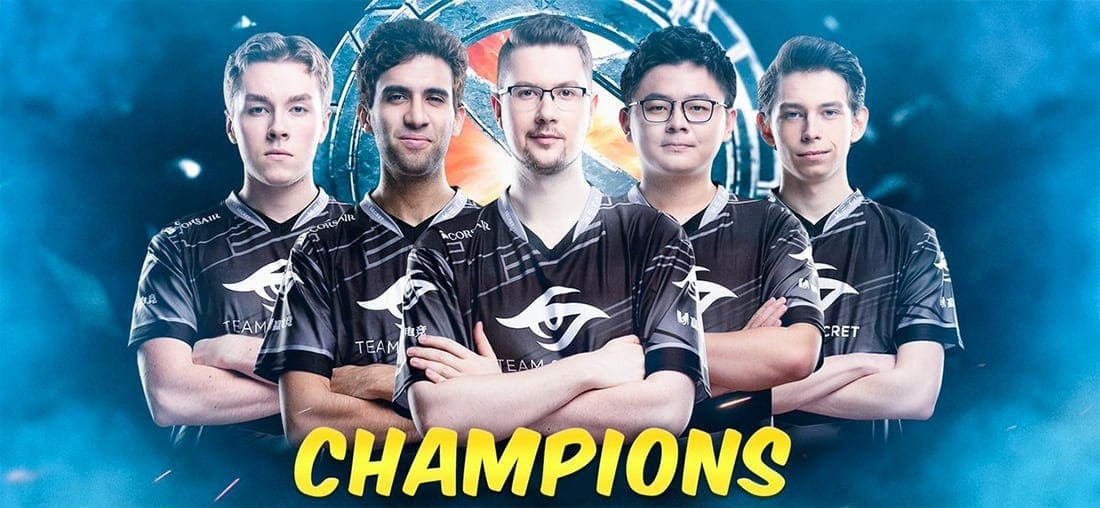 by in
How sweet revenge can be.
Team Secret, composed of Nisha, Midone, Zai, Yapzor and Puppey, was able to reverse its most recent result against Virtus Pro when it mattered most, clinching the Grand Final of the 2019 Chongqing Major.
In the Kuala Lumpur Major, Virtus Pro triumphed over Team Secret, but this time it was Team Secret that was able to come up trumps, winning 3-1.
Let's have a look at how Team Secret won the title.
Ingame one, Team Secret drafted Timbersaw and Phantom Lancer after Virtus Pro picked Earth Spirit and Beastmaster.
Virtus Pro reacted to those picks by drafting Monkey King and Oracle. Monkey King was able to withstand the lane pressure from Timbersaw and his ultimate skill — Wukong's Command with battlefury — allowed him to clear the illusion of Phantom Lancer.
Virtus Pro even picked Shadow Fiend last because Shadow Fiend is able to deal high magic damage to Timbersaw in the early game.
Despite the drafting, the game was in Team Secret's control. The victors ran 3-1-1 strategy by putting Undying, Shadow Shaman and Phantom Lancer in top lane, Lina in middle lane and Timbersaw solo bottom lane.
Team Secret's top lane heroes forced the Beastmaster from Virtus Pro to farm in jungle, while Lina was able to survive the gank from Earth Spirit, Shadow Fiend and Oracle.
Timbersaw at bottom lane was having great farm against Monkey King due to his reactive armour – allowing him to have bonus armour up to 32 and bonus health regeneration up to 32 at its maximum level.
READ: LATEST ESPORTS NEWS
Monkey King is a hero that is only able to deal physical damage, so he was unable to zone out Timbersaw when Timbersaw was at level 5. Virtus Pro made a few successful ganks on him with Shadow Fiend and both two supports to bottom lane. However, this was part of Team Secret's plan, having four heroes to gank on a position three hero, creating a lot of space to Lina and Phantom Lancer to farm.
Virtus Pro called GG when Phantom Lancer crushed their defense while holding Aegis of Immortal. Phantom Lancer ended the game with 7 kills, 0 death and 7 assists.
Team Secret out-drafted Virtus Pro again in game two, taking Sven, Outworld Destroyer, Luna and Centaur Warchief, then taking Drow Ranger last. This squad definitely shocked Virtus Pro and also most of the Dota 2 fans in the arena.
Team Secret put Luna into position four. Although Luna is quite incompatible against Tuskar, Lion and Phantom Assassin. However, with the help from Sven, they were able to create space for Luna to farm.
At around the 12-minute mark, they started to group up by taking down Roshan and letting Drow Ranger hold the Aegis of Immortal. They then started to push middle together as a full squad.
Luna, the position four hero, was the king of providing attribute to the team with his third ability, Lunar Blessing, which increases 24 primary attribute every nearby ally hero and herself.
Virtus Pro had to surrender because all heroes from Team Secret were too strong for them to handle at that early stage of the game.
Fast forward to game four and Nisha picked one of his signature heroes in this tournament – Phantom Assassin. With the three-time Rampage against EHOME was still fresh in the minds of Virtus Pro, who attempted to counter Phantom Assassin by picking Death Prophet.
However, Midone, the position two player from Team Secret, played Outworld Destroyer in the game and harassed Death Prophet heavily in the laning phase so Phantom Assassin had all the space to farm and purchased his Battlefury at 16-minute mark. With the Cleave attack provided by Battlefury, he was able to get his core items, including Black King Bar and Desolator by 26-minute mark.
Phantom Assassin ended the game with 10 kills, 0 death and 8 assists, golds per minute up to 716.
Nisha was definitely the MVP in this tournament and Puppey was credited for the amazing draft in this whole Chongqing Major journey for Team Secret.
The next tournament that featuring Dota Pro Circuit Points is DreamLeague Season 11, which will be held on March 4th over a period of seven days.