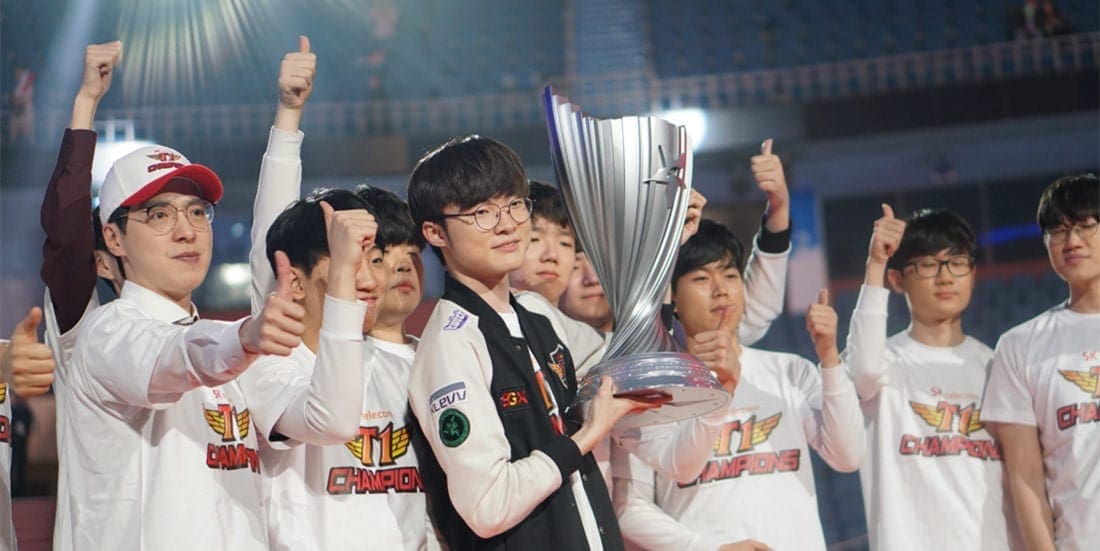 by in
Following a questionable start of the season, SK Telecom T1 impressed with a near-perfect run in LCK playoffs to win their eighth title, US $80,000 in prize money and a heavily sought-after ticket to the 2019 League of Legends World Championship, which will give Lee "Faker" Sang-hyeok a shot at winning his fourth world title.
While slowly regaining strength, the three-time world champions still remain only a shadow of their former selves, when they were the unstoppable force in the LoL esports scene.
A fearsome squad, which consisted of Lee "Duke" Ho-seong, Bae "Bengi" Seong-woong, Lee "Faker" Sang-hyeok, Bae "Bang" Jun-sik and Lee "Wolf" Jae-wan terrorized teams at 2016 Worlds, and even put up a solid fight at 2017 World Championship, when SKT T1 finished runners-up. Unfortunately, their failure to win 2017 Worlds ended an era and pushed SKT T1 into a downward spiral.
The 2018 LCK season proved to be the worst season in SKT T1 history. A disappointing fourth-place finish in the spring split, followed by a seventh-place finish in the summer split meant SKT T1 were faced with a painful fact they are going to miss the Worlds for the first time since 2015.
Disappointed and determined to regain their status as one of the most feared teams in the world, SKT T1 implemented drastic changes, which meant a complete restructure of the team.
In the eyes of the South Korean esports organization, it was time to build the ultimate team around their superstar, Faker, and doing so by providing him with four teammates, who can help him win his fourth World Championship.
On November 18, 2018, SKT T1's plan was revealed. The plan was simple, sign some of the best, most talented and overall most respected Korean League of Legends players in the world and reclaim the throne.
SKT T1 entered the 2019 LCK season with a new, fearsome roster consisting of names such as Kim "Khan" Dong-ha, Kim "Clid" Tae-min, Park "Teddy" Jin-seong, Cho "Mata" Se-hyeong and Faker, which made it clear the Korean heavyweights meant business. Ambitions were there and result followed.
SKT T1 emerged as the best team in the LCK Summer Split, reclaiming the top spot in Korea, ahead of Griffin, Kingzone DragonX and DAMWON Gaming.
Proving their spring split was not a fluke. SKT continued producing solid results in the summer split as well, and while they failed to finish top three in the regular season, a fourth-place finish (11-7) was more than enough to send them into playoffs.
Entering the summer split playoffs, SKT T1 had a tough road ahead, as they had to fight through all three rounds to meet up with Griffin, something no other Korean team managed to do before. But that did not stop Faker and his crew, who looked unstoppable from day one of playoffs.
A convincing 2-1 win over Afreeca Freecs in round one, followed by a dominant 3-0 win over SANDBOX Gaming and another flawless 3-0 win against DAMWON Gaming earned SKT T1 a spot in the grand finals, where they were to clash with Griffin.
With momentum on their side, SKT T1 crushed Griffin in a spectacular fashion (3-1) to become the first team to win LCK eight times, further expanding their renown as the best Korean team in history of the game.
MORE LoL ESPORTS NEWS