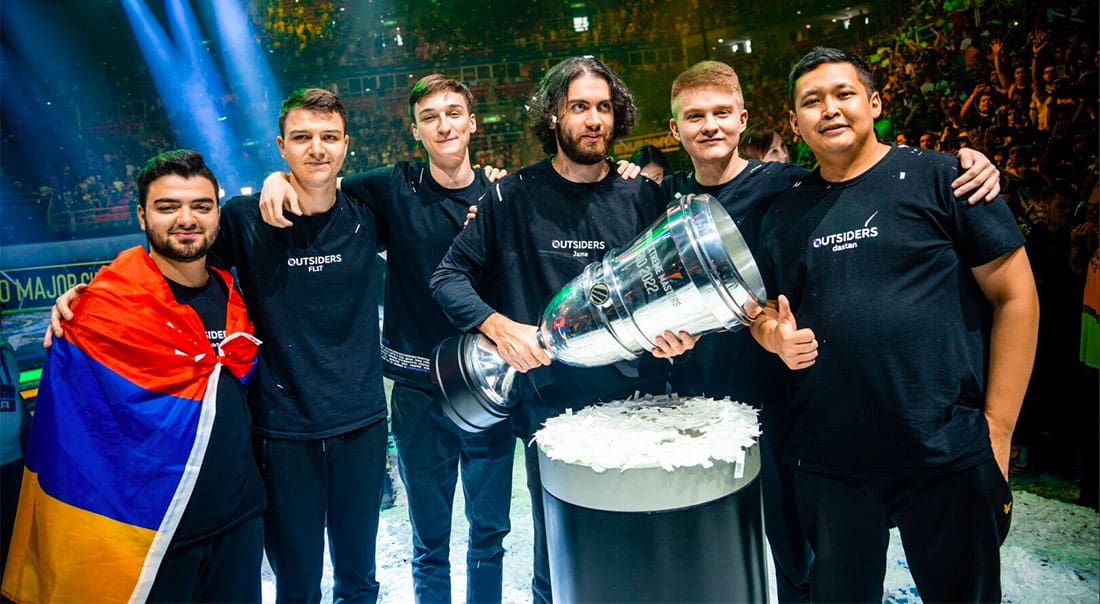 by in
The Intel Extreme Masters Rio Major came to an end on November 13 with Outsiders crowned champions after sweeping Heroic in the grand final at Jeunesse Arena in Rio de Janeiro, Brazil.
The Dzhami "Jame" Ali-led team capped their impressive campaign at the Rio Major with a decisive 2-0 victory over the favorites. According to BetOnline, Outsiders were +127 underdogs coming into the game, with Heroic pegged as -142.86 favourites.
Prior to the grand final, all five players on the Outsiders roster had yet to win a Major trophy in Counter-Strike: Global Offensive. 
On the roster, Jame, Aleksei "Qikert" Golubev, and coach Dastan "dastan" Aqbaev had come close to winning a Major at StarLadder Berlin 2019, where they competed under the AVANGAR banner and lost to Astralis in the final. However, for 19-year-old rifler Pyotr "fame" Bolyshev, this is his first Major appearance. 


The first map of the grand final, Mirage, as chosen by Outsiders, recorded a close first half, with Heroic putting up a good fight. However, Outsiders claimed the map, having taken control on the CT side with Jame, fame, and Evgeniy "FL1T" Lebedev, who totaled an impressive 70 kills on the map. Outsiders proceeded to win the map with a 16-12 record.


The second map, Overpass, although chosen by Heroic, saw the Danish-Norwegian franchise struggle to find any openings on the T side. By the end of the first half of the map, Outsiders were in the lead with a 12-3 scoreline, largely due to their outright dominance on the CT side.
 
Heroic tried to stage a comeback, but it was impossible as Outsiders took command of the first buy round and powered their way to a 16-5 win to seal the title.


Outsiders' run in the Rio Major has been shocking, as they had previously failed to get a positive outcome at any international tournament since bearing the Outsiders name. Prior to Rio, their best run at a major event came in ESL Pro League Season 16, where they were eliminated in the quarterfinals by the eventual champions, Team Vitality.

Heroic are expected to dust off the loss and look forward to exerting their dominance in the 2023 season. They have proven themselves to be the next Danish powerhouse, with Astralis struggling since the return of Majors in 2021.


Heroics' young roster wields a lot of promise, with only their in-game leader Casper "cadiaN" Møller aged above 20 years. They have been consistent, being the only team outside of FURIA and NAVI to appear in the playoffs in three consecutive Majors.