by in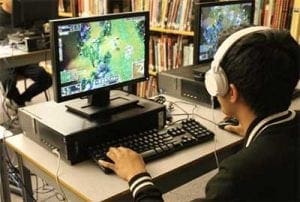 Video gaming may no longer be just an after-school activity in Macau as the country considers adding esports to the curriculum.
Professional video gaming is on the rise all around the world and now the Director of the Education Bureau (DSEJ) in Macau, Leong Lai, wants the education system to incorporate esports.
Speaking on the TDM's Forum Macau, Leong said esports is considered a sport in several countries around the world and she therefore believes adding it to Macau's education curriculum will be beneficial to students.
She said she believes it will help children develop problem-solving skills.
"I think the school should have the initiative to bring in eSports on condition that they're quite well-known about e-Sports, including the regulations and so on." She said.
"But as I understand it, if it is a pure athletic in nature, it should be allowed on the curriculums."
Founder and CEO of the British eSports Association, Chester King, spoke to BQ last month and many of his comments mirror Leong's attitude towards esports.
"We see eSports as a credible activity in its own right. We're not trying to replace or rival sport but are trying to promote eSports as a beneficial alternative to passive media," King said.
"There are some really brilliant skills learned from playing eSports and our definition of eSports is human vs human playing competitive video games.
"They aren't games of chance but games of skill. We're positioning it as a mind game or mind sport, sort of like a Chess 2.0."
Leong said that the DSEJ was open to incorporating esports in Macau's schools but noted it would require an in-depth analysis and open discussion.
Chairman of the Board at Grow uP eSports Association Macau, Frederico Alexandre Dos Santos Rosario, spoke to Inside Asian Gaming and suggested that esports could be a valuable addition to education programs.
"Grow uP esports' mission is to educate society and parents about the multiple benefits associated to esports," he said.
"We believe that esports can serve as a platform to improve personal and transferable skills, such as leadership and teamwork, when it's practised in a healthy and controlled environment.
"DSEJ indications are in accordance with what's being followed internationally, and Grow uP eSports Association is already developing eSports-related courses to be launched later this year."
Meanwhile, land-based casino operators in Macau are hoping the passion for esports in the country will transfer to skill-based games.
This is due to plans by US-based developer, GameCo, to roll out its skill-based games in Macau casinos.
The developer is responsible for the innovative Video Game Gambling Machine which combines slot machines and video gaming into one.
The developer is hoping China's love for esports will transfer to these gaming machines, provided Macau approves their integration.
GameCo's CEO, Blaine Graboyes, told GGRAsia that he expected regulatory approval by the end of 2017.
Macau casinos are eager to add them as they may provide a way to attract millennials to the floors since they mirror video games.