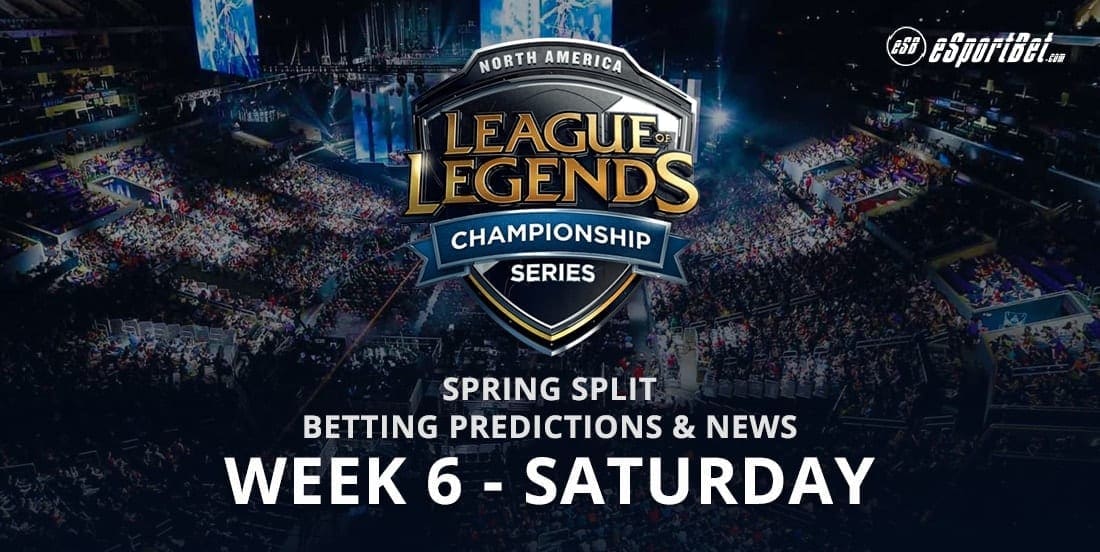 by in
With only 4 more weeks in the League of Legends NA LCS season, talks about playoffs and seeding are now coming to the forefront. Every single team on Saturday is still able to make the top six teams for playoffs; consequently, the opposite could also hold true, even for top teams such as Echo Fox and Cloud9.
Last week included some very intense and surprising games. Echo Fox cemented their first place position over Cloud9, 100 Thieves and Counter Logic Gaming had an hour long slugfest, and Skarner and Sion are slowly embedding themselves as the go to tanks for the season 8 meta. Now lets get into this week's games to finalize the home stretch for the playoffs!
Our LoL NA experts gives his predictions for this weekend's matches, stand-by for Sunday's tips.
100 Thieves vs Cloud9
* Odds accurate at time of publishing
Game 1 – 2pm PST/5pm EST
100 Thieves and Cloud9 take the stage in the first game on Saturday. 100T have consistently shown that they can compete with the top half of the teams while able to close out games confidently against the lower ranked ones as well. Cloud9 are still one of the top teams that have only been contested by Echo Fox, and as such are an enormous hurdle for 100T's playoff run.
Meteos has exceeded expectations, providing an engage backbone for his team while simultaneously jungling and pathing intelligently. Cody Sun has also played a large part to secure 100T as the middle of the crop team, boasting the highest kill percentage of any ADC by a hefty margin. Locking down Licorice in the top lane while outjungling Svenskeren will be top priorities on 100T, as the other lanes of C9 are incredibly hard to ban out or straight up win.
Versing his old memer lover, Sneaky takes the stage in hope to deliver 100T and Meteos another defeat. Sneaky and Smoothie have almost never let up their consistent lane to jungle pressure, allowing quick rotations for any early game skirmish. Jensen should innately have an advantage over Ryu, who has been lackluster this season. Ssumday has also been struggling and with Licorice on the rise, minus last week's Lucian, may fall to the rookie. C9 honestly has to play their game of early pressure with excellent teamfight shotcalling and victory will be within their grasp.
100T is currently 5th seed at 5-5 while C9 is 2nd seed at 8-2. C9 hasn't faltered in recent weeks despite their loss, and will predictably use such strength to roll over 100T. 100T desperately needs a win streak to put themselves securely within playoff range, but that streak will not be beginning Saturday.
Best bet: Bet on Cloud9 to win at BetOnline.
Team SoloMid vs Echo Fox
Game 3 – 4PM PST/7PM EST
* Odds accurate at time of publishing
Echo Fox is the talk of the League world right now from their journey from relegation to number 1, their respectable owner Rick Fox and the reformed Dardoch MVP speculation. TSM is also frequently spoken about, but for all the wrong reasons. 3 time split champions, obtaining the "Best in the West" duo laners from G2 Esports, hopeful rookie MikeYeung were all factors to create a tremendously overpowered team. A team that now sits in 6th place with a 4-6 record.
TSM is at the cusp of playoffs – a winning streak secures their spot but going 1 for 1 each week will not. Mechanically, TSM are no worse than any other team. In fact, one may even state that lane prowess wise, TSM may have an edge. The problem is that League of Legends is a 5 player game, and rotations and communication are everything. Hauntzer will predictably lose the top lane matchup, so TSM will have to focus on Zven and Mithy and try to push a lead. Bjergsen has been quite underwhelming from his former splits and will be tested by Fenix, one of if not the pronounced mid laner this split. And after 5 weeks of gameplay, MikeYeung has still shown problems with team synergy. TSM quite literally need to play this game out perfectly, from banning out Dardoch to objective control and crisp map rotations.
On the other hand, Echo Fox's concerns are mediocre at best. The top half of the map are strong to hold their own, and their bot lane is far from weak. But to give Adrian and Altec support would only bolster the chances of a Fox's victory. Fenix may not be able to push and outshove Bjergsen on his own due to the high lane IQ of each mid laner. Dardoch will have to once again affect the bottom half of the map with his ganking pressure, which he has shown the capacity for time and time again.
Echo Fox are incredibly heavy favorites to come out ahead in this match. TSM has too much discord in their plays and communication to cohesively attack EF. That being said, should TSM manage to obtain a lead, they have to push and maximize their assets as quick as possible to have any kind of hope of prevailing.
Best bet: Bet on Echo Fox to win easily at BetOnline.
FlyQuest vs Team Liquid
Game 5 – 6PM PST/ 9PM EST
* Odds accurate at time of publishing
FlyQuest had a predictable week beforehand, losing to CG and winning against OPT. Team Liquid's past performance was predictable on Saturday, but shocked the community after losing against the lowest ranked team in the league. Both teams are nested in the middle ground of the standings, FQ at 4-6 and TL at 6-4. If TL wins, they are almost assured a playoff spot. If FQ wins, it becomes a battle royale for the top 6.
FQ's integration of Fly in their team has been quite steady since his arrival in the US. Fly has only played a few games but has shown to be a solid mid tier mid laner. FQ's Flame has also continued to show stability, whereas the botlane has…well, shown itself to be capable enough. Most of FQ put together can summarily be described as an average team, so their win condition can be either objective based, teamfight based, or split push based. The problem is what they draft and how well they can play to their win condition.
TL's mindset over last week's humiliating loss may or may not be short term, but regardless they still possess one of the most powerful botlanes in Doublelift and Olleh. Impact has every so slightly been on the decline so there may be a reason to worry, but if TL can successfully empower Doublelift, he has shown he has more than enough talent to 1v5.
Unfortunately for FQ, TL is still the favorite to emerge triumphant. The only weakness that can be exploited significantly by FQ would be TL's mindset, but consisting of well known players that have held their own in the NA LCS and Twitch for years, that chance is slim to none.
Best bet: Team Liquid to win at BetOnline.
Full tips for LoL LCS North America Wk 6, Saturday February 24, 2018
100T vs C9 – C9
CLG vs CG – CG
TSM vs EF – EF
GG vs OP – OP
TL vs FQ – TL