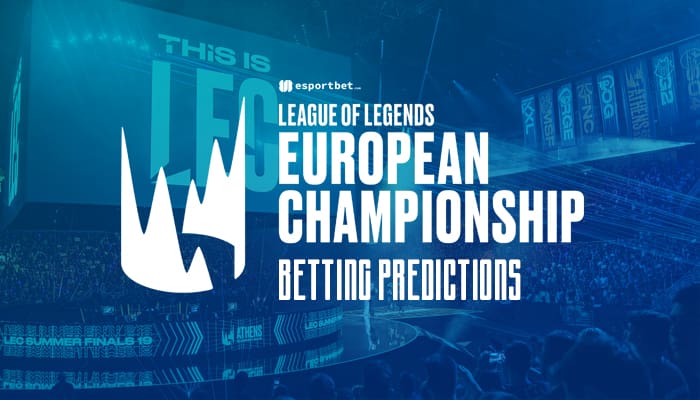 by in
League of Legends EMEA Championship (LEC) 2023 Spring kicks off on Saturday, March 11, with a set of five games. Check out our selections for Excel Esports vs Fnatic, Team BDS vs SK Gaming, MAD Lions vs Team Vitality, and Astralis vs KOI.
---
EXCEL ESPORTS vs FNATIC LoL BETTING & MATCH DETAILS

Best Odds:
Excel +108 at BetOnline | Fnatic -140.85 at BetOnline
When:
March 11, 2023 | 18:00 CET
Watch Live:
Lolesports, Twitch
Excel Esports kept their promise for LEC 2023 Winter of not finishing fifth, ending the split in last place with just one victory to their name (1-8). The disastrous showing led to the signing of new coach Jonas "Hidon" Vraa and support Dino "LIMIT" Tot.
Fnatic didn't do any better in the first split of the season, finishing in ninth place and missing the playoffs for the first time in history. In a bid to find more traction, Fnatic replaced support Rúben "Rhuckz" Barbosa and top laner Martin "Wunder" Nordahl Hansen, who stepped down from the lineup to make room for academy players Óscar "Oscarinin" Muñoz Jiménez and Henk "Advienne" Reijenga.
The changes in both teams look promising, but it's hard not to feel excited about Fnatic's plan with their new top laner. With Oscarinin, we expect Fnatic to change up their gameplan and play through the mid and top lanes, which sounds like the right move knowing that Martin "Rekkles" Larsson is a self-sufficient ADC who prefers to play weak side.
With the changes, it's tough to say how these teams will do this split, but Fnatic look to have a higher ceiling. If things fall into place, Fnatic should compete for a top-four finish, whereas Excel Esports – even with a more stable bottom lane – likely won't be all that good this split.
---
TEAM BDS vs SK GAMING LoL BETTING & MATCH DETAILS

Best Odds:
BDS -107.53 at BetOnline | SK -120.48 at BetOnline
When:
March 11, 2023 | 19:00 CET
Watch Live:
Lolesports, Twitch
These two teams had fantastic runs through LEC 2023 Winter. SK Gaming reached a bit further after upsetting Team Vitality in the final round of Winter Groups. Still, Team BDS proved they could be competitive, producing a handful of solid showings even against the LEC's top teams.
Team BDS beat SK Gaming last time out, but it happened in the first week of the season, so that result doesn't hold much value. Likewise, SK finishing the split higher doesn't mean much in the greater picture since both teams looked good throughout the regular season.
Most esports betting sites have SK Gaming and Team BDS priced at equal odds, which sounds about right. However, BDS were a bit unlucky not to finish the season higher, and considering the improvement they've shown, we expect them to enter LEC 2023 Spring even stronger.
---
MAD LIONS vs TEAM VITALITY LoL BETTING & MATCH DETAILS

Best Odds:
MAD -120.48 at BetOnline | Vitality -120.48 at BetOnline
When:
March 11, 2023 | 20:00 CET
Watch Live:
Lolesports, Twitch
Team Vitality's second attempt at forming a superteam and winning the LEC crown failed, so the Bees decided to double down on the idea and signed former Fnatic ADC Elias "Upset" Lipp. With that, Vitality formed one of the most stacked European LoL rosters we've seen in years, but elite talent doesn't necessarily mean good results.
This is undeniably a very strong team and a legitimate title contender. Still, there's also a question of clashing personalities, so it's tough to determine their ceiling until we see Team Vitality in action.
MAD Lions didn't make any roster moves ahead of LEC 2023 Spring, which is fine considering they reached the LEC 2023 Winter finals. Overall, the Lions had an amazing split, and the only thing stopping them from winning another title was G2 Esports being way too strong.
MAD Lions were stronger than Vitality last split, and not necessarily because the Bees had a weaker bottom side. So even with Upset joining the roster, we don't expect the balance of power to change.
---
ASTRALIS vs KOI LoL BETTING & MATCH DETAILS

Best Odds:
Astralis +203 at BetOnline | KOI -277.78 at BetOnline
When:
March 11, 2023 | 21:00 CET
Watch Live:
Lolesports, Twitch
Astralis have replaced mid laner Oliver "Dajor" Ryppa with Adam "LIDER" Ilyasov, which looks a good move. LIDER won't turn Astralis into LEC title contenders, but he is better than Dajor, so we can expect the Danish side to be just as good, if not better, than last split.
KOI kept their LoL roster intact, which isn't too shocking following a third-place finish in LEC Winter. It might also be because it's hard to find any good replacements in the middle of the season.
It's important to note that KOI finished the regular season in seventh place with a 4-5 record and only made it so far in the playoffs because they beat SK Gaming and the disorganised Team Vitality in the group stage. So looking at their combined record, KOI went 6-6.
Astralis and KOI met on the final day of the LEC 2023 Winter regular season, when KOI won comfortably, but only because Emil "Larssen" Larsson had a free lane. So, if we remove KOI's mid-lane advantage from the equation, then it's hard to justify the odds on offer with most LoL betting sites.
On paper, Astralis are weaker than KOI, but not as weak as the odds suggest, so we'll gladly take Astralis to cause an upset.