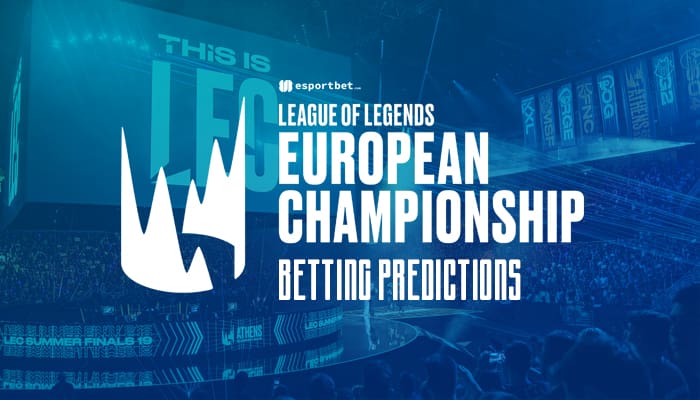 by in
Following a series of surprising results, the League of Legends EMEA Championship (LEC) 2023 Spring enters the third and final week of the regular season on Saturday, March 25. Check out our selections for Team Heretics vs Astralis, KOI vs Excel Esports, Team Vitality vs Team BDS, and Fnatic vs MAD Lions.
---
TEAM HERETICS vs ASTRALIS LoL BETTING & MATCH DETAILS

Best Odds:
Heretics +120 at BetOnline | Astralis -163.93 at BetOnline
When:
March 25, 2023 | 18:00 CET
Watch Live:
Lolesports, Twitch

Team Heretic have managed just two wins over the first two weeks of the LEC 2023 Spring regular season, but that isn't necessarily as bad as it sounds since they're one of three other teams entering the final week with a 2-4 record. On the other hand, Astralis have won three games, and even though they lost their opening two fixtures last week, they rounded up their run with a huge victory against Team Vitality.
On paper, Astralis look only slightly better than Team Heretics, which might explain why esports betting sites have Astralis priced at -163.93 and Heretics at +120, but those numbers make no sense. Team Heretics might've won two games, but they're arguably the worst team in the league.
Heretics have yet to show anything that would make us believe they can be competitive, and their complete lack of synergy makes it extremely hard to bet on them against any opponent. Astralis are by no means one of the leading LEC title contenders, but the head-to-head odds look way too generous.
---
KOI vs EXCEL ESPORTS LoL BETTING & MATCH DETAILS

Best Odds:
KOI -222.22 at BetOnline | Excel +167 at BetOnline
When:
March 25, 2023 | 19:00 CET
Watch Live:
Lolesports, Twitch

KOI lost against Astralis, MAD Lions, and Fnatic, but they also beat G2 Esports. Results like that don't help with figuring out whether KOI are actually good, and as we enter the final week of the LEC 2023 Spring regular season, there's still no clear answer.
Excel Esports have yet to find their footing, but things might change this week following a minor roster change, with mid laner Vincent "Vetheo" Berrié stepping down to make room for Felix "Abbedagge" Braun.
Abbedagge played his last professional LoL match at the end of 2022 with 100 Thieves, so it's hard to judge how much of an impact he will have. But how things have been going for Excel and how weak their mid lane was, it can only go up.
Despite what the latest LoL esports betting odds suggest, this match has upset potential – not so much because Excel might do well, but because KOI are very inconsistent. At +167 with BetOnline, we're ready to take a shot with Excel.
---
TEAM VITALITY vs TEAM BDS LoL BETTING & MATCH DETAILS

Best Odds:
Vitality -400 at BetOnline | BDS +275 at BetOnline
When:
March 25, 2023 | 20:00 CET
Watch Live:
Lolesports, Twitch
At the end of LEC 2023 Spring Week 2, Team Vitality lost against G2 Esports and Astralis, proving that the league is competitive and that Team Vitality aren't untouchable. This is concerning from a betting perspective since it's hard to justify betting on Vitality without fearing another upset.
Perhaps Team BDS winning here wouldn't be that big of a shock since BDS are a very competitive team, and their 4-2 record confirms it. Team BDS's only losses came against SK Gaming on the opening day of the regular season and G2 Esports in an extremely close match which could've easily gone the other way.
Team BDS, much like Astralis, are dangerous and will defeat anyone if given a chance. However, although still individually much weaker than Team Vitality, the Bees have yet to show their true power and are arguably not as synergised as BDS.
If Team Vitality play their game, Team BDS will struggle to win, but we haven't seen enough from Vitality last week to back them at the offered odds. We're taking Team BDS with a +6.5 kill advantage.
---
FNATIC vs MAD LIONS LoL BETTING & MATCH DETAILS

Best Odds:
Fnatic +200 at BetOnline | MAD -277.78 at BetOnline
When:
March 25, 2023 | 21:00 CET
Watch Live:
Lolesports, Twitch
Fnatic are priced as +200 underdogs with the top League of Legends betting sites, which might make sense if we consider their showings throughout the season. But Fnatic won two games last week – against Team Heretics and KOI – and looked very good doing it.
We wouldn't want to overreact to a couple of strong showings, but it's easy to underestimate how much of a morale boost a two-game winning streak can have. Moreover, Fnatic had a solid draft in their recent wins, and if they can keep drafting like that, they might add a few more victories to their record.
MAD Lions still look like the better team, but they've not shown much this split (2-4). Also, we're talking about a best-of-one game, making the offered LoL esports betting odds on Fnatic even tastier.
There's no telling where Fnatic will go from this point or whether their 2-1 week was a fluke. Regardless, Fnatic should never be priced this high against MAD Lions. Value is with Martin "Rekkles" Larsson and his crew.