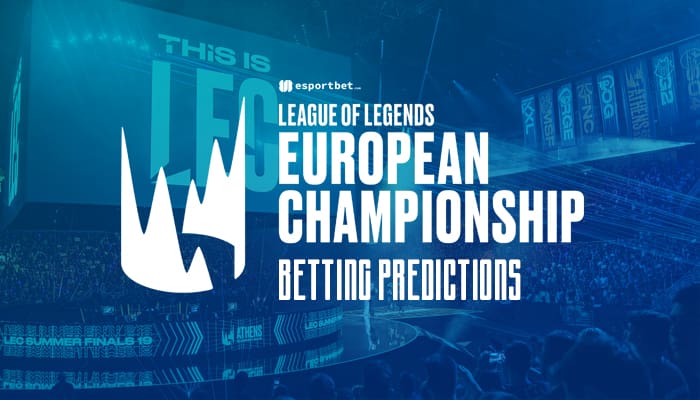 by in
ESB brings you free League of Legends betting predictions for four LoL EMEA Championship (LEC) 2023 Spring bouts on Saturday, March 18. Check out our selections for MAD Lions vs Astralis, Team Heretics vs Excel Esports, Fnatic vs Team BDS, and KOI vs G2 Esports.
---
MAD LIONS vs ASTRALIS LoL BETTING & MATCH DETAILS

Best Odds:
MAD -175.44 at BetOnline | Astralis +125 at BetOnline
When:
March 18, 2023 | 18:00 CET
Watch Live:
Lolesports, Twitch
MAD Lions went 1-2 in the first week of the LoL EMEA Championship 2023 Spring, with one victory against KOI and defeats against Team Vitality and Team BDS. While winning just one game in a super week isn't great, we wouldn't overreact since it was just the first week of a new split.
Astralis managed to pick up two wins last week against KOI and the reigning LEC champions G2 Esports. Unfortunately, they ended the week with a tough defeat against SK Gaming, but even in that loss, Astralis didn't play badly and showed some excellent qualities, continuing what we already saw from them last split.
The LoL betting odds on this match suggest that MAD Lions are much stronger than Astralis, but we would disagree. This price seems to be set more based on the brand value than the team's showings, and the eye test can prove that Astralis are currently playing better than MAD Lions.
---
TEAM HERETICS vs EXCEL ESPORTS LoL BETTING & MATCH DETAILS

Best Odds:
Heretics +100 at BetOnline | Excel -138.89 at BetOnline
When:
March 18, 2023 | 19:00 CET
Watch Live:
Lolesports, Twitch
Team Heretics didn't get off to the start of the split they wished for. With a 0-3 record, they're tied with Fnatic for last place, and even though they had a rough schedule, Heretics didn't show anything inspiring in their losses against G2 Esports, KOI, and Team BDS.
Excel Esports won one game last week against the struggling Fnatic but then dropped two against Team Vitality and G2 Esports to round up Week 1 of LEC 2023 Spring with a 1-2 record. However, in their defence, Excel had to play Vitality and G2, the clear best teams in the league, so it's hard to criticise them too much for those defeats.
But we're not as concerned about what Excel did and didn't show as we're worried about Team Heretics and their unconvincing performances on the Rift. Marcin "Jankos" Jankowski is playing well, but he's not getting any help from his teammates, so until we see a bit more cohesion, we'll remain low on Heretics.
Esports betting sites have priced Excel at -138.89 to win, which looks generous. Even though we only got to see them play two elite teams and the disorganised Fnatic, Heretic's synergy issues are enough to convince us that this is Excel Esports' game to lose.
---
FNATIC vs TEAM BDS LoL BETTING & MATCH DETAILS

Best Odds:
Fnatic +200 at BetOnline | BDS -277.78 at BetOnline
When:
March 18, 2023 | 20:00 CET
Watch Live:
Lolesports, Twitch
Fnatic are arguably the worst team in the league and after their LEC 2023 Spring Week 1 performance, they'll need a miracle to bounce back and compete for top spots. But seeing Fnatic struggle isn't too shocking, considering they replaced two players in the offseason and got a last-minute coach, giving the squad very little time to prepare.
Reportedly Fnatic are doing well in scrims but are unable to translate that to pro games, which is concerning since it suggests that this squad, for some reason, can't deliver on stage.
Team BDS secured a 2-1 record last week, and they earned it. Their only loss came against SK Gaming on day one of the split, but BDS then picked up wins against MAD Lions and Team Heretics. This isn't incredibly impressive, but at least Team BDS are winning games and making a strong case for themselves as a strong mid-table squad.
Fnatic have the talent to bounce back and perform at a solid level, but betting on in their current state isn't the play. Team BDS aren't a top-tier team, but they're good, and undeniably good enough to hand Fnatic another crushing loss.
---
KOI vs G2 ESPORTS LoL BETTING & MATCH DETAILS

Best Odds:
KOI +275 at BetOnline | G2 -400 at BetOnline
When:
March 18, 2023 | 22:00 CET
Watch Live:
Lolesports, Twitch
The reigning LEC champions are set to clash with KOI, who had a rough start to the split, going 1-2 over the first week of action. KOI first lost against Astralis, then bounced back against the disorganised Team Heretics, and then kneeled to MAD Lions.
Week 1 results rarely mean much, but KOI's record, including last splits', is not convincing. This is still a stacked team, but they're not improving, which suggests that KOI might have already hit their ceiling. On the other side, G2 likely haven't yet.
Once G2 Esports got their wheels spinning in LEC 2023 Winter, no team could stop them, and we expect them to be in the race for the LEC title again by the end of this split. G2 did lose against Astralis last week, but that was more Astralis taking advantage of the opportunities than G2 Esports playing poorly.
KOI are a solid team, and they'll likely be in the race for LoL World Championship spot by the end of the season, but they're not at G2 Esports' level.