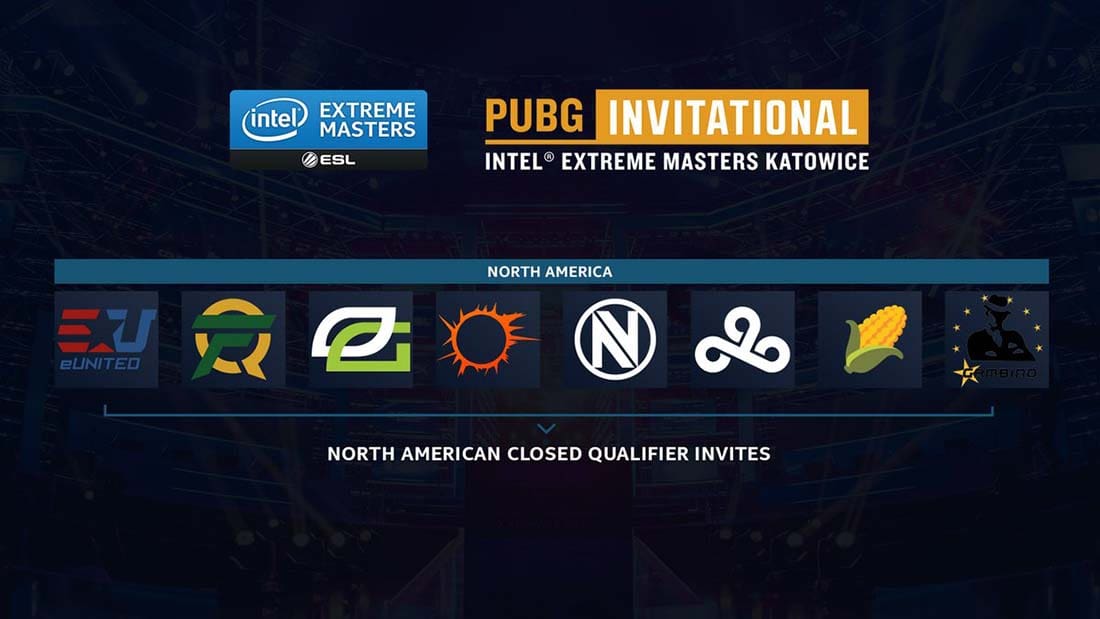 by in
The final competitors for the IEM Katowice PlayerUnknown's Battlegrounds Invitational tournament have been announced over the weekend.
Eight professional PUBG esports teams from North America have been directly invited by Intel Extreme Masters Katowice to attend the NA Closed Qualifiers on January 27, including popular organizations like Cloud9, Team Enny and OpTic Gaming who field teams in multiple other esports titles. Smaller groups and newcomers, such as Corn Shuckers, FlyQuest and Team Totality, round out the numbers.
These US-based teams will face-off against eight other squads who gained their spot from an earlier hard-fought North American Open Qualifier. The top three teams from the Closed Qualifiers will advance onto Katowice next month, for a chance at the big league.
Here are the teams that have been directly invited to the NA Closed Qualifiers for the PUBG Invitational at #IEM Katowice!@eUnitedgg@FlyQuestSports@OpTicGaming@teamtotality@TeamEnVyUs@Cloud9
Corn Shuckers
Gambino pic.twitter.com/WZG7S6Y6w0

— Intel®ExtremeMasters (@IEM) January 20, 2018
On the other side of the world, eight of Europe's top PUBG teams have been directly invited by IEM to join their own EU Closed Qualifiers, which include household names Alliance, PENTA Sports and Team Liquid, and smaller outfits Air Station Mike, Digital Squad Chaos, Knights, HAVU Gaming and Team Kinguin. Three of these teams following the event will qualify for Katowice.
In addition to EU and NA teams, South America will have an open qualifier of its own, but only one team will emerge victorious and qualify for the main event next month.
The teams who place highest in the Closed Qualifiers will join the best of the best in competitive PUBG, who were directly invited to IEM Katowice itself based on their performance in past PUBG Invitationals.
Some heavyweight names are among their ranks, including FaZe Clan, Team Solo Mid and Team Vitality, the last of which won the second PUBG Invitational in IEM Oakland last year under the Against All Authority brand. Ghost Gaming, Method and Tempo Storm are no-pushovers either considering their active involvement in the scene last year.
The PUBG Invitational at IEM Katowice runs February 24 – 25 and will give these PUBG professional players a chance to take home a share of the massive US$50,000 prize-pool on offer.
This is the third major PUBG Invitational event hosted by a major esports organizer, following the Gamescom PUBG Invitational LAN Tournament and IEM Oakland PUBG Invitational last year.
Both events hosted 80 popular pro players and live-streamers with US $350,000 and $200,000 in prize money, respectively, and were popular successes despite numerous audio and connectivity problems in addition to poor camerawork, which promises to be improved at Katowice.
If the Electronic Sports League and IEM can get these invitational events to the same level and production quality as the ongoing OnGameNet PUBG Survival Series over in South Korea, we can't see why an official PlayerUnknown's Battlegrounds esports league can't take off later this year.
Can I place a bet on PUBG esports events?
PlayerUnknown's Battlegrounds is yet to have an official esport league, as mentioned, but there are several well-reviewed esports betting sites that have taken wagers on PUBG tournaments in South Korea.
If you want to learn how to bet on esports, including how to place a bet on PUBG, our beginner's guide to betting on esports will help you learn the ropes before you spend any of your hard-earned cash.
Reading us from United States? If you want to bet on other esports in the meantime while waiting for PUBG to have an official league, your #1 option is BetOnline – you can place bets on CS:GO, Dota 2, League of Legends, Overwatch and many more esport tournaments and matches all-year round, with additional bonuses granted if you sign up via our links and follow the prompts.