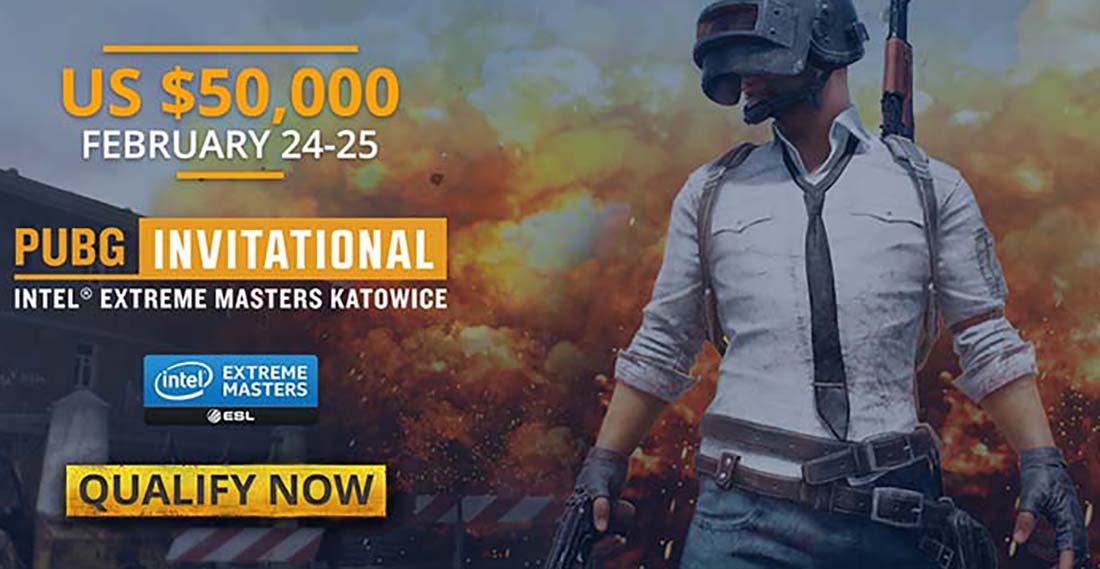 by in
Winner winner, chicken dinner!
Electronic Sports League (ESL) have announced they are hosting a third PlayerUnknown's Battlegrounds Invitational tournament at the Intel Extreme Masters World Championship in Katowice, Poland next month.
Sixteen teams from all around the world will compete at Katowice on February 24 – 25 to prove their chops as PUBG professional players and take home a slice of the US$50,000 prize-pool on offer.
Nine of those teams will be directly invited, with 3 teams each from the Asian, European and North American regions. The remaining 7 teams – 3 from Europe and North America, and 1 from South America – will duke it out in a series of regional qualifiers, starting with a 512 team open qualifier. Their performance will determine whether they get to play in Poland.
"The IEM World Championship Katowice 2017 was the world's largest esports event in history, and with PUBG's competitive debut at IEM Oakland, we are thrilled to feature it again at such a renowned IEM event," ESL's VP of Pro Gaming Michał Blicharz said in an official press release. "Previously adding PUBG to the agenda brought a lot of excitement to the arena and we feel that it will be a great addition to the IEM Expo."
ESL and IEM have been instrumental in pushing a potential PlayerUnknown's Battlegrounds esports scene to the mainstream after hosting two previous PUBG Invitationals at Gamescom 2017 Cologne and IEM Oakland last year, in conjunction with the official game developer, PUBG Corporation.
The Gamescom PUBG Invitational LAN Tournament hosted 80 popular pro players and live-streamers with US $350,000 in prize money, while the Intel Extreme Masters Oakland PUBG Invitational featured 20 teams and 80 players duking it out for US $200,000 in North America's first official PUBG competitive tournament.
The previous offline events weren't exactly smooth sailing, with plenty of audio and lag issues plaguing the event, and producers had the daunting task of presenting the action of 100 players on the battlefield to over 200 million viewers. Spectators naturally complained about inefficient camera-work and the under-utilisation of the game's handy observation tools, though most of these growing pains were ironed out by the time of IEM Oakland.
The most important takeaway from these events was there is a massive audience of gamers and casuals out there who want to watch – not play – competitive PUBG. It's also certainty backed up by existing stats, with SuperData reporting over 202 million unique viewers watched PUBG streams on Twitch in 2017, significantly more than the recorded 10 million concurrent players on Steam.
So long as tournament organizers and PUBG Corporation can continue to refine the in-game spectator tools, PUBG has a shot of becoming the first true 'Battle Royale' esport in the world – but only if Fortnite: Battle Royale and its own rapidly increasing demand to becoming a professional esport doesn't claim the title first.
Can I bet on PUBG esports events?
Even though PlayerUnknown's Battlegrounds is yet to have an official esport league, many of the top esports betting sites in the world take bets on small-scale PUBG events such as the ESL Invitationals and minor competitions in Asia. If you are interested in learning how to bet on esports, including how to wager on PUBG, we highly advise reading our beginner's guide to betting on esports before you bet your hard-earned money.
If you are already familiar or experienced in online sports betting and want to know which sites get our tick of approval to have a look for yourself, check out our list of reviews of the best esports betting sites around the globe.
For our readers visiting us from United States, your #1 option based on betting markets, licensing, security and customer support is BetOnline – you can place wagers on numerous CS:GO, Dota 2, League of Legends and other esport tournaments and matches all-year round here, and if you sign up for an account through our links you can net some generous welcome bonuses to get you properly started.