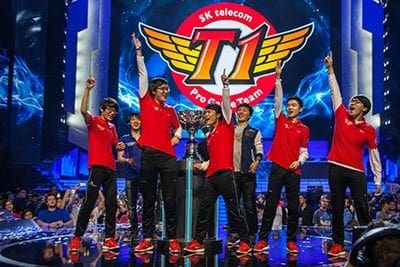 by in

T1 has announced their most recent Dota 2 roster additions, with Anathan "ana" Pham and Topias "Topson" Taavitsainen joining their line-up.
The team started following the former OG Dota 2 champions a few days before announcing that their mid-laner Karl "Karl" Baldovino and carry Kim "Gabbi" Santos were no longer part of the squad.

ANNOUNCEMENT TIME!🤯

We'd like to officially welcome the newest addition to our #DOTA2 roster, @TopsonDota(stand-in) & @anadota99.💚💜

Please support us as we prepare for TI11's SEA Qualifier.#T1WIN #T1Fighting #T1DOTA2 pic.twitter.com/2cSsQYnxo3

— T1 (@T1) August 16, 2022

Both former T1 players left the team after their poor Dota Pro Circuit 2022 with their fifth-placed finish, capped by poor showings at Stockholm and in the Summer DPC.
T1 was also forced out of the most recent major.

"All good things come to an end," the organization wrote on its Twitter page announcing both players' departure.
"Today we announce the departure of Karl and Gabbi from our Dota 2 roster. Thank you for everything you've done and we wish them all the best for their future."
 

Ana and Topson's signing was made in preparation for the upcoming The International 11 Qualifiers, as they would be part of the competing lineup. The competition will take place from September 3–18.
While T1 recorded impressive results during the season, the two new players could be the boost they need to reach the status of solid contenders in major tournaments.

Ana made his mark as a top player by being a part of the first team to win The International twice in a row. In his time at OG, along with Topson, they won TI8 and TI9 against PSG.LGD and Team Liquid. He notably had the highest average kills in each game in the EPICENTER Major 2019 with a score of 10.90.
 

Prior to the signing, ana was a free agent and had gone on several hiatuses in his career. The player previously announced his retirement from Dota 2 esports but participated in a number of competitions as a stand-in.
 
In the time slot between the TI8 and TI9, the player took a break from OG, after which he went inactive. He returned to OG in 2021 to play one tour and then put his career on hold after the competition concluded.
 
Ana also notably stood in for Royal Never Give Up during the PGL Major Arlington 2022 and ended the competition with a 9-12th place. He also played for Team Liquid at the recently concluded Riyadh Masters.


Topson will continue his role as the team's mid-laner. He is famous for his unconventional builds and aggressive mode of play as a mid-laner. The player's highest average kills in a game is 9.43, which he recorded at The International 2019.
 
Topson previously announced that he was taking a break in November 2021, after the last TI, and since then has not been a part of Dota 2 competitions. The player reportedly went on a hiatus to spend some time with his new family of three in Malaysia.
During his time off, the 24-year-old occupied himself by growing his Twitch account and streaming content from Dota 2.
 
Topson will reportedly join T1 temporarily, unlike ana, and play as a team stand-in. Both players will be a part of the forthcoming SEA qualifier.
The players on T1's current roster include ana, Topson, Kenny "Xepher" Deo, Carlo "Kuku" Palad, and Matthew "Whitemon" Filemon.
 

The addition of Topson and ana is expected to give T1 an edge going into the The International 2022 Southeast Asia Qualifiers. The betting odds for the tournament are currently unavailable on all esports betting sites.