by in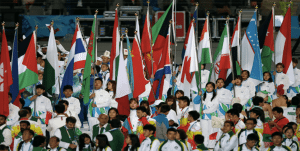 You no longer need to be fit to participate in the Asian Games, but you do need to be exceptional at video games.
The Olympic Council of Asia has announced competitive video games will officially join the number of medal sports at the 2022 Asian Games.
The council said including eSports reflected "the rapid development and popularity of this new form of sports participation among the youth".
This will give eSports competitors the chance to share the podium with runners, weightlifters, and an array of other medallists in just over four years' time.
The exact games which will be included haven't yet been revealed, but we may get a picture when the demonstration event takes place at the 2018 Asian Games, in Jakarta and Palembang, Indonesia.
FIFA 2017 is the only game which has been confirmed to appear, while a multiplayer online battle arena game, such as League of Legends, and a real-time strategy game, like StarCraft 2, will also make the cut.
There will also be a preview at this year's Asian Indoor and Martial Arts Games held in September which is held every four years, one year before the Asian Games.
This is part of the introduction of eSports' as a medal sport in 2022, which will take place in Hangzhou, China.
The Asian Games in a Pancontinental multi-sport event, and is considered to be the second-biggest multi-sport event in the world, just behind the Olympics. It takes place every four years and athletes from all over Asia attend. Almost 10,000 attended the 2014 event in South Korea.
The Olympic Council of Asia has also announced a partnership with Alisports, which is a subsidiary of Alibaba, commonly referred to as China's eBay and will sponsor the event.
It's no wonder Alisports is interested – eSports has an audience of 226 million gamers from all around the world last year which generated hundreds of millions in revenue globally.
Alisports has already invested over KRW170 million in the South Korean organisation, International eSports Federation. The company then requested consideration for eSports to be included by the international Olympic Committee.
Reportedly, the Asian Games will act as a test to see if eSports will be considered in the Olympics and many media outlets are contemplating that it might be a real possibility. One media outlet addressed the recent additions to the 2020 Olympics, that being skateboarding as well as sport climbing, to prove it isn't that far fetched.