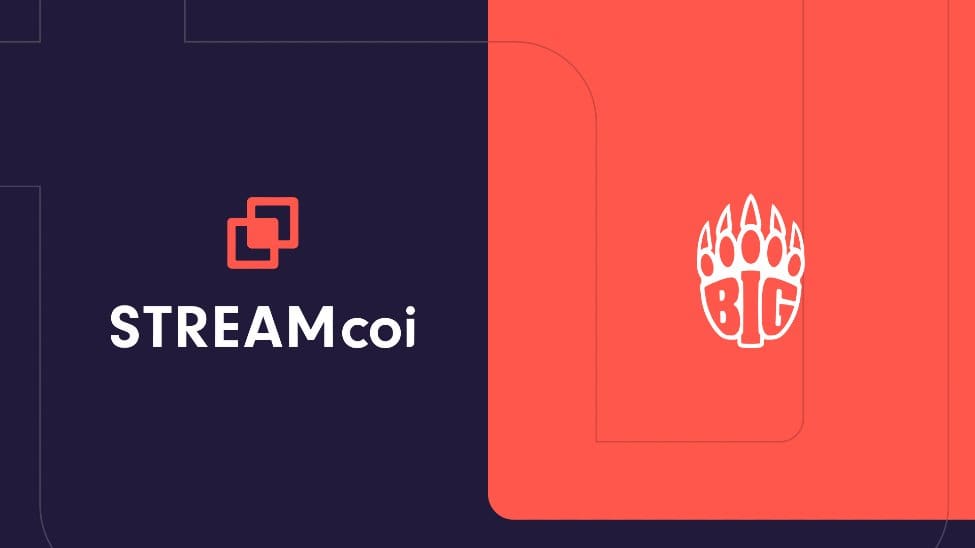 by in
Esports organization BIG has once again renewed its partnership with streaming giants Streamcoi. Both parties agreed to a two-year deal upon the expiration of their previous agreement.
Having first got into business together in 2020, the pair renewed their partnership for another 12 months in March 2021. Streamcoi offers its platform to help BIG organize and manage its sizable group of content creators. The platform will help BIG's content creators develop and deliver quality live stream campaigns.
With the new deal, BIG will continue to enjoy Streamcoi's services for another two years. According to the CEO of BIG, Daniel Finkler, the European esports organization is delighted to continue working with Streamcoi.
"When we started our collaboration with Streamcoi back in 2020 we were very happy to have a tool that allowed us to capitalize off our Twitch presence and turn it into value for our partners," he said.
"They have a very cooperative, customer-focused team behind the product that listened to all our recommendations and needs, so we at BIG are delighted to continue working together with Streamcoi in the future."
The product lead at Streamcoi, Jakub Janaszek, also had some things to say after the contract extension. He talked about how much he appreciates BIG's trust and is excited to see what the next two years hold.
"Starting a technology collaboration is valuable, but it is only by developing it over the years that it has been proven how effective our tool is," Janaszek said.
"I am very pleased with the trust that BIG placed in us a year ago because, without it, we would not now be able to increase the effectiveness of their Twitch marketing. I believe that within two years, we will make the work of managers and streaming services even easier."
Both parties have undoubtedly benefited from their partnership in the past, which is an indication of why they opted to give it another go.
While the organization has gotten major work done in the background inking deals, the professional teams have stayed busy in competitions.
Their Valorant team had a disappointing run in the 2022 EMEA Stage 1 Challengers, losing all five games in the group stage and getting relegated to VCT Promotion.
However, they finished second in the B-Tier event to clinch a spot in 2022 EMEA Stage 2 Challengers. A top-three finish in that event will see them qualify for the next Masters.
Meanwhile, their Counter-Strike: Global Offensive team is doing a lot better and has clinched a spot in the PGL Major Antwerp 2022.
Their last game in the European Regional Major Rankings (RMR) was against Faze Clan. Although they were the underdogs across most esports betting sites, BIG swept FaZe in a best-of-three series in their third match of the competition.
After an impressive 3-0 run in the Swiss Stage, they won $23,750 of the $95,000 prize pool and qualified for the Major as Legends.
The Major will commence on May 9, but seeing as they are in the Legends stage, they will not feature until May 14, at the earliest. They will be fighting for a larger chunk of the $1,000,000 prize pool and a direct slot to the BLAST Premier World Final 2022.