by in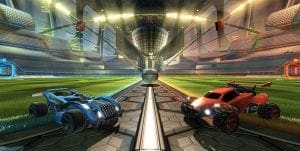 ESPN has announced the 2017 X Games will host a $75,000 Rocket League esports tournament as part of X Fest, the entertainment side of the annual action sports event.
Using the popular FACEIT online platform which specialises in PvP video game and esports competitions, the X Games Rocket League invitational kicks off on July 13 – 16 at U.S. Bank Stadium in downtown Minneapolis, Minnesota.
The developers of Rocket League Psyonix are thrilled with the massive attention their games is getting in mainstream broadcasting circles as an up-and-coming esport.
"The X Games and ESPN have done a great job of bringing attention to nontraditional sports over the years," said Rocket League esports operation manager Josh Watson in a press release. "Adding esports and Rocket League to that lineup is something we at Psyonix are very excited about. We can't wait to bring this competition to a whole new audience."
The entire tournament will be streamed live on ESPN3 and ABC, ESPN's sister network.
The X Games is an annual extreme sports event hosted, produced, and broadcast by ESPN, and is a proven hit with the millennial generation, who are currently the biggest fans, investors and money-makers in the global esports circuit – so it's no surprise yet another mainstream cable network is giving one of the most popular competitive video games in the last few years some limelight.
The extreme sports event has played host for several other esports tournaments in the past, such as Call of Duty and Counter-Strike: Global Offensive.
The global cable and satellite sports television network is the latest mainstream broadcaster to jump on the esports bandwagon, with NBC Sports announcing it will host more than 40 hours of 2-vs-2 Rocket League esports streamed via their online platforms and traditional TV across July and August with a $100,000 prize. Both ESPN and NBC's Rocket League esports broadcast deal fell into place thanks to the collaboration between Psyonix and FACEIT.