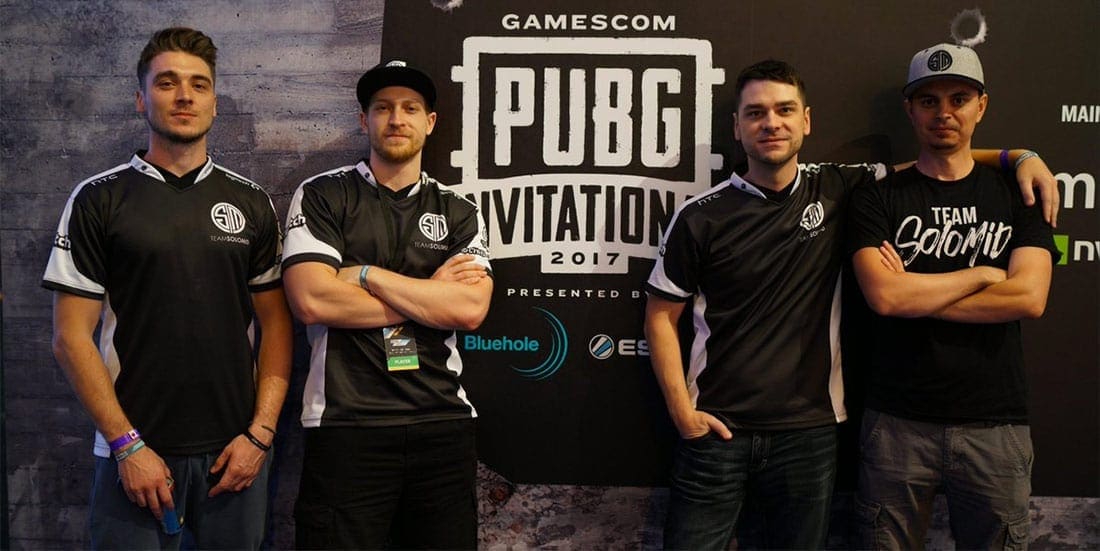 by in
In a shock announcement which surfaced on Saturday, Team SoloMid revealed they had released their competitive PUBG and Rocket League rosters.
Few in the global esports community could have predicted such a drastic move, although neither roster managed to consistently find success in their recent competitive endeavours.
Team SoloMid first entered the PlayerUnknown's Battlegrounds competitive scene on May 9, 2017, with the signing of Colton "Viss" Visser and Austin "SmaK" Haggett. Gary "BreaK" Marshall joined the team in June, with the fourth and final member Marius "aimPR" Ionita signed in mid-July.
The quarter made their first appearance in the competitive scene at Gamescom PUBG Invitational 2017 – Squad, but failed to see much success, as they had to settle with a fifth-place finish, below their regional rivals Team Liquid, Noble Esports, Tier 3 Gaming and Luminosity Gaming. By the end of the year, TSM took a swing at three more events in Auzom Premier League Season 1 IEM XII Oakland PUBG Invitational and BEAT Invitational by Soylent, but again failed to live up to the expectations with their third, sixth and 18th place finishes respectively.
In February 2018, TSM started fresh with the signing of a new in-game-leader Rory "rawryy" Logue in a bid to make a breakthrough, yet their enthusiasm soon turned to dust, as TSM failed to make any noise at IEM XII Katowice PUBG Invitational, StarSeries & i-League PUBG Season 1 and PGL-PUBG Spring Invitational 2018, finishing 10th, ninth and eighth respectively. Shortly after, Viss announced he is stepping down from the team to focus on streaming, which ushered the signing of Alexandru "SOLIDFPS" Cotiga.
Despite all the roster changes, success was nowhere to be found, with TSM's best placement in 2018 coming from Hong Kong PUBG World Invitational, where they finished 10th. In November, TSM rebuild their roster with the signing of a Danish trio in Gustav "Gustav" Blønd, Peter "Wookiebookie" Lassen and Mathias "Turtle" Nielsen who pocketed ninth-place finish at PUBG Europe League – Closed Qualifier in December.
In 2019, TSM made further tweaks to their PUBG roster, with the signing of Michael "mykLe" Wake, Ömer "Irph" Çakıldeveli and coach Dylan "Didz" Didiano, which resulted in a fairly lucrative year for TSM's PUBG project, securing over US $162,500 in tournament winnings, with $80,000 coming from their seventh-place finish at PUBG Global Championship 2019.
In late-January, TSM made one last roster change, when they signed Jere "Jembty" Kauppinen, Christopher "Fexx" Wheddon and René "Braexco" Rehling and parted ways with Iroh and rawry, with the latter promoted to a position of a head coach. Since, the new-look squad participated at Global Loot League Season 4 – EMEA Finals and PGS: Berlin – Europe Finals, where they finished at an underwhelming 12th and seventh place respectively.
TSM's Rocket League team, on the other side, was formed in January 2019 with the signing of ex-We Dem Girlz roster in Remco "remkoe" den Boer, Otto "Metsanauris" Kaipiainen and Jordan "EyeIgnite" Stellon.
Much like TSM' PUBG project, their Rocket League team went through quite a few roster changes since its formation, but both squads had one more thing in common – underwhelming performances. Outside of finishing sixth at RLCS Season 7 – Europe, second at DreamHack Pro Circuit: Dallas 2019, seventh at RLCS Season 8 – Europe and most recently ninth at RLCS Season 9 – Europe, TSM's results left a lot to be desired, which eventually led to the team's disbandment.
Despite the TSM's decision to drop their PUBG and Rocket League rosters, the North American organisation unveiled they're planning on returning to both scenes at a later date.
"We are still exploring our opportunities within both scenes, and plan to re-enter them at a later date," read the announcement.
It remains to be seen when TSM will re-enter PUBG and RL scene, but given their ambitions to field the best, or at very least the second-best team in the world, as noted by remkoe in his Twitter post, it might take a while before TSM assembles a roster that will live up to those expectations.