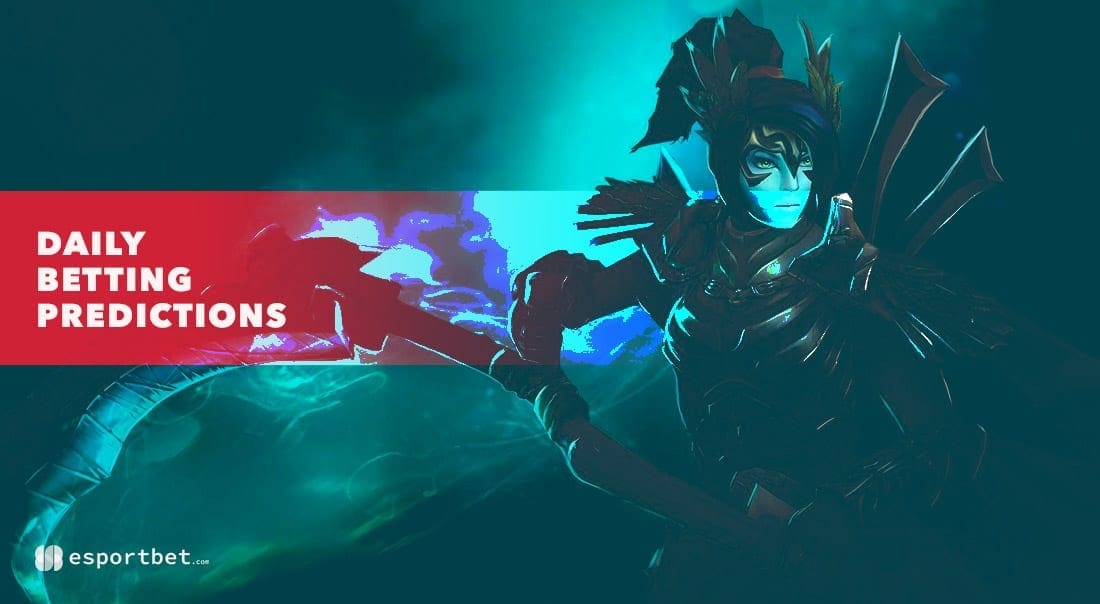 by in
ESB's free Dota 2 betting picks for Tuesday, August 16, focus on a pair of ThunderPick Bitcoin Series playoff bouts. Check out our selections for Hokori vs Wildcard Gaming and The Cut vs Mad Kings, with top esports betting odds courtesy of BetOnline.
---
HOKORI vs WILDCARD GAMING Dota 2 BETTING & MATCH DETAILS

Best Odds:
HOKORI -175.44 at BetOnline | Wildcard +125 at BetOnline
When:
August 16, 2022 | 14:00 EDT
Watch Live:
Twitch (https://www.twitch.tv/BeyondTheSummit2)

Hokori reached the ThunderPick Bitcoin Series playoffs with a perfect 3-0 run through the main stage, beating Eternity, Arkosh Gaming, and Wildcard Gaming without dropping a single map. Of the three wins, we're most interested in HKR's victory over their round one opponent three weeks back.
Hokori won the first map of the series without any issues, grabbing an early lead and snowballing it to a dominant victory at just north of 31 minutes. The second map was closer, and Wildcard Gaming even led by 6.3k at 29 minutes, but poor execution allowed Hokori to bounce back and claim another dominant win.
Wildcard have since played seven games across ThunderPick Bitcoin Series and ESL One Malaysia 2022 North America: Closed Qualifier, winning four, albeit only against 5RATFORCESTAFF (2-1), Alpha (2-0), Nouns (2-1), and The Brood (2-0), which is hardly something to write home about.
On the other side, Hokori have played 14 games since the sweep and have lost just two (9-3-2). So even though Hokori haven't had to face any tough opponents, they're evidently in good form. In our book, there's a 50/50 chance Hokori produce another 2-0 sweep, so at +162, a map handicap is a clear choice.
---
THE CUT vs MAD KINGS Dota 2 BETTING & MATCH DETAILS

Best Odds:
Cut -138.89 at BetOnline | Kings +100 at BetOnline
When:
August 16, 2022 | 14:00 EDT
Watch Live:
Twitch (https://www.twitch.tv/BeyondTheSummit2)
The Cut and Mad Kings both finished the group stage with a 3-1 record. The Cut won against Dreamers Esports (2-0), The Brood (2-0), and Arkosh Gaming (2-0), while Mad Kings defeated 5ManMidas (2-0), Team DogChamp (2-0), and Wildcard Gaming (2-0).
Even though both Dota 2 esports teams have done well in the group stage, we're not surprised to see Mad Kings priced as underdogs for this bout, knowing that they're 1-3 across their last four outings. Over that stretch, Mad Kings won against KBU.US (2-0) but lost the rematch (0-2) and have dropped two series against 5RATFORCESTAFF (1-2, 0-2).
But despite their shaky form, Mad Kings are now going against a team that has not played an official match in over two weeks. Admittedly, The Cut have participated in some lesser events over the last week, but it's hard to imagine facing Goofy Goobers and AQ.Penniose has helped them get ready for this bout.
This has the making of a close affair that can easily swing either way. Although Mad Kings are a solid pick at even money or better, we'll take a shot with MAD Kings to win 2-1 on the correct score market at +250. A smaller stake is recommended.