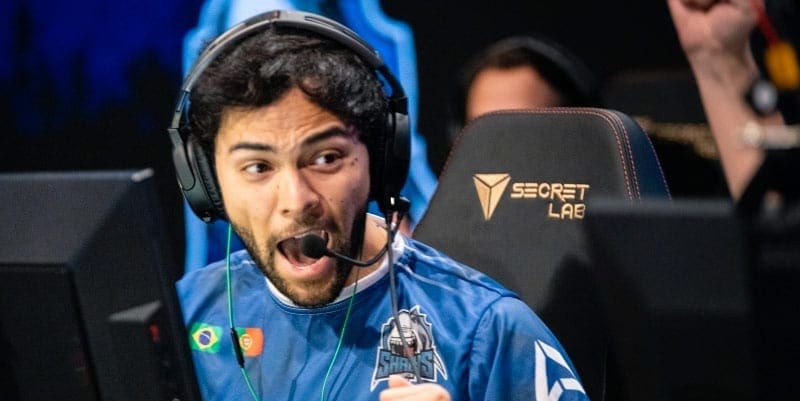 by in
Renato "nak" Nakano has become the second player to part ways with RED Canids in the space of a week, leaving only three active members on the roster. With him and Lincoln "fnx" Lau out the door, the Brazilian esports team have now lost two of the most experienced players in the South American Counter-Strike scene.
This ends nak's 10-month stint with RED Canids, who he joined in August 2019 after two years with Sharks Esports. Despite his strong showings with Sharks, with whom he finished fourth at Americas Minor Championship – Berlin 2019, the 32-year-old esports veteran had limited success in his time with RED Canids.
During his stay there, nak averaged a poor 0.96 rating. His only notable results were a second-place finish at CLUTCH BR League Season 1 in December 2019 and fourth at ESL One: Road to Rio – South America in April this year.
Despite his lack of success in recent months, nak is likely to find another team to continue his career as a player or coach, considering he is one of the most experienced still-active Counter-Strike esports players in the world. Nak began his esports journey in early 2004 during the era of CS: 1.6 and went on to play for top-tier teams such as MiBR, compLexity Gaming and Luminosity Gaming.
Although he has not won a Major, nak has amassed an impressive list of accolades, most of which he earned throughout 2006-2008. He also coached Luminosity to a silver medal at ESL ESEA Pro League Season 2 – North America and a top-eight finish at Intel Extreme Masters X – San Jose in 2015.
The removal of nak and fnx leaves RED Canids with only three active members in Gabriel "nython" Lino, Bruno "latto" Rebelatto and Lucas "DeStiNy" Bullo. Although the Brazilian organisation have yet to make a comment about the future of the roster, it's likely they will be looking to rejuvenate their lineup with two younger players.
The departure of nak and fnx will also set RED Canids back in their journey to the Rio Major. The team held 1,300 Regional Major Ranking (RMR) points after ESL One: Road to Rio – South America, but they are now left with only 780 due to the 40% penalty that follows the removal of two players. RED Canids now sit last in the South American RMR standings behind BOOM Esports on 1,600 points, Isurus with 1,500 and Imperial e-Sports with 1,400.
The ESL One: Rio Major will mark the 16th Valve-sponsored CS:GO Major Championship and the first Major of the year. It was originally scheduled to take place from May 11-24 but was postponed to autumn due to the COVID-19 pandemic. The Rio Major is now slated to take place from November 9-22 and will feature a US $2 million prize pool, which is the largest kitty ever seen in a single CS:GO event.
Only one team from South America will qualify for the Major as Contenders, meaning RED Canids have a lot of catching up to do in the summer and autumn series.