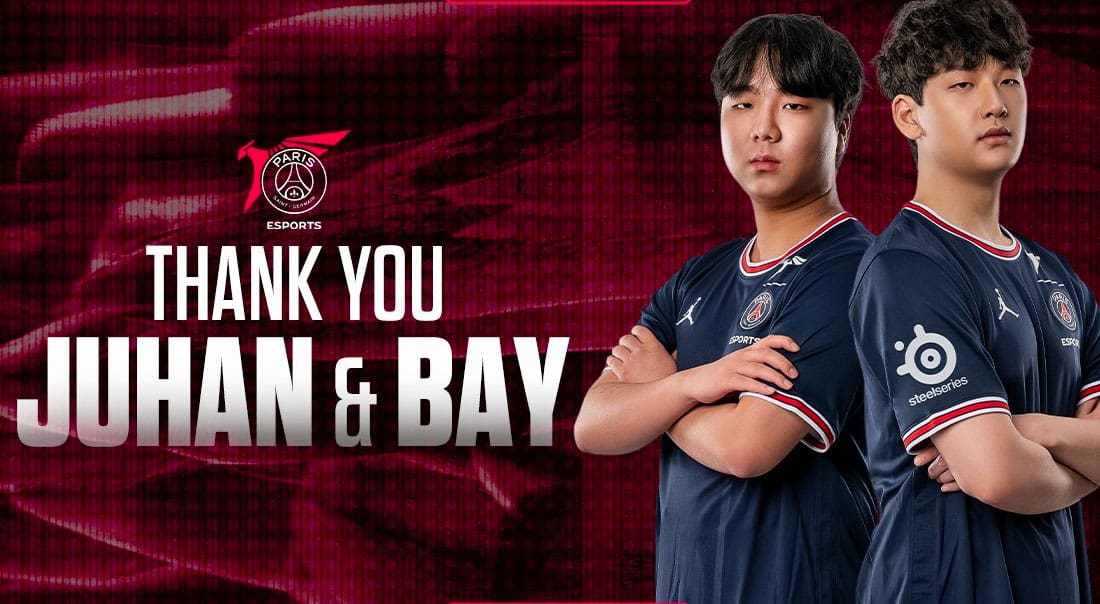 by in

PSG Talon have parted ways with their mid-laner Park "Bay" Jun-byeong and jungler Lee "Juhan" Ju-han. The team is yet to disclose who their replacements will be.
PSG Talon won their third regional championship owing to the two South Koreans, who entered the organization prior to the 2022 PCS Spring Split. They entered the 2022 Mid-Season Invitational with high hopes, having advanced to the semifinals last year, but were eliminated in the Rumble Stage with an overall score of 3-7, despite defeating G2 Esports twice.
In an interview after the 2022 MSI, PSG Talon top laner Su "Hanabi" Chia-Hsiang shared some insights on the team's challenges. Juhan and Bay were experiencing difficulties communicating and connecting with their Taiwanese and Hong Kong counterparts, and it was clear that something needed to be done about it.
It is currently unclear where Juhan and Bay might head next. Bay had previously expressed his wish to return to an LCK team.
"If I become and perform better, I want to go to the LCK. But I believe the PCS is a region where I'm developing myself. If I get to improve a lot, evolve, and play better, I might be getting some offers from other teams and I'll take that into consideration," he said.
Apart from the MSI expectations, Juhan and Bay had a lot of ground to cover. They took the place of jungler Kim "River" Dong-woo and mid-laner Huang "Maple" Yi-Tang, who had helped the team reach their peak years.
The three-time PCS winners are due for yet another change of their roster, even though they achieved success locally with a 16-2 record this season during the spring. Their failure to produce the same standard of performance on the global stage has the coaching staff hunting for answers. The change was imminent as PSG's new mid-jungle core were unable to meet the high standards set by their successors.
Bay and Juhan had KDAs of 2.4 and 2.0, respectively, at MSI 2022. In addition to having the lowest damage figures for their role at the event, they also had the worst early-game statistics. Together, they were unable to compete with the majority of all the other duos in the competition, and PSG won only three matches during the Rumble Stage.
Prior to the 2022 PCS Summer Split, the organization will need to sign two new players to fill their open spots. It appears that the roster is still missing their former star duo of Huang "Maple" Yi-Tang and Kim "River" Dong-woo, who are now playing for the LCS in North America. The former recently signed with TSM, while Kim "River" Dong-woo has become the lynchpin for Team Dignitas' plans for the upcoming season.