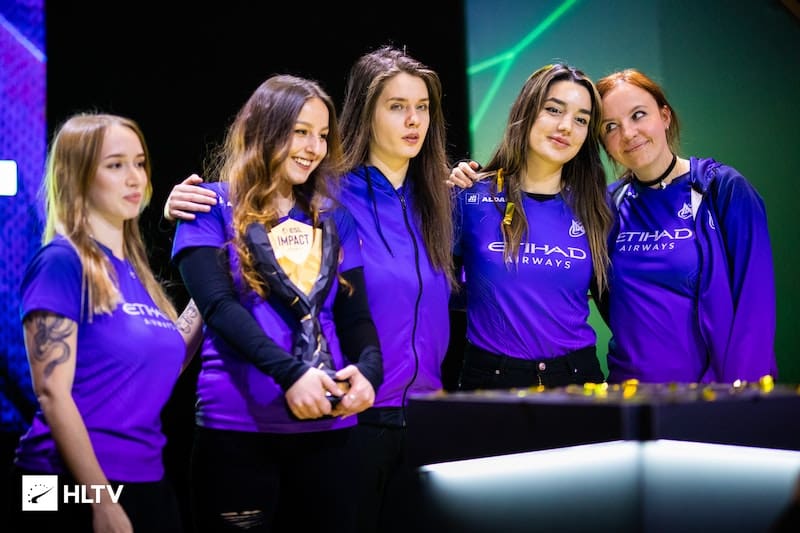 by in
Nigma Galaxy Female have won the ESL Impact Katowice 2023 title in another dominating show of strength in the women's circuit.
In the grand finals that took place on Sunday, the team beat NAVI Javelins 2-0 and made history by claiming back-to-back ESL Impact titles. Nigma Galaxy first won 16-9 on NAVI's map pick, Nuke, before rounding it off with a close 22-19 overtime victory on Vertigo.
The Russian squad entered the 2023 Impact circuit as the expected winners because they have won every LAN event hosted. While they came out on top in this year's tournament, Nigma faced some competition in the hands of FURIA Fe in the semi-finals and then NAVI Javelins in the competition's grand finals.
ESL Impact Katowice 2023 is NAVI Javelins' first attempt at an Impact trophy, as the team did not participate in the grand finals of seasons 1 and 2. The Polish squad reached the top four in the Valencia tournament and second in the just-concluded Katowice event.
READ: Best CS:GO betting sites in 2023
The best-of-three series started with NAVI Javelins' pick of Nuke, a choice the Russian team certainly made them regret. Nigma Galaxy jumped out to an impressive 12-3 lead and ended the map with a 16-9 win.
The CT half of the map saw Nigma reach a rating of 2.07 on the back of Alexandra "⁠twenty3⁠" Timonina. NAVI seemed on the verge of making a comeback on the T side but lost out after Ana "⁠ANa⁠" Dumbravă and the rest of the team won their first T round.
Map two, Vertigo, was Nigma's pick, and NAVI refused to go down easily. While the favorites struggled to string rounds together, they managed to win five to take a slim lead into the second half.
NAVI reached 14 after a back-and-forth start to the second half. They were, however, forced to double eco after making an economic decision with no loss bonus. This let Nigma Galaxy back into the game, and the team was about to take the victory until NAVI forced the match into overtime after coming on with pistols. There, the Russians prevailed 22-19 to clinch the title.
Twenty3 was Nigma's top player in the series, earning a 1.29 aggregate rating and 57/42 K/D. ANa came a close second with a rating of 1.23 and a 55/42 K/D. Karolina "Liina" Kasprzykb was NAVI's best player and reached a 1.08 rating.
Nigma Galaxy won the ESL Impact Valencia 2022 title; hence their recent win earned the team a two-peat in the ESL Impact series.