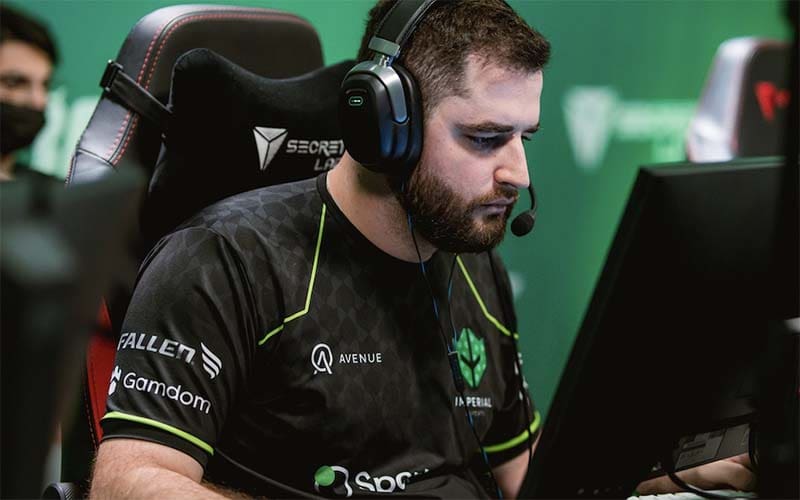 by in
Gabriel "FalleN" Toledo, one of the most impressive and recognizable talents in Counter-Strike: Global Offensive since entering the competitive scene in 2006, has hinted at his retirement from the competitive scene.
The Imperial star recently qualified alongside the team for the IEM Rio Major after a drawn-out battle with Complexity. In an interview held after the match, FalleN shed light on what he thought the win symbolized for the Brazilian esports scene and his future in esports.
According to the Brazilian player, while he was not entirely sure when he would retire his mouse and keyboard, it would likely be towards the end of 2023. Concerning his reasons for his retirement, FalleN expressed the desire to accomplish other things in his life outside esports and finally stay home for an extended period.
"I don't know exactly when I'm going to stop," FalleN said.
"I'm aiming to stop at the end of next year, but there are times when I want to stop now."
"Just because I'm outside of my home since 2014, it's been almost 10 years I've not been home. I want to live things with my girlfriend, do other things in life, and I think I'm going to be able to do different things in esports in general. Help other people in different ways; I have already had some thoughts about the process."
The 31-year-old reiterated his love for CS:GO and how much he loved playing professionally. However, doing so reportedly cost him too much because he treated it as a top priority in his life.
"For me, it's about this transition phase; I do love CS; I love playing, but it just costs me too much," FalleN added.
"CS is always my priority, and I take it as number one priority in my life; that means I don't have much time for relationships with my family, and in the end, it's all about the connections we make with people. I feel I have to do a little bit more of that."
Due to the fact that the 2022 IEM Rio Major is the first Valve-sponsored event in Brazil, FalleN and the rest of the Imperial considered the tournament one of the most important esports events in their career. When asked how he felt about the win, the Brazilian player revealed that from the start of the tournament, he was riddled with emotions and attempted to map out each move the team had to make in a number of situations.
"So many emotions during this tournament. From about to be crying on the shuttle towards the tournament, kind of meditating on the process on the process thinking about what we have to do, how we have to lead," FalleN said.
"What are the things we have to say to conquer what we want, to the battle mode when the game starts and then letting these feelings go and focusing on every single round. This is the most emotional I have been during a tournament in my life and the biggest win I have ever had."
The CS:GO player concluded the interview by thanking his fans, teammates, and everyone who has offered their support to him over the years.
The 2022 IEM Rio Major will kick off its Challengers Stage on October 31 and see Imperial face off against Team Liquid in one of the tournament's opening games.