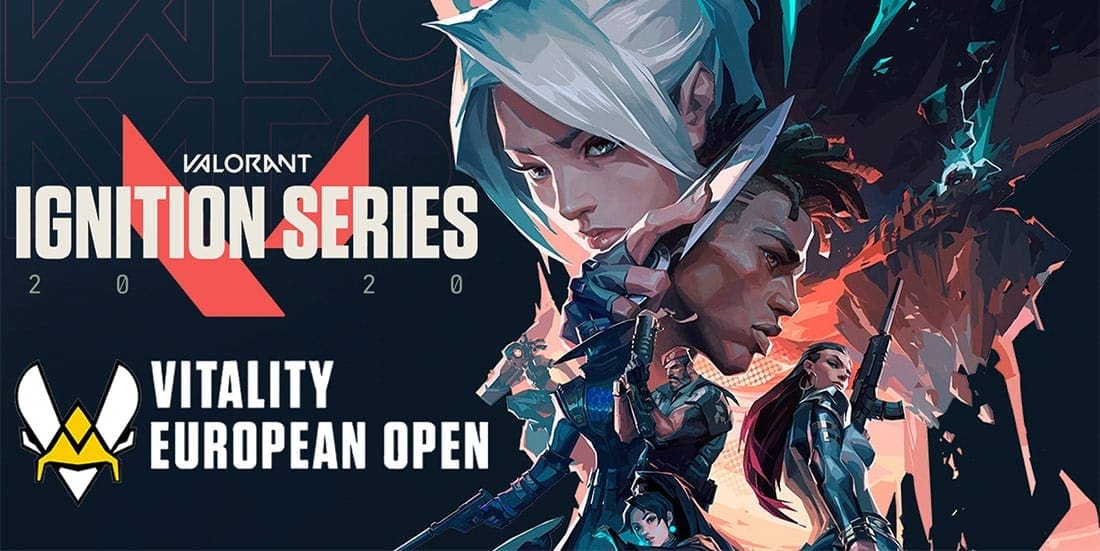 by in
G2 Esports won their maiden Valorant trophy on Monday when they defeated Prodigy 3-1 in the grand finals of the first officially sanctioned European tournament for the Riot Games first-person shooter, the Vitality European Open.
The €15,000 (≃ US $16,914) event was hosted by Team Vitality as part of the IGNITION SERIES, which is a collection of Valorant tournaments organised by third-party companies in partnership with Riot.
The Vitality European Open began on July 5 with open qualifiers, where 256 teams battled it out for one of eight tickets leading to the main event, which kicked off on Friday, July 10. The eight teams who fought their way through qualifying were Prodigy, FABRIKEN, PartyParrots, Apexis, need more DM, Bonk, breadHUNTERS and G2 Esports. They were then seeded into one of the two groups, where each played one best-of-three (Bo3) series against the remaining three to determine which two teams per group would advance to the playoffs.
SEE ALSO: BEST ESPORTS BETTING SITES
G2 Esports were seeded into Group A alongside FABRIKEN, need more DM and Apexis, and they did not need long to demonstrate why they were regarded as favourites to win the tournament. Even though Oscar "mixwell" Cañellas Colocho and co. stumbled a bit in the opening match against FABRIKEN (2-1), they picked up the pace and swept both Apexis and need more DM to secure top spot in their group.
In Group B, we saw Prodigy and PartyParrots fight for group supremacy. While both ended the group stage with 2-1 record, it was Prodigy who came out on top thanks to a slightly better map differential.
With the group stage set and done, PartyParrots, Prodigy, G2 Esports and FABRIKEN advanced into the final stage of the competition, while Apexis, need more DM, Bonk and breadHUNTERS were sent home with a €250 consolation prize. As the top seed from Group A, G2 were paired with PartyParrots, whereas Group B winners Prodigy drew a favourable fixture against FABRIKEN.
Once the knockout stage began, G2 Esports did not hesitate to show to the world how good they can be. Even though they started slowly against PartyParrots and lost 5-13 on Heaven, mixwell and his crew turned the game around with two commanding wins on Ascent (13-4) and Split (13-5) to book a spot in the second round of the upper bracket.
There, they met Prodigy, who had swept FABRIKEN with two 13-6 wins on Split and Bind. While both teams had momentum on their side, G2 Esports flexed their muscles with 13-8 on Bind and 13-7 on Heaven to secure a spot in the decider.
SEE ALSO: LATEST ESPORTS BETTING TIPS
In the lower bracket finals, Prodigy reunited with FABRIKEN. This one played out quite differently to their prior meeting, as FABRIKEN won the first map 13-7 but dropped the second 11-13 to square the series. What ensued was one of the closest encounters of the entire tournament, with Prodigy edging out a 13-12 win in the final round on Bind to set up a rematch with G2 in the grand finals.
G2 Esports entered the grand finals with a one-map advantage, but that didn't last long. After sitting on the side-lines for six hours, G2 looked a bit cold on Heaven as Prodigy claimed a 13-7 win to level the scores. That woke up the favourites, however, as G2 responded with two commanding wins on Ascent (13-4) and Split (13-8) to secure their first Valorant title and €10,000 in tournament winnings.
The next IGNITION SERIES Valorant tournament is the WePlay! Invitational, which will kick off on Wednesday, July 15 with eight European teams in attendance. Fish123, forZe, G2 Esports, Ninjas in Pyjamas, Prodigy and PartyParrots all received direct invites and will be joined by the top two teams from the qualifiers.