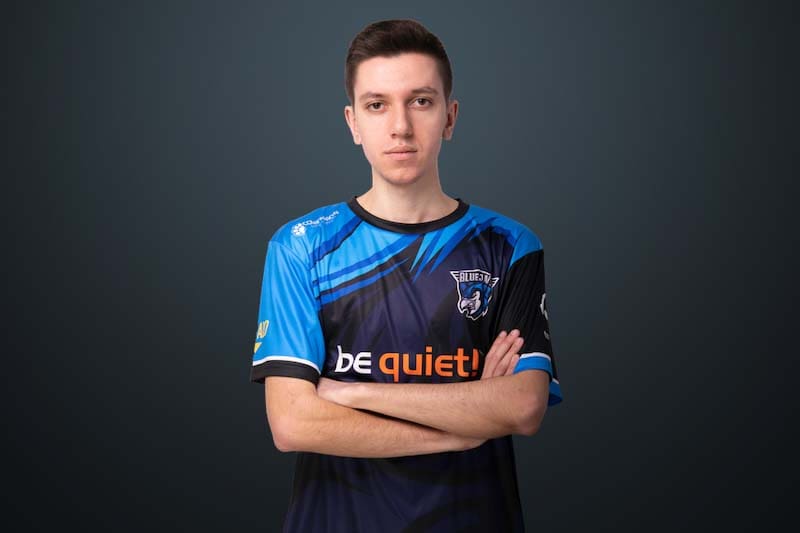 by in
Esports organization Apeks has announced the completion of their Counter-Strike: Global Offensive roster with the addition of rifler Damjan "kyxsan" Stoilkovski.
The 22-year old will also lead the team in their 2023 championship campaign as its in-game leader, with the European franchise making the announcement on their official website as they gear up for the upcoming season.
"Stoilkovski just signed a deal with us throughout 2023 and will be our new in-game leader and captain," the franchise announced.
"He's coming straight from BLUEJAYS – who just won IESF World Championship. BLUEJAYS is currently ranked #39 in the world and have been delivering solid results in 2022. Now it's time for Stoilkovski to bring Apeks to new heights."
Kyxsan has joined the international roster after representing the Danish-German franchise, BLUEJAYS for just over a year. During this time, the Macedonian player became one of the top performers on the roster, with an average rating of 1.07 over 378 maps – the second-highest showing on the team.
During his year with the BLUEJAYS, kyxsan's impressive in-game performance translated into back-to-back IESF World Championship titles in 2021 and 2022, a victory in ESEA Advanced Season 41, and a 5-6th place finish at his final event with the team, ESL Challenger League Season 43.
Apeks is hoping to use its newest player as a launching pad to continue its upward momentum. Since returning to competition in late November, the team has consistently performed well, including a 3-2 win against Monte in the ESEA Advanced Season 43 with substitute player Michał "⁠MICHU⁠" Müller, and a 3-4th place finish in the CCT Central Europe Series 4, where they were eliminated by Astralis in the semifinals.
"I am very happy to be joining a team such as Apeks. I can't wait to meet my teammates and to start preparing for the challenges ahead of us in 2023," kyxsan said.
"It was not an easy decision to leave my friends and ex-teammates in BLUEJAYS, but when I heard Apeks' plans and ambitions the decision was much easier. I feel like we have a super good line-up with excellent coaches, and we have everything that we need to achieve our goals."
The Norwegian franchise has been in the process of rebuilding its CS:GO roster after a string of disappointing performances in recent tournaments. The addition of kyxsan is seen as a major coup for Apeks, as he brings with him a wealth of experience and a proven track record of success in the competitive CS:GO scene.
The Head of Esports at Apeks, Anders Kjær said the completion of the team's roster and the addition of kyxsan would be the right fit for the team, describing his selection as an easy choice.
"This has most certainly been the most in-depth recruitment process we have ever concluded. We did a great scouting job, followed by an intense month of trials. We have done what we can to make sure that the player we brought in would fit our needs," he said.
"After thorough evaluations of the trials, we concluded that kyxsan was the right fit for us. In the end, it was an easy choice. The coaches wanted him, the players wanted him, and the club wanted him. That is the best-case scenario. Now it's just one thing left – to perform."
Heading into the new season. Apeks complete roster will see the newly recruited in-game leader kyxsan joining Tim "nawwk" Jonasson, Martin "STYKO" Styk, Justinas "jL" Lekavicius and Joakim "jkaem" Myrbostad.
Jakub "kuben" Gurczynski is head coach and Pal "Polly" Kammen is his assistant, while the inactive roster consists of French rifler Richard "shox" Papillon.