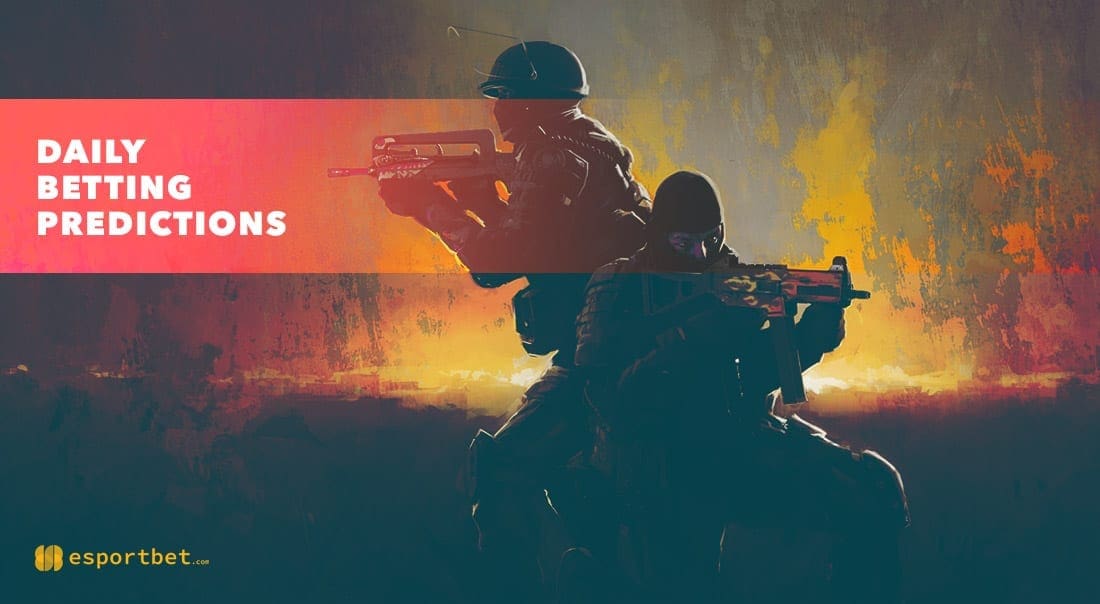 by in
ESB is back with another set of daily esports betting tips for Friday, September 11. This time we will focus on the continuation of European ESL Pro League and League of Legends European Masters 2020 Summer, as well as two North American Overwatch League playoffs fixtures.
ESL Pro League Season 12 Europe
OG vs GODSENT CS:GO BETTING & MATCH DETAILS

CS:GO Betting Odds:
OG -151.52 at BetOnline | GODSENT +126 at BetOnline
CS:GO Betting Lines:
OG -1.5 at +193 | GODSENT +1.5 at -270.27
When:
September 11, 2020 at 14:00 CEST
Watch Live:
Twitch (https://www.twitch.tv/esl_csgo)

GODSENT did not look too sharp in the opening week of the ESL Pro League when they lost 0-2 to both Natus Vincere and G2 Esports, but they managed to regain some traction with a reverse sweep over ENCE on Tuesday. Likewise, OG lost their opening two fixtures against G2 (1-2) and BIG (0-2) but took down AGO (2-0) on Sunday. 
Even though OG's 1-2 record is not terrible, their recent form slump is a concern as they prepare to face the surging GODSENT. Ignore the odds – OG's struggles make this match a complete coin-flip, so it makes sense to side with the outsiders.
European Masters 2020 Summer
WLGAMING ESPORTS vs MISFITS PREMIER LOL BETTING & MATCH DETAILS

LoL Betting Odds:
WLG +401 at BetOnline | MSFP -714.29 at BetOnline
When:
September 11, 2020 at 18:00 CEST
Watch Live:
Lolesports, Twitch
Perhaps the most one-sided fixture of the day will see WLGaming Esports clash with Misfits Premier, who are among the favourites to win the league. Misfits have won all three of their group stage fixtures so far, whereas WLGaming managed only one victory in three outings.
Even though WLGaming's win over ⁠7more7 Pompa Team was fairly impressive, we can't forget how one-sided the previous meeting between WLG and MSFP was, and there is no reason to believe this match will play out any differently.
Instead of betting on the result, we will instead shop for higher odds in the first blood market. MSFP jungler Thomas "Kirei" Yuen and top laner Tobiasz "Agresivoo" Ciba boast 100% first blood participation, and since WLG's Dimitris "IceBreaker" Chatzitsobanis is one of the worst top laners in the league, it's highly likely MSFP will claim the first blood in the top lane like they did in each of their last three games.
First blood to Misfits Premier
7MORE7 POMPA TEAM vs VODAFONE GIANTS LOL BETTING & MATCH DETAILS

LoL Betting Odds:
PT7 +274 at BetOnline | VGIA -416.67 at BetOnline
When:
September 11, 2020 at 19:00 CEST
Watch Live:
Lolesports, Twitch
7More7 Pompa Team failed to show up in the opening rounds of the group stage and lost all three of their fixtures. Having said that, we have to give them some praise for their solid performance against Misfits Premier.
Vodafone Giants are 2-1 having already defeated 7More7 Pompa Team and WLGaming Esports. Their most recent win came solely due to the performance of ADC Amadeu "Attila" Carvalho, but he will likely struggle to have another strong showing against 7PT's Damian "defles" Filipow.
This match will be an uphill battle for 7More7 Pompa Team, but if defles continues to perform, we believe the underdogs can upset the 2019 EU Masters Summer runners-up.
Overwatch League 2020 North America Playoffs
ATLANTA REIGN vs FLORIDA MAYHEM OWL BETTING & MATCH DETAILS

OWL Betting Odds:
Reign +140 at BetOnline | Mayhem -196.08 at BetOnline
OWL Betting Lines:
Reign +1.5 at -158.73 | Mayhem -1.5 at +120
When:
September 11, 2020 at 12:00 PDT
Watch Live:
Twitch, Youtube

Atlanta Reign got off to a strong start of the 2020 Overwatch League NA playoffs with a 3-2 win over Paris Eternal, yet they fell 1-3 against the reigning champion San Francisco Shock. Florida Mayhem dropped their opening match of the OWL playoffs against Los Angeles Valiant (2-3) but bounced back with a commanding 3-0 in over Los Angeles Gladiators last Sunday.
Looking at the past four clashes between Reign and Mayhem, the latter won all four with a commanding 12-3 map differential. The last time these two sides met was a month ago during the Countdown Cup, where Florida swept Atlanta 3-0.
Since then, Atlanta have lost five of seven matches, while Florida have produced a slightly better 3-3 record which includes two wins over the Gladiators and one against Vancouver Titans. Even though both teams have shown similar form of late, Mayhem's impressive head-to-head record gives them a significant edge.
LOS ANGELES VALIANT vs WASHINGTON JUSTICE OWL BETTING & MATCH DETAILS

OWL Betting Odds:
Valiant +143 at BetOnline | Justice -200 at BetOnline
OWL Betting Lines:
Valiant +1.5 at -163.93 | Justice -1.5 at +120
When:
September 11, 2020 at 14:00 PDT
Watch Live:
Twitch, Youtube

Los Angeles Valiant started the OWL playoffs with a shock 3-2 win over Florida Mayhem but failed to keep their wheels spinning, as they lost 0-3 to Philadelphia Fusion in the semi-finals. Nevertheless, the Valiant have proven they're the real deal this season by locking in a top-five finish in their division, albeit with a slightly underwhelming 12-10 record.
Washington Justice finished the regular season in 12th place with a poor 4-17 record. While they have shown some signs of improvement this month with clean sweeps against Vancouver Titans, Dallas Fuel and Paris Legion, consistency has never been the Justice's strong suit.
Even though Justice looked decent in the opening rounds of the OWL playoffs, we feel like the odds offered on the Valiant are way too high. LA have exceeded everyone's expectations this season and have swept Justice before, so there is no reason to believe they can't do it again.
Los Angeles Valiant to win