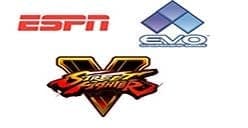 by in
ESPN have announced they will provide live coverage of the 2017 Street Fighter V World Championship finals from the Evolution Championship Series (Evo 2017) on ESPN2 and via the ESPN app, starting at 7 PM PT/10 PM ET on July 16.
Running over three days and held in Mandalay Bay in Las Vegas, the world famous pro fighting game tournament is the largest organised event of its kind in the world, hosting competitors and fans to compete and watch the most popular fighting video games in the esports circuit.
The first day will feature the likes of BlazBlue: Central Fiction, Guilty Gear Xrd REV 2, Injustice 2, King of Fighters XIV, Super Smash Bros. Melee, Super Smash Bros. for Wii U and Ultimate Marvel Vs. Capcom 3 – alongside Street Fighter V.
"It's great to be back at the Evo Championship Series Final with Street Fighter V this year," said Kevin Lopes, director of ESPN programming in a press release. "This final will provide no shortage of compelling competition, and we look forward to delivering this event to fans."
"Fighting games bring a tremendous level of hype and excitement, and Evo's mission is to share that experience with fans worldwide," said Joey Cueller, president of Evo. "We're pleased to team up with ESPN and Disney to bring these games to new audiences."
ESPN and ESPN2 has previously held televised broadcasts for the 2016 Street Fighter V Evo Championship Series and the 2016 Capcom Cup, Halo World Championship Tour at X Games Aspen 2016, and the February 2017 FIFA Ultimate Team Championship Series across their ESPN, ESPN Deportes and ESPN3 channels.
The American global cable and satellite sports television network previously announced they would be airing and hosting the $75,000 Rocket League esports tournament during the 2017 X Games in Minneapolis this weekend as part of X Fest, the entertainment side of the annual action sports event.
They join fellow sports broadcaster NBC Sports in providing consistent live coverage of esports this year.