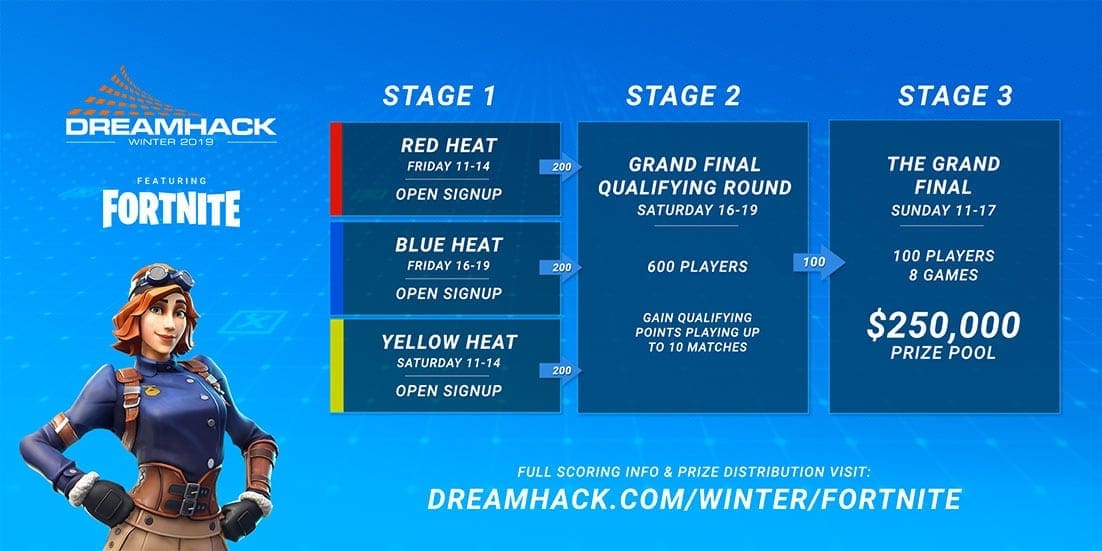 by in
DreamHack has revealed the final details for the upcoming US $250,000 Fortnite esports tournament, which will kick off on Friday, November 29 in Jönköping, Sweden, and conclude two days later on Sunday, December 1.
The DreamHack Winter Fortnite will be a BYOC (bring your own computer) tournament, with no qualifiers taking place prior to it. That means anyone who can make it to the DreamHack festival in Jönköping and is at least 13 years of age can compete in the tournament, where they will get a chance to try out their skills against some of the best Fortnite players in the world.
According to the DreamHack official website, the tournament will be divided into three stages.
SEE ALSO: ESPORTS LEAGUES & TOURNAMENTS
Stage one will be open for all competitors and will be divided into three heats: yellow, red and blue. Red and blue heats will be played on Friday, one after the other, whereas the yellow heat will take centre stage on Saturday.
Any player can sign up and compete in all three heats, where they can play up to 10 matches in each heat. However, once a player advances into the next stage they may not play in any additional heats in stage one.
Only the top 200 players from each heat will advance into stage two, based on the accumulated points throughout the matches.
The points system for all three stages will award anywhere from one to 60 points, based on players' final placements in any given match and the number of eliminations a player achieves.
First place: 60 pts
Second place: 53 pts
Third place: 49 pts
Fourth place: 47 pts
Fifth place: 46 pts
…
50th place: one point
Elimination: 15 points
The point system used at DreamHack-ran tournament will feature a glaring difference compared to tournaments ran by Epic Games. Unlike in Epic Games tournaments, where players earn one additional point for each elimination, this tournament will yield players five points.
Another huge difference is the number of points awarded to players who claim Victory Royale. In Epic Games tournaments, such players walk away with 15 points, but that number has been increased to 60 for the DreamHack event.
Stage two, which will take off on Saturday, November 30, will use a similar format as stage one and it will further narrow down the competition from 600 players to 100. The final 100 remaining players will then advance into the grand finals. There they will duke it out in eight matches to decide who will be crowned the DreamHack Winter Fortnite champion.
The top points-earner of the grand finals will take home US $30,000, with US $15,000 reserved for the runner-up and US $13,750 for the bronze medallist.
MORE FORTNITE NEWS