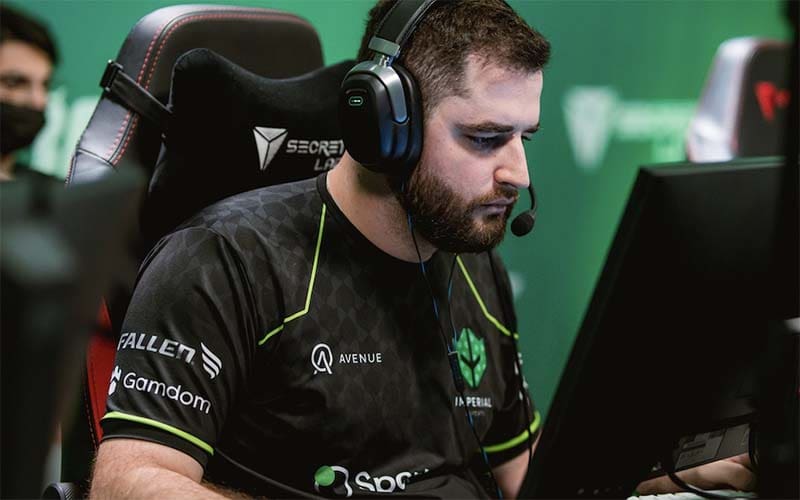 by in
Gabriel "FalleN" Toledo, the Counter-Strike: Global Offensive two-time Majors champion announced his intention to retire from competitive scene by the end of 2023.
Toledo has over 17 years experience within the esports scene but his time as a competitive player is drawing to an end, although it would not surprise if his Last Dance team cause more upsets.
FalleN, who is well-known for his unmatchable skills and back-to-back Majors wins in 2016; was also named "The Godfather of Brazilian CS" for his contribution to the development of the Brazilian scene. 
He joined Johan "N0tail" Sundsten, the OG founder and CEO of JMR Luna, on the "Monkey Business Show" podcast and spoke on several esports-related issues.
FalleN disclosed that he had recently found himself wondering about the end of his career more than usual. He said, "You cannot do the same thing your entire life; it's impossible. Maybe I've been thinking about that myself lately because I'm going to stop sometime soon, in the next year and a half, something like that. "
 
At the moment, the CSGO esports star is playing alongside Lincoln "fnx" Lau and Fernando "fer" Alvarenga. Both were part of the team that worked with FalleN in 2016 to enable him to win back-to-back CS:GO Major titles. The project is called "Last Dance" and is housed by Imperial.
 
During the podcast, the 32-year-old explained that the decision was not an easy one to make because he had spent around 18 years of his life playing.
 
FalleN explained that he had watched some matches of the new team and saw that they were "so good." The player also revealed that, besides competitive playing, he was interested in three other career routes in the future, one of which was coaching the younger players. However, the role was in line with what he was doing at the moment, which did not provide him with enough time to spend at home.
 
"I really like streaming," FalleN said.
"I really like creating content and being in touch with people. Streaming is pretty cool because I would be able to stay at home, and that's something that I think about.
"I really like the teaching part of the game, where I can develop new players. I'm really fascinated by it. I have a lot of knowledge that I really know how to pass on. I know things that can make people better. That's what I did a long time ago, and maybe when I finish [my career], I can go back to it."
 
FalleN started playing in the mid-2000s and participated in competitions like CS 1.6, CS:Source, and CrossFire, and by 2013 he had transitioned to CS:GO.
The year 2016 was his best yet after winning the ESL One Cologne and MLG Columbus Majors with SK Gaming and Luminosity, respectively.
 
That same year, the player was named the second-best player worldwide, while Marcelo "coldzera" David, his teammate, was named the best. FalleN continued his winning streak with SK well into 2017. However, a year later, teams like FaZe, Astralis, and NAVI started taking more wins.
 
That same year, SK was transferred to MINR, owned by Immortals, and success seemed to move further in the following years. FalleN eventually left the team in September 2020 and joined Team Liquid. His tenure with the team spanned only a year, and they were unable to win any trophies within that period. 
 
In a bid to recreate the success they previously had, FalleN partnered with some of his Major winning teammates in 2022 to create the Last Dance. The team joined Imperial and qualified for New Legends Stage in PGL Major Antwerp but was defeated by Copenhagen Flames in the final round.
Toledo's next stop on his farewell tour will be the IEM Rio Major between October and November. The tournament is the first ever Valve-sponsored gaming event to take place in Brazil.