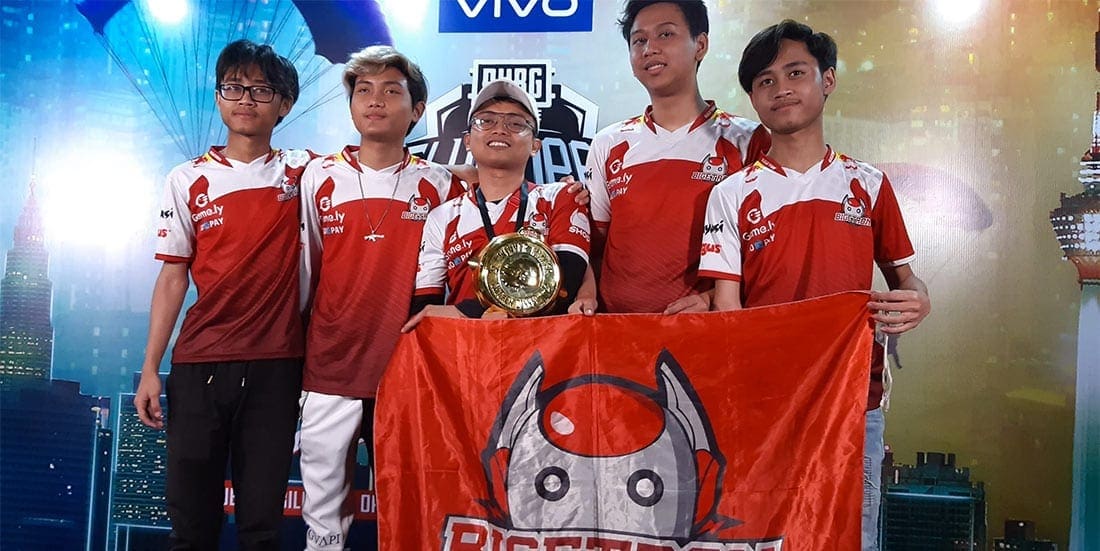 by in
Bigetron Red Aliens made history on Sunday when they claimed the PUBG Mobile Club Open 2019 Fall Split title, thus cementing themselves as one of the best PUBG Mobile esports teams in the world.
The Indonesian team earned their spot in the grand finals by qualifying through the preliminary rounds of PMCO World Championship, where they put up a dominant show to claim the second seed with 271 points, only 52 short of preliminary stage champions MEGA Conqueror.
Bigetron RA started slow in the prelims, claiming third place in round one, 14th in round two, third place in round three and seventh place in round four. They picked up the pace in the remaining rounds to finish first in the fifth, seventh, 11th, and 13th rounds, to which they added another third-place finish in round 10 and a second-place finish in round 17.
Bigetron managed to keep the fire going as they entered the final stage, where they decimated their opponents in round one. While they slowed down slightly in rounds two through five, the Red Aliens went on a convincing run in rounds six through 10 with three victories and two second-place finishes.
Only 10 rounds in, Bigetron were already miles ahead of their opponents, meaning all they had to do was keep hold of their lead and drag out the remaining six rounds. They did exactly that, claiming one more win as well as a fourth- and a third-place finish.
The Southeast Asian team finished the tournament with an impressive total of 303 points, which put them 106 points above the second-placed Top Esports and 112 above third-placed MEGA.CQR.
With that, Made Bagas "Zuxxy" Pramudita, Made Bagus "Luxxy" Prabaswara, Muhammad "Ryzen" Albi, and Nizar "MiCROBOY" Lugatio earned not only the title of the world champions but also US $180,000 in prize money plus $25,000 for claiming five round victories. The total haul of $205,000 is the most by any team in a single PUBG Mobile tournament, bettering the previous record held by Top Sport, who won $180,000 in the PMCO 2019 Spring Split.
Top Esports claimed a grand total of $105,000 in the PMCO 2019 Fall Split, while MEGA.CQR walked away from the tournament with $55,000 in their pockets.
The PMCO 2019 Fall Split was also the highest-paid PUBG Mobile tournament to date, with $500,000 in the prize pool. That marks a $98,000 increase compared to PUBG Mobile Star Challenge 2018 Grand Final and a $112,000 increase compared to the PUBG Mobile Club Open Spring Split Global Finals.
MORE ESPORTS NEWS