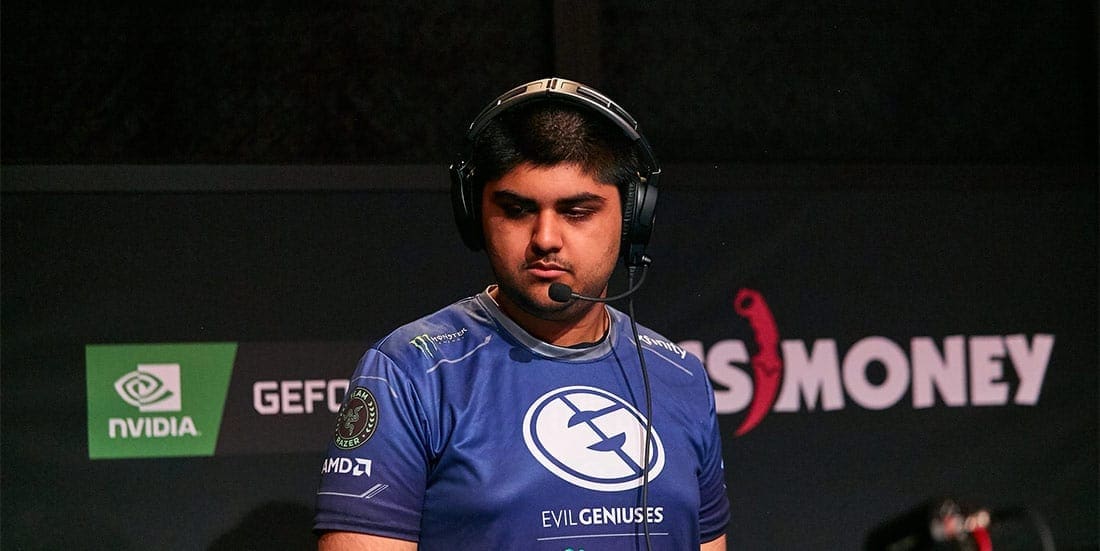 by in
The Los Angeles-based 100 Thieves have announced the signing of Chet "ImAPet" Singh, who takes over as head coach of the organisation's CS:GO esports roster.
The 23-year-old coach picks up the reins from Serbian strategist Aleksandar "kassad" Trifunović, who parted ways with 100T last month after close to 21 months with the Australian roster.
Confirming the news in a Twitlonger post, ImAPet revealed he was contemplating leaving CS:GO and transitioning to VALORANT, as many other professional players and coaches have already done, when the offer from 100 Thieves relit his love for the game.
"Today starts a new chapter in my life. I was teamless in a pretty scary time, where Corona has pretty much limited a lot of CSGO opportunities and opportunities given weren't exactly what I would call living up to my expectations," said ImAPet.
"Thankfully, I gave it enough time and didn't sign my life away to Valorant where I was able to find a squad that I have a lot of faith in and they seem to have the same for me, so thank you, 100 Thieves, for the opportunity to let me jump back into competitive CS."
ImAPet's arrival will mark the first addition to the former Renegades squad since October 2018, when they re-signed kassad as coach after he spent four months at Valiance (now CR4ZY). The current playing roster was formed in September 2018, when Renegades signed Sean "Gratisfaction" Kaiwai and Jay "Liazz" Tregillgas. That was more than a year before 100 Thieves bought out the squad in December 2019.
ImAPet started his esports career as an analyst for Counter Logic Gaming in August 2016 at only 19 years of age. In December the same year, he was promoted to head coach and helped CLG secure bronze at Americas Minor Championship – Kraków 2017 and DreamHack Open Summer 2017 before moving to OpTic Gaming in July 2017.
After a 10-month stint with OpTic, ImAPet joined NRG Esports, where he established himself as one of the most talented young coaches in the Counter-Strike esports scene. He helped the team win Intel Extreme Masters XIII – Shanghai, cs_summit 3, Americas Minor Championship – Katowice 2019 and Americas Minor Championship – Berlin 2019, while they also reached the semi-finals of StarLadder Berlin Major 2019.
Shortly after the Berlin Major, NRG's entire squad was signed by Evil Geniuses, where ImAPet continued to build his renown with titles at ESL One: New York 2019 and StarSeries & i-League CS:GO Season 8 as well as a top-four finish at the Esports Championship Series Season 8 Finals.
Despite his immense success throughout 2019, ImAPet was relieved of his duties as Evil Geniuses head coach in April following an internal conflict with the team's in-game leader, Peter "stanislaw" Jarguz and Tarik "tarik" Celik.
With ImAPet at the helm, 100 Thieves will hope to turn things around after a long period of shaky performances in online matches. Those struggles were highlighted when they finished fifth at ESL Pro League Season 11 and sixth at ESL One: Road to Rio.
ImAPet said the atmosphere at 100T "feels like the old NRG environment back in the day" and explained that his new team will be entering an experimental phase. The coach will try out a variety of new strategies in a bid to push his Aussie charges back into the top 10 in the CS:GO world rankings.
ImAPet's debut with his new team came on Tuesday, when 100 Thieves defeated Gen.G in the opening fixture of DreamHack Masters Spring 2020: North America. Their next match will come on Thursday, when 100T are slated to meet with Cloud9, while their final fixture of the group stage will see the new coach clash with his last employers, Evil Geniuses, on Friday.