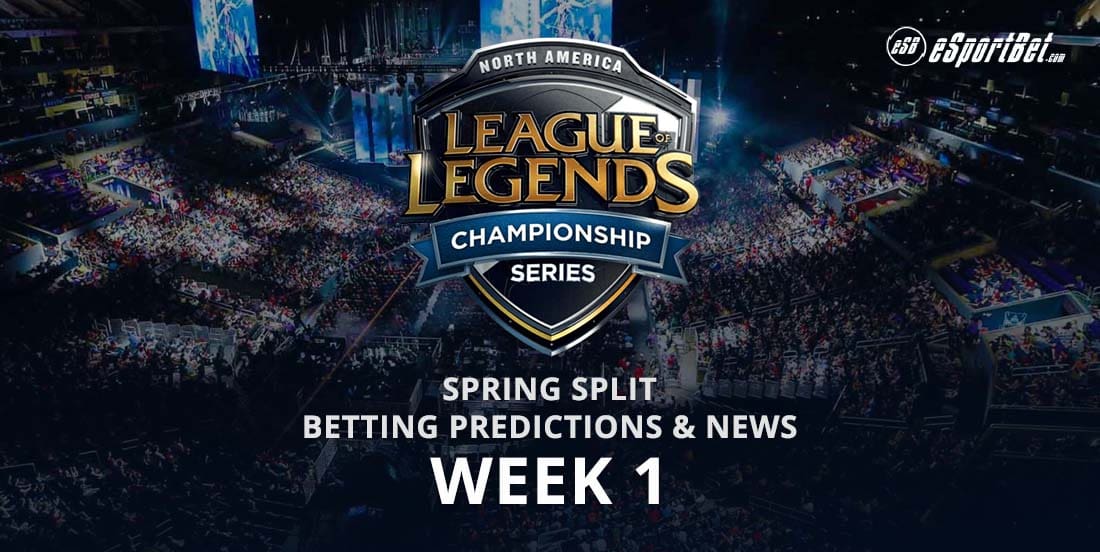 by in
The 2018 North American League of Legends Championship Series (NA LCS) begins its latest season with new teams joining familiar talent as part of Riot Games' franchising restructure – and we've got all the best betting predictions and team news for Week 1 of the Spring Split here.
The NA LCS spring tournament will pit 10 teams against each other, twice over the course of the season, for a total of 18 matches each in their race to claim the top spot. It will feature four new challengers – 100 Thieves, Clutch Gaming, Golden Guardians and OpTic Gaming – and six returning teams from the previous North American season.
Similar to the changes made to the EU League this year, the NA LCS has removed mid-year promotion/relegation and will use a single league, double round robin Bo1 (Best of 1) tournament format.
The hope is to bring in new League of Legends esports fans who won't be discouraged by the overly long Bo3 (Best of 3) format of years past, which made it harder for anyone to keep track of the results or even find time to watch each game.
Here are our best picks for Week 1 of the 2018 League of Legends NA LCS Spring Split.
NA LCS Spring Split – Parlay of the Week with BetOnline.ag
Team SoloMid to beat Team Liquid: -133 ($1.75)
100 Thieves to beat Optic Gaming: -169 ($1.59)
Clutch Gaming to beat Golden Guardians: -233 ($1.43)
Counter Logic Gaming to beat Cloud9: -147 ($1.68)
BetOnline parlay bet pays $6.68
Before you bet, enter the promo code 'NEW2500' at the BetOnline cashier while making your deposit to get a 50% welcome bonus (minimum $25 to be eligible) which BetOnline will match with credit up to a maximum of $2,500 – you can also sign up at BetOnline via our links to claim additional bonuses and rewards.
Team Liquid vs. Team SoloMid
Game 1, Saturday, January 20 – 5pm EST
With enough new players to field three full rosters, Team Liquid have invested serious money into taking an early lead in this year's NA LCS.
They have struggled the last two years and nearly were relegated on two occasions, but South Korean top-laner Jung 'Impact' Eon-yeong (who reportedly cost $1 million to sign) is set to provide some much-needed leadership and clutch factor. With ample back-up from former Immortals alumni Jake 'Xmithie' Puchero and Kim 'Olleh' Joo-sung, their new veteran roster is no pushover.
However, Team SoloMid is arguably the favourite in the NA region to beat and have made bigger roster changes to avoid their middling performance in the last two World Championships, acquiring two of the best bot-laners in NA from G2 Esports – Alfonso 'Mithy' Aguirre Rodríguez and Jesper 'Zven' Svenningsen – who we expect to carry the rest of the team early on.
Their new jungler replacement, Mike Yeung, is also mechanically talented and a lot less aggro than his predecessors, though he has at times struggled to adapt to the new meta.
Head coach Kim 'SSONG' Sang-soo (previously of Immortals and Longzhu) should be able to reproduce the same magic he worked with the struggling Immortals last season with this new outfit, and help his new team exploit the weaknesses of his former players now over at Liquid.
TSM to win -133 ($1.75) at BetOnline
100 Thieves vs. Optic Gaming
Game 2, Saturday, January 20 – 6pm EST
100 Thieves has signed some immensely talented Korean veterans from both the EU LCS and LCK, including former H2K player Yoo "Ryu" Sang-wook, one of the best mid-laners in the European league, and kt Rolster veteran Kim 'Ssumday' Chan-ho, a top-laner prodigy in the LCK, to strut their stuff in the North American League and provide some unexpected challenge for the more established favourites.
100's equally solid bottom-lane duo of Zaqueri 'aphromoo' Black (regularly seen in solo queue practicing in his spare time) and Cody Sun need no introduction and are experienced shot callers, mechanically skilled, and vocal leaders. Meanwhile, the new 100 Thieves coach Neil 'pr0lly' Hammad brings a vast amount of experience himself.
Prolly will need to put his past experience coaching Ryu on H2K to good use, given Ryu's very public expression of de-motivation owing to his poor performance with Phoenix 1 last summer. Get him back to Spring 2017 Ryu, though, and he'll make 100 Thieves a new force to be reckoned with.
In contrast, Optic Gaming have a storied history in esports, but their entry into the League of Legends circuit isn't making great first impressions. While Derek 'zig' Shao is an incredible top-laner, the bottom lane duo of Noh 'Arrow' Dong-hyeon and Daerek 'LemonNation' Hart do not inspire votes of confidence with their outdated mechanics and middling play last split with Phoenix1 and FlyNation, respectively.
Tristan 'PoE' Schrage could also carry the weaker part of the roster, but it's a small chance early on in a fast and furious Bo1 with this lot.
100 Thieves to win: -169 ($1.59) at BetOnline
Clutch Gaming vs. Golden Guardians
Game 3, Saturday, January 20 – 7pm EST
Owned by the NBA's Houston Rockets, Clutch Gaming have a lot to prove with their hyper-analytical approach to player signings for their first North American LCS tournament.
CG has acquired the experienced bottom-lane and jungler trio of Apollo Price, Nickolas 'Hakuho' Surgent and Nam 'LirA' Tae-yoo, backed up by one of the EU LCS's best mid-laners Fabian 'Febiven' Diepstraten, who played some seriously excellent LoL in the 2017 Summer Split, and he should link up well with LirA.
We can't see them getting beaten this opening round by Golden Guardians, the weakest team in the Spring Split. They opted for a full NA roster with some well known Cloud9 and Team Liquid alumni who are individually talented, but fairly inexperienced with only a month together as a unit.
However, NA veteran Hai Du Lam on mid was a good unexpected pick-up on GG's part, and the team will most likely lean on his leadership.
GG's long-game mentality to build a new franchise steadily over time is great, but it won't produce competitive results on the first go, especially in a Bo1 format with a more experienced opponent out the game – maybe further into the season when they have more time together they will find their groove.
Clutch Gaming to win -233 ($1.43) at BetOnline
Counter Logic Gaming vs. Cloud9
Game 5, Saturday, January 20 – 9pm EST
Late last year, Counter Logic Gaming lost their long-time shotcaller and in-game leader, Zaqueri 'aphromoo' Black, to 100 Thieves, which was a massive loss for both the team and its fans, given he has been part of an abnormal roster which stayed together for over three years.
However, CLG gained an equally vocal shot-caller replacement in the form of Kim 'Reignover' Yeu-jin, considered to be one of the best analytical junglers in the world who adjusts to the meta faster than his team-mates. He also speaks fluent English, so communication and building a rapport with his new teammates won't be an issue here – and the new support in the form of TSM's Vincent 'Biofrost' Wang isn't shabby either.
Cloud9's top-lane roster looks a lot less convincing without their top player Jung 'Impact' Eon-yeong, who they sold to Team Liquid. The sale of jungler Juan 'Contractz' Arturo Garcia to the Golden Guardians was also just a bizarre decision.
No offense to Eric 'Liquorice' Ritchie or Dennis 'Svenskeren' Johnsen, but they aren't about to fill the massive voids their top-tier predecessors left any time soon.
CLG to win: -147 ($1.68) at BetOnline
Where can I watch the NA LCS online?
The official North American League of Legends website hosts live-streams of every NA LCS game, which you can access and watch for free.
See also: