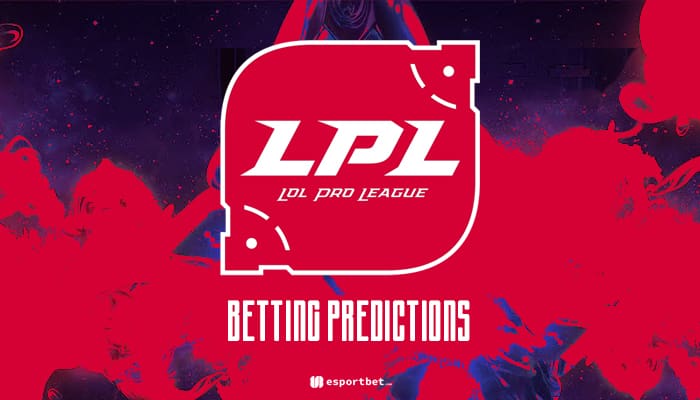 by in
ESB's free League of Legends betting tips for Wednesday, May 31, focus on a pair of LoL Pro League (LPL) 2022 Summer bouts. Check out our selections for Royal Never Give Up vs Rare Atom and LNG Esports vs Top Esports.
---
ROYAL NEVER GIVE UP vs RARE ATOM LoL BETTING & MATCH DETAILS

Best Odds:
RNG -188.68 at BetOnline | RA +137 at BetOnline
When:
May 31, 2023 | 17:00 CST
Watch Live:
Lolesports, Twitch
Rare Atom struggled in LPL 2023 Spring and ended up missing the playoffs by three wins. This led to a signing of four new players in top laner Xu "Xiaoxu" Xing-Zu, mid laner Li "Mole" Hao-Yan, and two supports Wang "Baolan" Liu-Y and Wang "Feather" Tian-Ci-Fu.
Xiaoxu replaced Dai "Cube" Yi and is a massive downgrade, but it balances out with the signing of mid laner Mole and two decent supports. So while it doesn't look like Rare Atom have made any considerable improvements, the change of identity – now fielding five aggressive players – could lead to better results. Or it can also lead to Rare Atom failing miserably.
There was a lot of drama in Royal Never Give Up during the offseason, including cost cuts, disagreements between the organisation and coaches, and contract disputes. This resulted in the departure of three veteran players in ADC Chen "GALA" Wei, support Shi "Ming" Sen-Ming, and mid laner Xiang "Angel" Tao, which is far from great.
Despite the changes, RNG field a solid roster, so as soon as everything settles down, they should be at least a mid-table team.
Individual-talent-wise, Royal Never Give Up are stronger than Rare Atom and rightly priced as the favourites. And even though people will be down on this team due to the departure of three veterans, betting on RNG to sweep rather than backing the unpredictable Rare Atom is the right play.
Royal Never Give Up -1.5 maps
---
LNG ESPORTS vs TOP ESPORTS LoL BETTING & MATCH DETAILS

Best Odds:
LNG -188.68 at BetOnline | TES +137 at BetOnline
When:
May 31, 2023 | 19:00 CST
Watch Live:
Lolesports, Twitch
Top Esports enter this LoL Pro League split with the same roster after the team failed to secure former Royal Never Give Up support Shi "Ming" Sen-Ming, but that's OK. Even though Top Esports crashed out of LPL 2023 Spring in the second round of the playoffs, they were a much better team than their final placement suggests.
That's not to say that they were legitimate title contenders. TES struggled with consistency and were very sloppy in mid-late game transition, for which they got punished several times. However, if they can improve in that department, we can start talking about a possible title run in LPL 2023 Summer.
LNG Esports finished the first split of the season in fifth-sixth place and are now aiming even higher with the addition of ADC Chen "GALA" Wei. This looks like an excellent move on paper, but GALA is hardly an upgrade from Li "LP" Fei and is more of a veteran player who is arguably a bit overhyped.
Esports betting sites have LNG Esports priced as favourites, which isn't too surprising, but it has to do with the hype surrounding the arrival of GALA, which won't make as big of a difference as it may seem. This is a 50/50 game at best, so we'll take Top Esports at plus money.