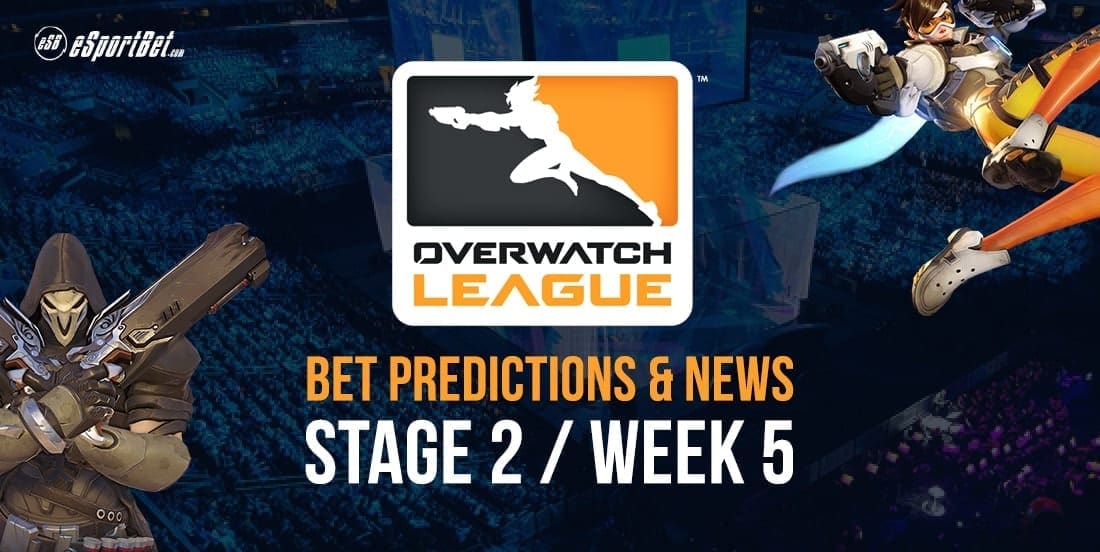 by in
Week 4 of The Overwatch League Stage 2 is over and the fifth and final week of this stage is only hours days away. As always, 12 matches will be played this week and most of them constitute great betting opportunities. But before I start analyzing the matches, let's take a look at the standings table.
STREAM OVERWATCH: HOW TO WATCH OWL
The Overwatch League standings table after week 4:
1st place: New York Excelsior (7 WINS – 1 LOSS)
2nd place: London Spitfire (6 WINS – 2 LOSSES)
3rd place: Los Angeles Gladiators (6 WINS – 2 LOSSES)
4th place: Seoul Dynasty (6 WINS – 2 LOSSES)
5th place: Philadelphia Fusion (5 WINS – 3 LOSSES)
6th place: Los Angeles Valiant (4 WINS – 4 LOSSES)
7th place: Boston Uprising (4 WINS – 4 LOSSES)
8th place: San Francisco Shock (3 WINS – 5 LOSSES)
9th place: Houston Outlaws (3 WINS – 5 LOSSES)
10th place: Florida Mayhem (2 WINS – 6 LOSSES)
11th place: Dallas Fuel (2 WINS – 6 LOSSES)
12th place: Shanghai Dragons (0 WINS – 8 LOSSES)
Overwatch bet tips for Stage 2 week 5
Los Angeles Gladiators (6W – 2L) vs. Philadelphia Fusion (5W – 3L)
Match date: March 21st
Los Angeles Gladiators is at the top of its game right now, playing with a lot of confidence and winning match after match. Over the last 2 weeks they won all of their matches and made some pretty powerful statements about their level of skill by beating strong opponents such as Los Angeles Valiant (score 4 – 0), London Spitfire (score 3 – 1), and Houston Outlaws (score 3 – 2). All of these teams finished Stage 1 in top 4.
Philadelphia Fusion isn't doing bad either, having won its last 2 matches and currently sitting at number 5 in the standings table. However, these victories are irrelevant when you look at their opponents (Shanghai Dragons and Dallas Fuel). Furthermore, they almost always crumble in the face of top opponents. Prior to their last two victories, they had lost 3 consecutive matches against New York Excelsior (1 – 3), London Spitfire (0 – 4), and Seoul Dynasty (1 – 3).
The last direct encounter between Los Angeles Gladiators and Philadelphia Fusion took place in January, during Stage 1, and ended with a victory in favor of Los Angeles Gladiators (score 3 – 2). And keep in mind that the LA team was much weaker back then, finishing Stage 1 in 8th place, with just 4 victories and 6 defeats.
Betting analysis: Bovada puts the odds at -160 for a Gladiators win, compared to +110 for the Fusion. At these odds, this match provides a great betting opportunity as the chance of a Los Angeles Gladiators victory is higher than 90%.
Best bet: Los Angeles Gladiators to win, paying -160 at BetOnline
Florida Mayhem (2W – 6L) vs. San Francisco Shock (3W – 5L)
Match date: March 21st
These two teams are of roughly the same strength and have made significant improvements following their roster changes and player acquisitions. So the match result is a bit difficult to predict. However, based on their results against several important opponents such as Los Angeles Valiant, Los Angeles Gladiators, and New York Excelsior, I can conclude that Florida Mayhem has a significantly higher chance of success than San Francisco Shock. I would put the victory odds for this match at 60/40 in their favor, even though the last direct encounter between these two teams ended with a decisive San Francisco Shock victory (score 4 – 0). Since then, Florida Mayhem has brought in two strong players and is now a much stronger team than it was in Stage 1.
Betting analysis: Bovada puts the odds of a Florida win at +135 while San Francisco is paying -200.
Best bet: Florida Mayhem to win, paying +135 at BetOnline
Shanghai Dragons (0W – 8L) vs. Houston Outlaws (3W – 5L)
Match date: March 21st
On paper, this encounter between Shanghai "we somehow managed to lose every single match we've played so far" Dragons and Houston Outlaws should end with a quick victory in favor of Houston Outlaws. However, for the first time since the Overwatch League began, Shanghai Dragons have a real chance to actually win their first match. And that's because a very specific set of circumstances surrounds this confrontation.
On the one hand, Houston Outlaws is playing pretty bad right now. They lost 5 out of their last 6 matches and are clearly in a poor mental state. On the other hand, Shanghai Dragons have finally managed to bring in 3 new players and one of them (He "Sky" Junjian) is actually really good, being a former member of Miraculous Youngster, a team with multiple 1st place achievements in big tournaments during 2017.
So overall, the underdog's playstyle will change dramatically ahead of this match, while the supposedly better team is in bad condition. Subsequently, the chance of an upset is extremely high here.
Betting analysis: Bovada puts the odds of a Houston Outlaws victory at -900, with the Dragons priced at +450. At these odds, a bet on Shanghai Dragons is an excellent opportunity that could yield very high returns.
Best bet: Shanghai Dragons to win, paying +450 at BetOnline