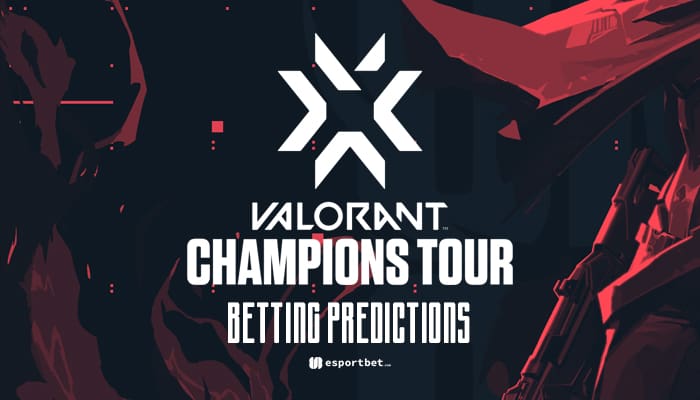 by in
ESB's free esports betting predictions for Friday, April 21, focus on a pair of Valorant Champions Tour (VCT) 2023 EMEA League bouts in the final round of Week 4. Here are our picks for Karmine Corp vs Natus Vincere and BBL Esports vs Team Vitality, with Valorant esports betting odds courtesy of BetOnline.
---
KARMINE CORP vs NATUS VINCERE VCT BETTING & MATCH DETAILS

Best Odds:
KC +750 at BetOnline | NAVI -2000 at BetOnline
When:
April 21, 2023 | 18:00 CEST
Watch Live:
Twitch (https://www.twitch.tv/valorant_emea)
Karmine Corp are 1-3 ahead of Week 4 of VCT 2023 EMEA League, with one win against BBL Esports (2-0) and defeats against Team Heretics (0-2), Team Liquid (0-2) and Team Vitality (0-2). Even though we can usually take some positives from teams' losses, Karmine Corp's recent showings leave little room for optimism.
Against Team Liquid, Karmine Corp managed to win just seven rounds (5-13, 2-13) and were just as disappointing against Vitality (2-13, 6-13) on Friday, continuing the trend of not reaching double digits, which started in KC's loss against Heretics (5-13, 2-13) in Week 1.
Natus Vincere are 3-1, with just one defeat against KOI (0-2) on the first day of the season. They've since defeated Giants (2-1), BBL Esports (2-0), and Team Heretics (2-1), showing a mix of solid and somewhat shaky performances. But despite dropping a few maps, NaVi look like a well-rounded team and a strong contender for the VCT EMEA League crown.
As the latest Valorant betting odds suggest, Natus Vincere should win with plenty to spare, and based on what we've seen from Karmine Corp, it's hard to argue with this logic. Considering KC failed to win more than eight rounds against Vitality, Heretics, and Liquid, they likely won't achieve much more against NaVi.
Natus Vincere -5.5 rounds
---
BBL ESPORTS vs TEAM VITALITY VCT BETTING & MATCH DETAILS

Best Odds:
BBL +333 at BetOnline | Vitality -500 at BetOnline
When:
April 21, 2023 | 21:00 CEST
Watch Live:
Twitch (https://www.twitch.tv/valorant_emea)
BBL Esports are the current worst-performing team in the league, having yet to win a single series. Moreover, they're 1-8 in maps with a 92-116 round differential.
Like Karmine Corp, BBL Esports look like they're not good enough to compete at this level, and unless something changes, BBL will continue this season as the leading wooden spoon contender. On a more positive note, BBL won a map against Fnatic (1-2) in Week 1 but have since suffered two crushing losses against NaVi (0-2) and Giants (0-2).
Team Vitality are 3-1, with wins against Team Liquid (2-1), KOI (2-0), and Karmine Corp (2-0) and one defeat against FUT Esports (0-2). Those results don't scream potential title contenders, but Vitality have proven efficient against a lesser team.
BBL Esports have given us nothing to feel excited about, and even though Vitality aren't one of the top teams in the league, -120.48 on the Bees to cover the 1.5 map handicap looks way too generous for us to pass on.