by in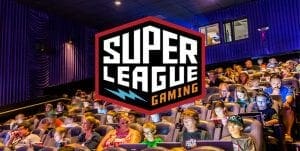 Nickelodeon and several other high profile businesses have invested $15 million into global esports community-building platform Super League Gaming, the first step into the world of competitive professional gaming from the children's television broadcaster.
The Santa Monica-based esports organiser hosts amateur esports tournaments via online channels and state-of-the-art big screen movie theatres across North America, and has secured several other high-profile investors, including DMC Entertainment, Toba Capital, Cali Group, and Tampa Bay Lightning owner Jeffrey Vinik.
With the $15 million, Super League Gaming plan to expand across sixteen more cities in the U.S. and internationally in Europe and China.
SLG are currently operating 12 city-focused teams in major American centers such as Chicago, Los Angeles, New York, L.A., Miami and San Francisco.
Founded in 2014, Super League has raised $28 million and hosted friendly Minecraft competitions for over 30,000 kids over six seasons of play. Since 2016, their partnership with Riot Games has lead to multiple League of Legends casual esports events meant for friendly play and socialising.
EVP of digital business at Nickelodeon Matthew Evans said: "We are excited to enter the world of eSports through our relationship with Super League, which has a loyal and growing fan base of kids."
"Nickelodeon is interested in eSports because gaming is an important passion point for kids today, and forging this partnership with Super League puts us at the forefront of where kids will be playing next."
Considering the younger demographic drawn to SLG events thanks to its focus on friendly casual League of Legends and Minecraft play, the partnership with Nickelodeon makes sense and we only hope to see further investment from mainstream broadcasters and companies to further push esports into the limelight.
Nickelodeon is just the latest high profile company to jump into the booming $1.2 billion esports market, following the likes of Supercars Australia, McDonalds, NBC Sports, and Seven Media and St George Bank's new ScreenPLAY initiative.