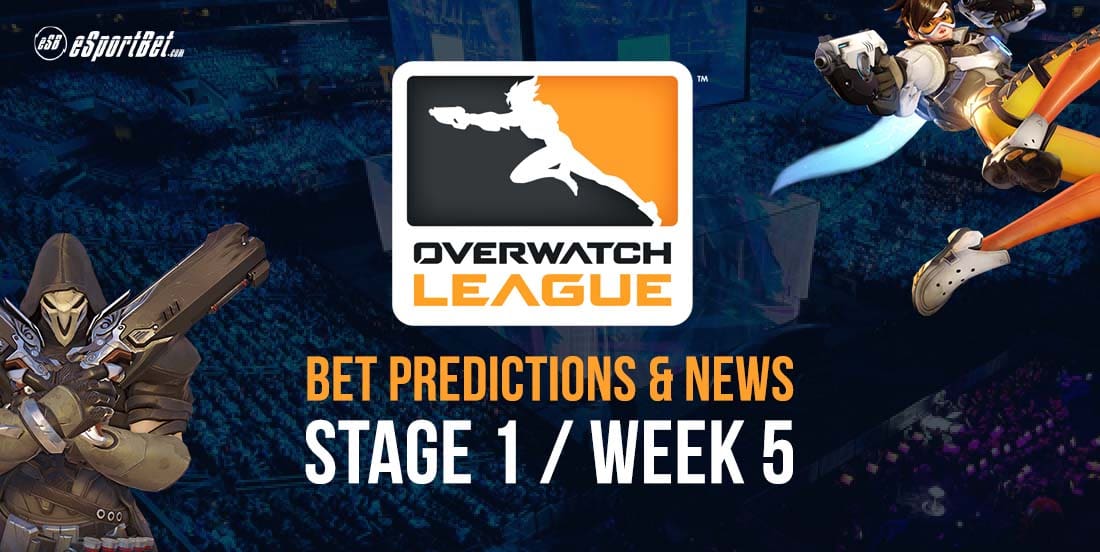 by in
With last week's four-leg Overwatch League parlay providing the eSportBet.com team a neat payout, we're all smiles heading into the final week of Stage 1.
Our favourites, London Spitfire and New York Excelsior, having both defeated Seoul Dynasty, are in top form and will meet on the virtual battlefield this weekend for what promises to be the highlight match of Week 5.
We've also got our eye on Boston Uprising to continue their upward ascent into the top 4, and the Los Angeles Gladiators to put out Dallas Fuel's fire once and for all.
Here are our top match picks for Stage 1, Week 5 of the Overwatch League's first season.

Overwatch League Stage 1, Week 5 parlay picks with Bovada

London Spitfire to beat Houston Outlaws: -300 ($1.33)
Los Angeles Gladiators to beat Dallas Fuel: -145 ($1.69)
New York Excelsior to beat London Spitfire: -125 ($1.80)
Boston Uprising to beat Houston Outlaws: +130 ($2.30)
Parlay odds: $8.33 at Bovada.lv
London Spitfire vs. Houston Outlaws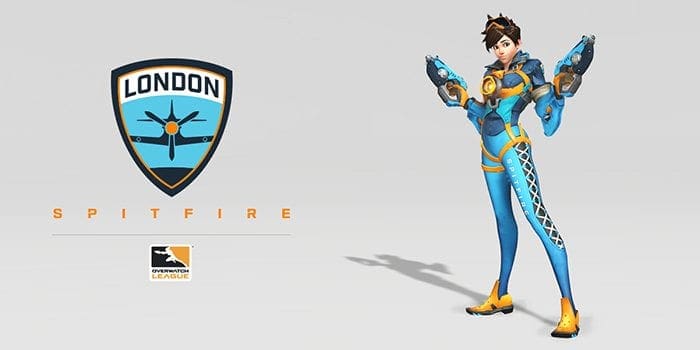 Game 3, Thursday, February 8, 6pm PST / 9pm EST streamed live from Blizzard Arena, Los Angeles
Both the Spitfire and Houston Outlaws battled series boogeyman Seoul Dynasty to the best of their abilities last week, though only the former survived Fleta's deadly sharpshooting and managed to come out on top.
Despite the Outlaws greatly improving over the series, taking Seoul right down to the wire on the backs of Jacob "JAKE" Lyon and Jiri 'LiNkzr' Masalin, we honestly can't see Spifire's amazing form taking a nose-dive here – especially when they have a much more important second match on their mind (with NYXL) to secure Stage 1.
DPS Kim 'Birdring' Ji-Hyeok and his Tracer and Widowmaker play is the best it has ever been, while fellow frontline team-mate Park 'Profit' Jun-Young's hero flexibility is second-to-none.
Alongside support player Seung 'Bdosin' Choi-tae and tank player Jae-hee 'Gesture' Hong, both who played pivotal roles in shutting down Dynasty completely and creating consistent openings for their dive comp teammates, Spitfire's deep and talented roster has more than proven it's worth as a series legend rather than another hype team.
Expect another incredible Spitfire run here, though we won't be surprised if the Outlaws take them to a fifth map.
London Spitfire to win: $1.33 at Bovada
Los Angeles Gladiators vs. Dallas Fuel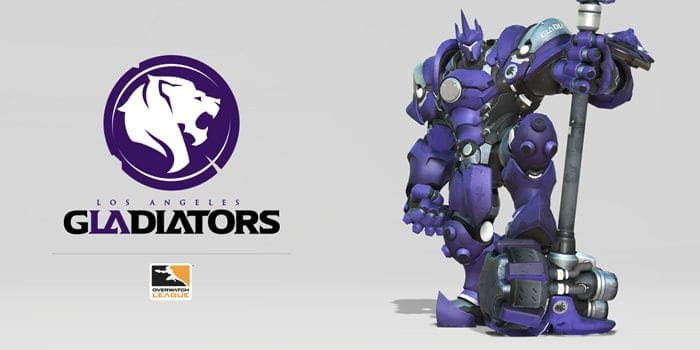 Game 1, Friday, February 9, 4pm PST / 7pm EST streamed live from Blizzard Arena, Los Angeles
Two middling teams with all the right individual talent – but all the wrong decision-making and hero picks.
We love to watch the Gladiators play, but it's clear they still struggle with a proper counter against the current dive meta, falling to the swifter team comps of the Uprising while defeating teams that lack them like Florida Mayhem with ease.
It's apparent Dallas Fuel never fully recovered from its shocking loss to the Outlaws in Week 3 and as a collective have played some pretty terrible Overwatch since then, only managing to snatch away a brief victory from San Francisco Shock before plummeting back down to the bottom three, with 7 losses and only 1 win to their name.
The Gladiators can win this if they pull out all three talented DPS players – Joon-seong 'Asher' Choi, and João Pedro 'Hydration' Goes Telles and Lane 'Surefour' Roberts – and mix up their composition like they did when they pulled out the reverse clutch on Philadelphia Fusion a few weeks back and showed the world they are capable of upsets.
We still can't quite get over how well Hydration plays across Doomfist, Genji, Pharrah and Roadhog when he's given a little lee-way to mix things up, and Benjamin 'BigGoose' Isohanni has proven he's a solid healer and support to keep the team focused and always moving forward.
We honestly can't guess whether the game will go to a fifth map or whether Dallas will choke again, but we're more certain the Gladiators have it in them to win.
Los Angeles Gladiators to win: $1.69 at Bovada
New York Excelsior vs. London Spitfire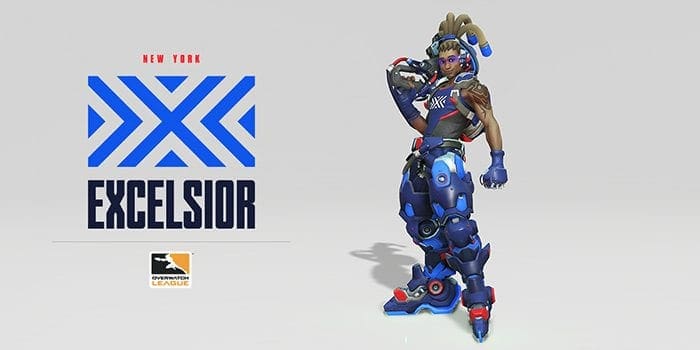 Game 1, Saturday, February 10, 1pm PST / 4pm EST streamed live from Blizzard Arena, Los Angeles
New York Excelsior and London Spitfire will prove who has the better superstar all-Korean roster this Saturday.
We're big fans of both teams, but we think NYXL's DPS trump card, De-Hyeon 'Pine' Kim, will prove to be Spitfire's achilles heel.
Pine has absolutely dominated every single Control map he has been pulled out of substitution for, and Spitfire has historically struggled in securing Oasis, even against teams they definitively outclass like Florida Mayhem and San Francisco Shock.
Along with very aggressive dive comps led by DPS starter Park 'Saebyeolbe' Jong-Ryeol, a solid defense in tank player Dong-gyu 'Mano' Kim and a support superstar that rivals the damage output of his front-line allies, Bang 'JJoNak' Sung-hyeon, NYXL are at the top of their game here.
Spitfire's DPS duo Kim 'Birdring' Ji-Hyeok and Park 'Profit' Jun-Young are more than capable of fighting back NYXL's dive comp to a fifth map, but the damage Pine has proven he can cause is just too much to ignore.
New York Excelsior to win: $1.80 at Bovada
Houston Outlaws vs. Boston Uprising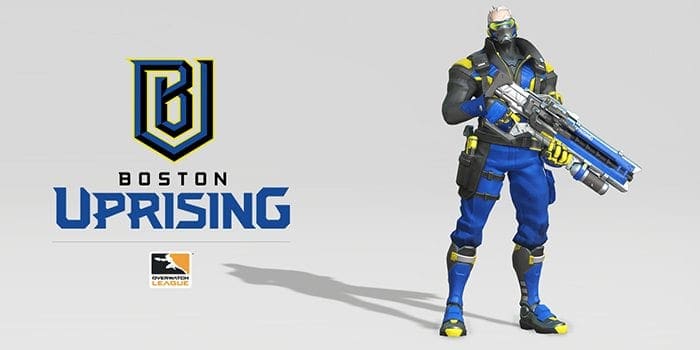 Game 2, Saturday, February 10, 1pm PST / 4pm EST streamed live from Blizzard Arena, Los Angeles
Boston Uprising head into their battle with Houston Outlaws with all the proper momentum to replace them in the standings and secure 4th place by the end of Stage 1.
The Uprising have lived up to their moniker perfectly these past few weeks, destroying the allure of the indomitable Spitfire to become the first Western team to beat one of all-Korean superstar rosters, while sweeping both LA-based teams off their feat in a brutal 4 – 0 run.
Boston's DPS duo Jonathan 'DreamKazper' Sanchez and Kwon 'STRIKER' Nam-joo are some of our favourite players to watch play, mostly because of their ruthlessly efficient dive comps that tear through the backlines of their opponents like butter and lead to some amazing multi-kill highlight reels.
Plus, DreamKazper's Genji deflection of Zarya's Graviton Surge during their match against the Valiant last week has got to be one the best clutch plays we've seen this series.
Backed up by tanks Noh 'Gamsu' Yeong-jin and Lucas 'Note' Meissner, who have expertly distracted and oppressed their opponents at every turn to allow DreamKazper to wreak havoc as Genji and Pharrah, the Outlaws will have their work cut off for them to put up an effective counter.
Boston Uprising to win: $2.30 at Bovada
Where can I watch Overwatch League?
You can watch the final week of Stage 1 through live-streaming sites like Twitch on amd embedded streams on Blizzard's official OWL website.
Want to keep up to date on our latest betting predictions? We cover them weekly in our Overwatch League power rankings and tips wrap-ups to keep you up-to-date with which teams are in form like Roadhog was pre-nurf and which are about as useful as Hanzo on Oasis.
Best sportsbooks for Overwatch betting

Esports betting sites in your region