by in
The NBA and 2K Sports have unveiled the official logo for the NBA 2K League this week, along with the insignia for the 17 teams set to participate in its inaugural season next year.
Sporting the NBA's classic red, white and blue colors mixed with the vertical pill-shaped design of a basketball, the official logo calls back to the NBA's own design with its classic Jerry West silhouette, while the distinctive font is the same used for all NBA2K video games published by 2K Games.
"We kept trying so many different ways we can draw a guy on a ball, and they were always just missing something," explains Rodney Richardson of Rare Design, the official logo's creator.
"The simplicity of the pill shape, that core color palette is immediately recognizable, it's not defined by sex, it's not male or female – this league is open to any gamer that has the ability to go out there and earn their spot.
For those interested, the NBA released an official video of Richardson and RARE Design in Hattiesburg, Mississippi detailing the design process behind the logo, which you can watch below.
NBA 2K League – Official team logos revealed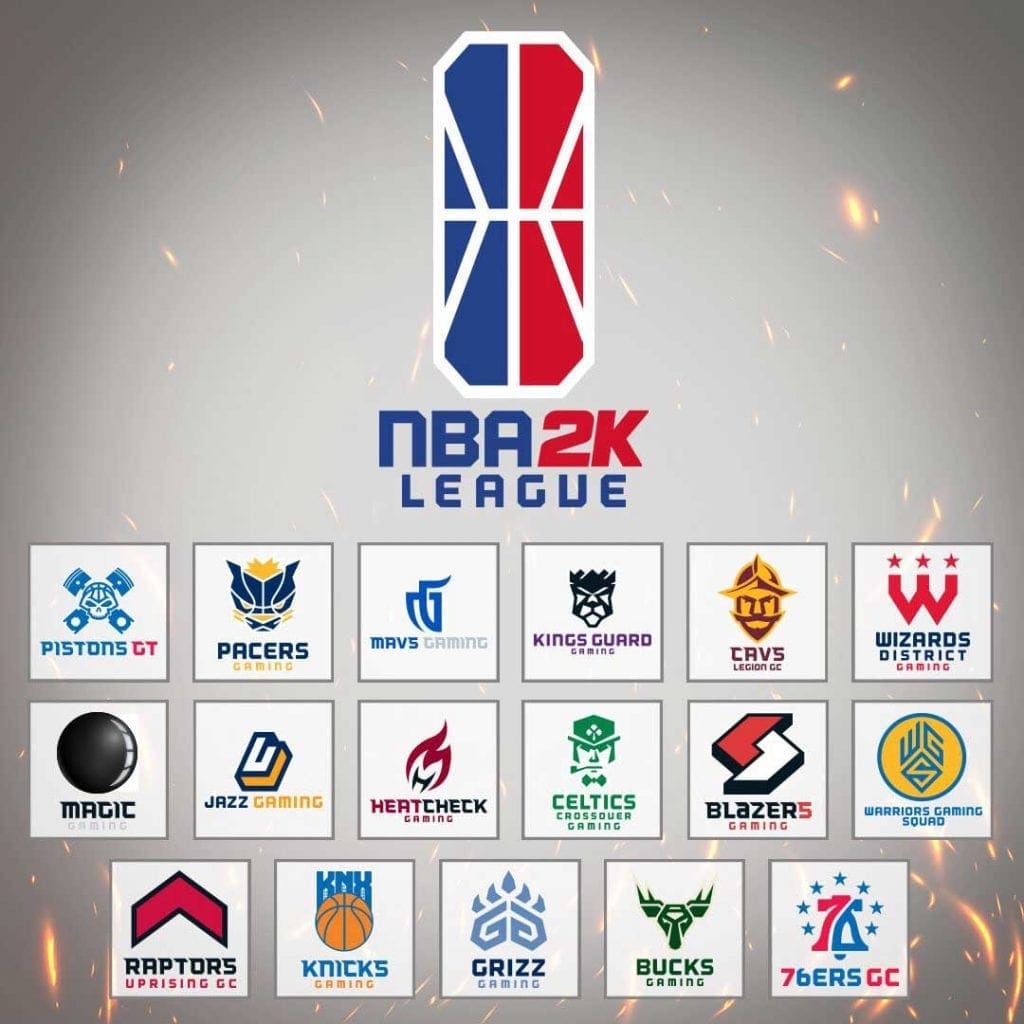 Meanwhile, all 17 teams in the NBA 2K League have released their team logos and names on social media this week to properly generate hype for the first season held next year.
We have gathered up some of the better announcement videos right here for your viewing pleasure – and to save you a click or two.
Coming May 2018. ? pic.twitter.com/kUIxDqrOTb

— Pacers Gaming (@Pacers_Gaming) December 12, 2017
— PistonsGT (@PistonsGT) December 12, 2017
Today we are proud to announce Dallas newest hometown team to the family!

We are super excited to represent this city!

"We wanted a symbol that was unexpected, fearless, with a swagger that is rooted in our Dallas heritage," – @mcuban #MavsGG #MavsGaming #Dallas pic.twitter.com/a7ZW5pi2hI

— Mavs Gaming (@MavsGG) December 12, 2017
This is Blazer5 Gaming. ?https://t.co/nuTiubJzzS pic.twitter.com/iZJC9NByS6

— Blazer5 Gaming (@blazer5gaming) December 13, 2017
NBA 2K League – New details
Along with the new wave of announcements comes additional details on the 2K League. The inaugural season will officially begin in May 2018 and will run through August, with try-outs in January in the form of the NBA 2K League Qualifier which runs January 1 – 30, before a final draft in March.
Each of the 17 teams will have a five-player roster competing as unique characters in 5v5 gameplay. Prospective players must complete an online application on the official NBA 2K League website and tryout for a spot via NBA 2K18's Pro-Am mode.
Trying out is open to anyone in the world who owns a copy of NBA 2K18 on PlayStation 4 or Xbox One, and players can either enter as a walk-on or part of a team – but you must be 18 years or older.
Those who win 50 games and are successful will be privately invited for the second stage of tryouts to be held the following month at an unspecified date. For the inaugural season, NBA and 2K have confirmed all games will be played "in one or two central studios."
EsportBet's opinion on NBA 2K League unveiling
NBA 2K League is fascinating because it marks the first offical esports league created, owned and operated by a North American professional sporting league, with full support and involvement from the teams in question. Sporting games have never been a fixture in the mainstream competitive esports scene, but if 2K Games and the NBA can pull this off, it can only do wonders for the already booming esports industry.
Be sure to check out our NBA 2K League esports guide for more details on the league format, gameplay structure, teams and the best places to bet on the game.
Looking for a top-rated esports betting site to bet on other popular esports like Dota 2, League of Legends, and Overwatch? We recommend our readers from United States check out BetOnline for the best odds and options – sign up via our provided link for a sign-up bonus to kick-start your esports betting balance.