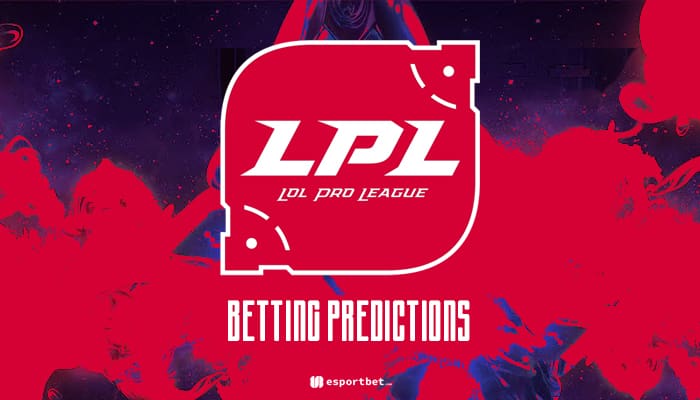 by in
ESB's free League of Legends betting tips for Wednesday, July 5, include a pair of matches from LoL Pro League (LPL) 2023 Summer Week 6. Here are our best bets for Ultra Prime vs Oh My God and Bilibili Gaming vs Top Esports.
---
ULTRA PRIME vs OH MY GOD LoL BETTING & MATCH DETAILS

Best Odds:
UP +550 at BetOnline | OMG -1000 at BetOnline
When:
July 5, 2023 | 17:00 CST
Watch Live:
Lolesports, Twitch
The LPL betting odds offered on games between upper-table teams and bottom squads are getting absurd. That's not to say that Ultra Prime have a realistic chance to defeat Oh My God, but +550 is pushing it a bit.
Oh My God have proved to be a very competent team, and with a 7-3 record, they're in an excellent spot to lock in a top-six or even a top-four finish. On the other side, Ultra Prime are 4-7, which sits them right below the cutoff line, but more importantly, UP are also on a four-game losing streak.
This doesn't necessarily mean a lot since Ultra Prime's last four defeats happened against LNG Esports (0-2), Royal Never Give Up (0-2), EDward Gaming (1-2), and JD Gaming (0-2). Still, that run proves that UP are not cut out to compete against the LPL's top teams.
Esports betting sites have set the kill line at 8.5, which is very high for how long scoring Oh My God are (12 kills per game), so we're betting on whether OMG will have a perfect game. As good as OMG can be, this isn't easy to accomplish.
---
BILIBILI GAMING vs TOP ESPORTS LoL BETTING & MATCH DETAILS

Best Odds:
Bilibili -250 at BetOnline | Top +175 at BetOnline
When:
July 5, 2023 | 19:00 CST
Watch Live:
Lolesports, Twitch
Besides JD Gaming, Bilibili Gaming are a class above every team in the league, and we don't have to look far to confirm it. They're 11-1 with a 92% map win rate (22-6) which alone is a solid testament to this team's quality, but more importantly, BLG haven't struggled against any team besides JD Gaming. So how will Top Esports fare on Wednesday?
Top Esports are close behind the LPL frontrunners, with a 9-3 record which puts them in a good spot to compete for a top four finish. However, while Top Esports are very good, they've been extremely inconsistent, especially when faced with weaker teams.
Top Esports are good enough to do some damage against Bilibili Gaming, but it depends on how many mistakes they'll make. There's about a 50/50 chance Bilibili Gaming sweep, and at +137, that's a good bet.
Bilibili Gaming -1.5 maps