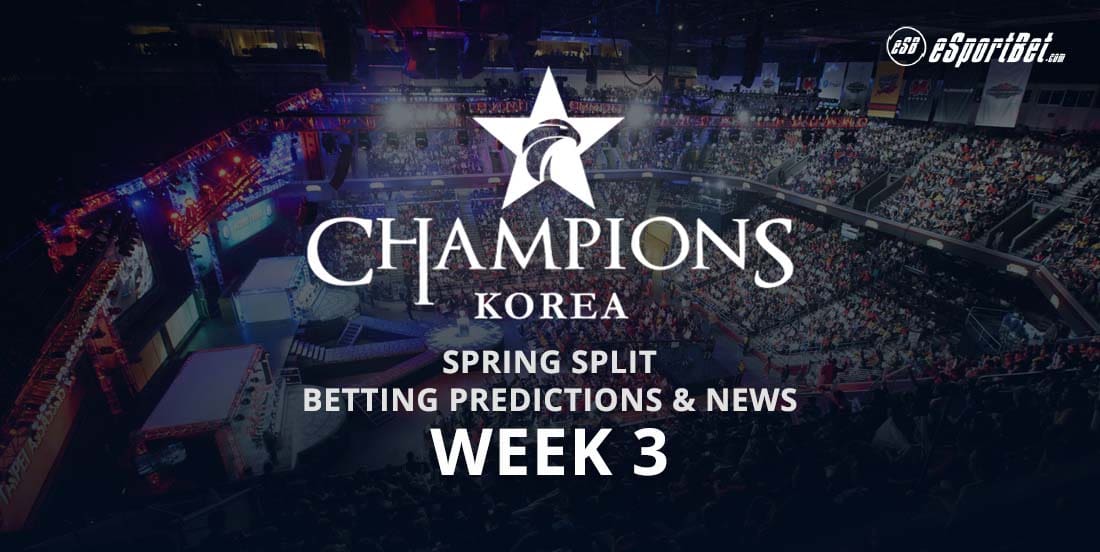 by in
With series wildcards Jin Air Green Wings on the up and SK Telecom T1 resembling nothing of its world champion roots, League of Legends Champions Korea (LCK) continues to provide the most unpredictable LoL esports action in the world.
Maybe it's because they stuck with the Bo3 (Best of 3) match format, or maybe the EU and NA LCS just aren't stacking up anymore, but we've found the Korean competition this year a whole lot more interesting to watch.
Here are our top picks for week 3 of the LCK 2018 Spring Split.
LCK Spring Split – Parlay of the Week with Bovada.lv
Kingzone DragonX to beat ROX Tigers 2 – 0: -130 ($1.77)
Afreeca Freecs to beat BBQ Olivers: -210 ($1.48)
Jin Air Green Wings to beat KT Rolster: +225 ($3.25)
SK Telecom T1 to beat MVP: -450 ($1.22)
Kingzone DragonX vs. ROX Tigers
Day 2 on Wednesday, January 31, 3am EST / 8am GMT
Kingzone DragonX head into Week 3 in form after smashing former LCK three-time world champions SK Telecom T1 in a quick and dirty 2 – 0 sweep.
KDX have found their groove in calmly locking down objectives and promptly shutting down lane griefers, only hitting opponents hard once the right amount of gold and proper buffs are at their disposal.
It's been fascinating to watch them bide their time, even when teams like SKT score First Blood and seemingly secure a crucial lead, only to be overwhelmed with KDX's deadly long-game coordination.

ROX Tigers secured their own surprise win against Kongdoo Monster last week, but have rightly faced criticism for their sloppy 5-6 game record.
It's clear they have struggled to take out equally troubled opponents as efficiently as Kingzone and we're far from convinced they can pull an upset against the leaderboard champions.
Kingzone DragonX to beat ROX Tigers 2 – 0 : -130 ($1.77) at Bovada.lv
Afreeca Freecs vs. BBQ Olivers
Day 2, Wednesday, January 31, 6am EST / 11am GMT
Two middling teams with a ton of issues in the shot-calling and team-fighting departments makes for an interesting mid-week clash.
We're backing Afreeca Freecs to have a mini comeback here, given the potential of top laner Kim 'Kiin' Gi-in and jungler Lee 'Spirit' Day-yoon, both securing some solid KDA (Kills, Deaths, Assists) and baron steals throughout the series.
BBQ Olivers play aggressively enough but lack a vocal leader to make proper plays and effectively counter organized teamfights, such as the embarrassment they suffered last week against a resurgent KT Rolster.
Afreeca Freecs to beat BBQ Olivers: -210 ($1.48) at Bovada.lv
KT Rolster vs. Jin Air Green Wings
Day 3, Thursday, February 1, 3am EST / 8am GMT
The most competitive match of the week given their week-to-week improvements, but which of SK Telecom T1's rivals can outdo the other?
KT Rolster's top laner Song 'Smeb' Kyung-ho has improved dramatically in the aggro and shotcalling department and played a key role in guiding his team to victory over Afreeca last week.
However, the rest of the line-up were a little too dependent on Smeb's guidance and let themselves get torn through crucial team-fights whenever he was not around.
In contrast, Jin Air's AD carry Jin-seong 'Teddy' Park stole the show once more with his 16/1/7 KDA (kills/deaths/assists) and objective domination over previous opponents MVP.
But top laner Kim 'SoHwan' Jun-yeong also impressed in his new role, beating back MVP's top laner veteran Kang 'ADD' Geon-mo effortlessly, and the rest of the team have displayed great coordination and support for each other without the need for excessive hand-holding.
After their earlier historic victory over SK Telecom T1, we're more confident than ever Jin Air can make the transition to the top 3 and take down the inconsistent KT.
Jin Air Green Wings to beat KT Rolster: +225 ($3.25) at Bovada.lv
SK Telecom T1 vs MVP
Day 3, Thursday, February 1, 6am EST / 11am GMT
SK Telecom T1 have suffered some heart-breaking defeats this Spring Split and obviously aren't the same world champions team they were in preceding years.
However, even with the paradigm shift, it's hard to see them suffer another upset at the hands of MVP, who have failed to win even one game and have been outmatched at every turn.
With AD carry Bae 'Bang' Jun-sik and mid-laner Lee 'Faker' Sang-hyeok carrying the team, SK T1 have more than enough fire-power to at least avoid this embarrassment.
SK Telecom T1 to beat MVP: -450 ($1.22) at Bovada.lv