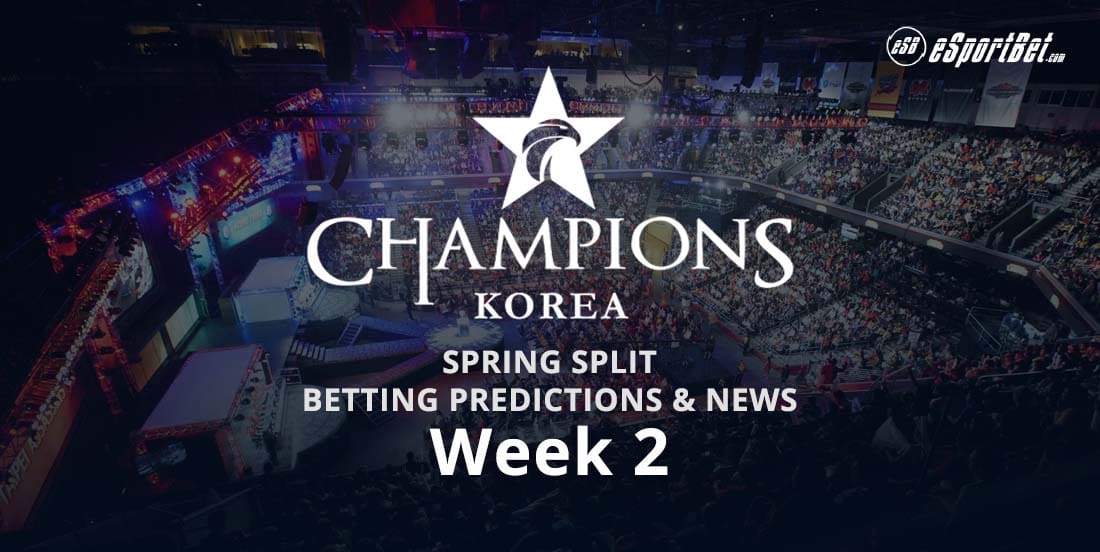 by in
Week 2 of the ongoing League of Legends Champions Korea (LCK) tournament is shaping up as the unpredictable and intense encounter fans have hoped for.
There were some spectacular upsets and unorthodox strategies on-show in the opening week skirmishes, with SK Telecom T1 the only one of our favourites to pull through as predicted, while the likes of Kingzone, KT Rolster and MVP failed to secure an early lead against much weaker opponents.
While the EU LCS and NA LCS have proven entertaining so far, the South Korean League of Legends Champions continues to show why they're the best professional players in the world.
Here are our top picks for week 2 of the LCK 2018 Spring Split.
LCK Spring Split – Parlay of the Week with Bovada.lv
Jin Air Green Wings to beat MVP: -225 ($1.44)
SK Telecom T1 to beat KT Rolster: +140 ($2.40)
Kongdoo to beat ROX Tigers: -125 ($1.80)
KSV to beat Afreeca Freecs 2 – 0: -110 ($1.91)
Jin Air Green Wings vs. MVP
Day 2, Wednesday, January 24 3am EST / 8am GMT
Jin Air Green Wings made history last week with their gruelling, but hard-fought victory against SK Telecom T1, which was the longest professional League of Legends game ever played.
The roster changes Jin Air made in preparation for the 2018 season have paid off, with bottom-laner Ji-min 'Wraith' Kwon more than earning his keep against the high-regarded SK T1 bottom lane crew.
But it was AD carry Jin-seong 'Teddy' Park that stole the show, single-handedly carrying Jin Air into the late-game and holding off their opponents with Sivir for over 60 minutes before using his record-breaking creep score to push Jin Air through the siege and take the game in an astounding upset.
Coming off such an amazing performance leaves little contest here with MVP, who were swept by Kongdoo and KT Rolster 2 – 0. They had zero kills, dragons or towers in their first match against Kongdoo and while their back-line comp improved against KT, the same lack of team cohesion and communication from last season is more than apparent.
Jin Air Green Wings to beat MVP: -225 ($1.44) at Bovada.lv
kt Rolster vs. SK Telecom T1
Day 2, Wednesday, January 24 5am EST / 11am GMT
KT Rolster enters week 2 a little bloodied and a little battle-hardened after their disastrous defeat against Afreeca Freecs and subsequent redemption tour against MVP.
Their defeat to Afreeca was certainly unexpected and discipline and coordination problems remain apparent. Top laner Song 'Smeb' Kyung-ho played far too aggro for our liking, losing his position multiple times throughout their second game against MVP. His attempt to take on four of MVP's players as mini-Gnar can only be described as dumbfounding. Some other poor plays ruined their chances of securing a baron and both matches went far longer than they needed to.
SK Telecom T1 closed out its match against the ROX Tigers last week with some interesting placement of their star players, shocking viewers when they put support superstar Lee 'Wolf' Jae-wan, a two-time LoL World Champion, in the jungle for the first time in his career.
They had some panic with Wolf playing too aggressively with Senjuani and losing first blood, but he would ultimately be awarded MVP honors and AD carry Bae 'Bang' Jun-sik and mid laner Lee 'Faker' Sang-hyeok's were solid enough to secure the game in half an hour.
If it wasn't for their heart-breaking defeat to Jin Air Green Wings, SK T1 would be the only predictable favourite in the LCK right now. Still, their consistency and synergy as a team and the effort they put into taking Jin Air right down to the wire still makes us more confident in their ability to pick apart KT's frequent overextending line-up for an easier win this week.
SK Telecom T1 to beat KT Rolster: +140 ($2.40) at Bovada.lv
ROX Tigers vs. Kongdoo Monster
Day 3, Wednesday, January 25 3am EST / 8am GMT
The closest match-up on paper this week is Rox vs Kongdoo, but we think the latter have shown a lot more promise in their opening week to take home the win.
Kongdoo mid laner Lee 'Edge' Ho-seong and top laner Kim 'Roach' Kang-hui provided the best shut-out plays so far against the ill-prepared MVP last week, but the duo weren't enough to counter bbq Olivers' versatile new jungler. Still, they put up an extremely hard fight and the team clearly has a lot of communication and coordination to back up their individual skill, compared to some of the competition so far.
ROX Tigers did deliver a solid second game against SK T1, securing a win in just over half-an-hour without giving up any barons, dragons or towers, but were sloppy thereafter. Expect a closer game decided by Kongdoo's superior top-lane play.
Kongdoo to beat ROX Tigers: -125 ($1.80) at Bovada.lv
KSV Esports vs. Afreeca Freecs
Day 3, Wednesday, January 25 5am EST / 11am GMT
KSV have proven to be the LCK team to beat after their comfortable opening 2 – 0 sweeps of Kingzone and Jin Air Green Wings, echoing a surprise upset in last year's World Championships.
Afreeca Freecs did also defy expectations last week after smashing KT Rolster, the one team they haven't been able to beat since the 2016 LCK Summer Split. Top laner Kim 'Kiin' Gi-in and Jungler Lee 'Spirit' Day-yoon did well with some unexpected baron steals and solid KDA (Kills, Deaths, Assists).
However, KSV's discipline and coordination is something else and they play the best long-game in the League. Korea's most popular mid-laner Kang 'Ambition' Chan-yong proved just that last week with his shot-calling, clutch decision making and varied strategies that put Kingzone on the back-foot, first with an all-out dive comp and later with immensely clever split-pushing.
We fully expect KSV to put Afreeca firmly in their place with a comfortable 2 – 0 win.
KSV to beat Afreeca Freecs 2 – 0: -110 ($1.91) at Bovada.lv