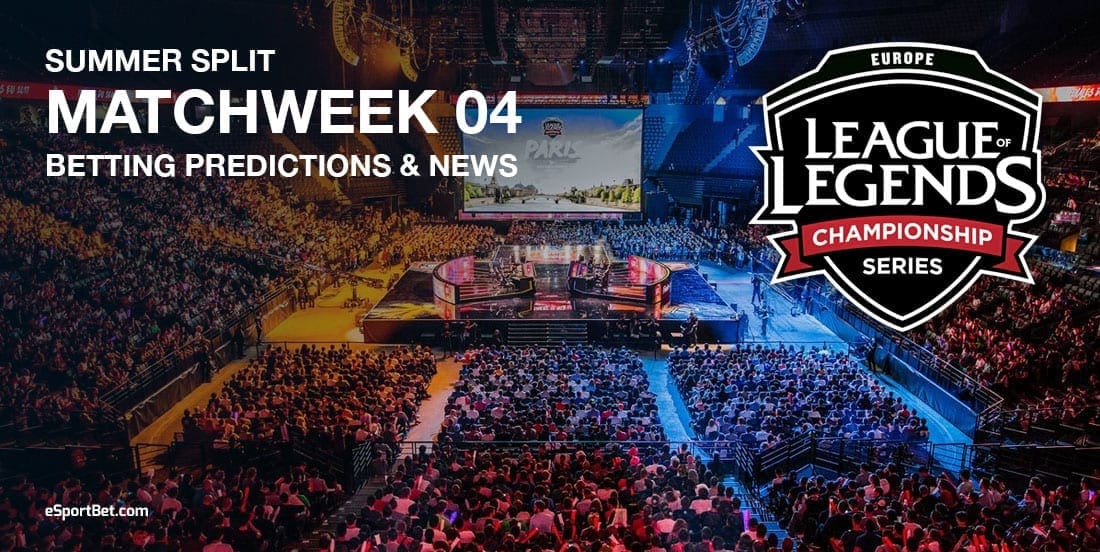 by in
Day two continues with another five great games in the EU LCS, as always our expert Kosta is here to break down the action.
ALSO READ: MORE ESPORTS PREDICTIONS
LOL GUIDE: HOW TO BET ON LEAGUE OF LEGENDS

H2k-Gaming vs. Unicorns of Love
In matches between two teams that don't win too often, the Rift is guaranteed to be a serious warzone. H2k and UOL haven't had much luck this split, with H2k sitting at the bottom of the table with a 0-7 record, and Unicorns being just two places above at 2-5. Both teams need a confidence boost and will be ready to do anything to get a win.
H2k got demolished by Vitality in their last game, continuing their winless streak. This time, though, their carries performed decently, but were ousted by SmittyJ and Shook, who had a very weak early game performance. However, they do have a chance to beat Unicorns, who performed poorly with an emergency sub in the bottom lane. Nevertheless, UOL still have a mid laner who can pop off and carry the entire team, so they should be slight favourites here.
Chance of winning: H2K 40%, UOL 60%
Betting prediction: Unicorns of love to win, paying -138.89 at BetOnline.
FC Schalke 04 Esports vs. Splyce
Two playoff hopefuls sitting just below the treasured playoff spots are directly competing against each other for a bigger chance of advancing. Both teams also won yesterday, making the motivation even stronger while gunning for a perfect 2-0 week.
Splyce, although they looked weak at Rift Rivals, are currently on a roll in the domestic league with three consecutive wins. A victory against Fnatic shows that they mean serious business, and after top tier performances from Xerxe, Odoamne and Nisqy, their fans can be optimistic about the future. Schalke, on the other hand, didn't really have a good game for a while, even though they beat Giants earlier this week. The German team needs much better execution of their macro decisions if they want to be a real contender for a place in the top half, and while Nukeduck is looking good at the moment, the rest of the team will need to step up for this game.
Chance of winning: 35% S04, 65% SPY
Betting prediction: Splyce to win, paying -175.44 at BetOnline.
G2 Esports vs. Giants Gaming
G2 aren't the league leaders anymore after losing to Misfits in a close and exciting game. They'll certainly want to get back on their feet, and they can be happy that Giants are their next opponent. The second-to-last team in the standings has suffered five consecutive losses and are far from being a top-tier squad, but a win against G2 could change everything.
Giants' most recent defeat to Schalke was probably the best summary of their split so far. Even after getting an early lead, which is quite important against a funnel comp, they just couldn't do anything with it and slowly lost the game after making many individual mistakes and being inactive macro-wise. G2 just got outplayed by Misfits, and the level of play they showed wasn't bad, but simply not good enough to win against the best team in Europe. G2 should comfortably win this game and solidify their #2 spot.
Chance of winning: G2 80%, GIA 20%
Betting prediction: Splyce to win, paying -357.14 at BetOnline.
Team ROCCAT vs. Fnatic
One of the more interesting matches this week is next on the menu, pitting the two 4th place holders against each other to decide who goes down to 5th. The consistent Roccat meets the volatile Fnatic in a game that is sure to be explosive and quick-paced.
While normally Fnatic would always be considered strong favourites against Roccat, their most recent game speaks a lot about their weaknesses. Giving Broxah a chance to carry from the jungle backfired horribly for the EU champions, who faltered all around and simply had no way to escape defeat at the hands of Splyce. Roccat had a good game against UOL, smashing their funnel composition and closing out perfectly with a well-played siege. Roccat's great synergy and communication could work wonders against Fnatic's players, who sometimes feel disconnected and get caught out. Fnatic still have the upper hand due to the pure quality of their players, but the winner is far from decided on paper.
Chance of winning: ROC 40%, FNC 60%
Betting prediction: Roccat to win, paying +175 at BetOnline.
Team Vitality vs. Misfits Gaming
The last match of the week is also the one everyone's going to be waiting for all Saturday: the undefeated Misfits face the strong and innovative Vitality, with both teams thriving in the surprise potential of the current meta. Week 4 is going out with a bang, and likely leaving us waiting impatiently for the next weekend.
Vitality's players and their coach YamatoCannon continue to find successful new ways of playing the game, having smashed H2k with and Ekko mid and a Gragas top yesterday. Misfits, however, are a much tougher opponent than H2k, and know how to react to unexpected picks. The Bunnies' simple double-threat playstyle remains an unsolved mystery for European teams, and it's one of the easiest strategies to play properly, thus making less room for opponents to punish their mistakes. Vitality are a very good team, but they will need to play a perfect early game to threaten Misfits, who have the upper hand here.
Chance of winning: VIT 35%, MSF 65%
Betting prediction: Misfits Gaming to win, paying -200 at BetOnline.
Highest-rated EU LCS betting options

Best esports betting sites for your country

To keep up with the latest esports news and tips be sure to like the eSportbet facebook page and join our Discord server.